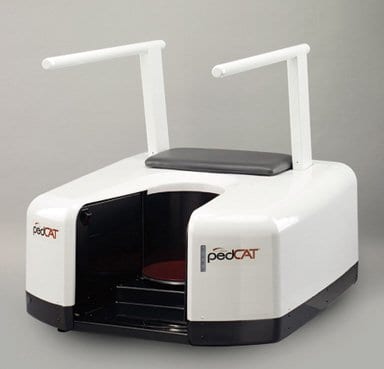 Weightbearing CT Imaging Methodology with pedCAT by CurveBeam
Three-dimensional weight-bearing computed tomography (CT) can be a powerful diagnostic tool, typically used when more information is necessary (e.g. intra-articular fractures, occult fractures and small bone tumors). Unlike conventional CT, which has a fan-shaped X-ray beam, modalities in the pedCAT created by CurveBeam have a cone-shaped X-ray beam. In a Podiatry Today's article titled "Current Concepts With Weight bearing CT", Dr. Albert V. Armstrong Jr., dean of the Barry University School of Podiatric Medicine, reviewed three independent studies that examined the efficacy of the technology.
In the first, Yoshioka and colleagues studied 10 patients with posterior tibial tendon dysfunction and 10 control patients, using weight-bearing and non-weight-bearing CT.1 The authors noted that the study clarified part of the clinical condition of the forefoot in flatfoot deformity, saying this may be applicable in basic research of the staging advancement and sub-stage classification of flatfoot.
In the second study, Krähenbühl and coworkers used weightbearing CT to determine the subtalar vertical angle in a study of 40 patients with osteoarthritis and 20 control patients.2 The study authors found that measuring the subtalar vertical angle was a reliable and consistent method to assess the varus/valgus configuration of the posterior facet of the subtalar joint.
In the final study, Geng and colleagues studied weightbearing and non-weightbearing CT scans of 10 patients with hallux valgus and 10 control patients, reconstructing 3D models for the first metatarsal and the medial cuneiform.3 Researchers noted the study furthers an understanding of the physiological and pathological mobility of the first metatarsocuneiform joint.
Weightbearing CT is a safe imaging modality with low radiation exposure that can provide superior images in comparison to conventional CT, as evidenced by the multiple studies. Weightbearing CT can enhance biomechanical evaluation, preoperative planning, postoperative evaluation, wound management, sports medicine, treatment of arthritic conditions (especially degenerative joint disease) and trauma (especially when looking for occult or hairline fractures). It is a promising and up and coming imaging method to replace traditional CT technology.
Cone beam CT allows clinicians to obtain an image of a volume of tissue in one circumferential pass instead of having to take multiple slices with multiple exposures. This leads directly to reduced radiation exposure for patients. Studies indicate, in the example of a bilateral scan of a foot, the pedCAT machine exposes patients to one third the amount of radiation as traditional methods. Another great feature of weight-bearing CT is the ability to perform bilateral scans. One can also view the same patient with the view of the the soft tissue structures removed, leading to increasingly accurate prognosis. In addition, the pedCAT is an excellent tool to illustrate visually to a patient exactly where a bunion, for example, is located underneath the soft tissue. The generated visual displays are much easier to understand for non-trained individuals.
Performing actual weightbearing examinations is possible through pedCAT, a main advantage of the machine. In a specific instance, a podiatrist can view a foot supporting weight, viewing the 3D image and the accompanying 2D images in the sagittal, axial (transverse) and coronal (frontal) planes. This would allow the physician to observe the appendage in its most natural state, allowing a more precise diagnosis of problems.
Read "Current Concepts With Weightbearing CT" by Dr. Albert V. Armstrong Jr. here: http://www.podiatrytoday.com/current-concepts-weightbearing-ct