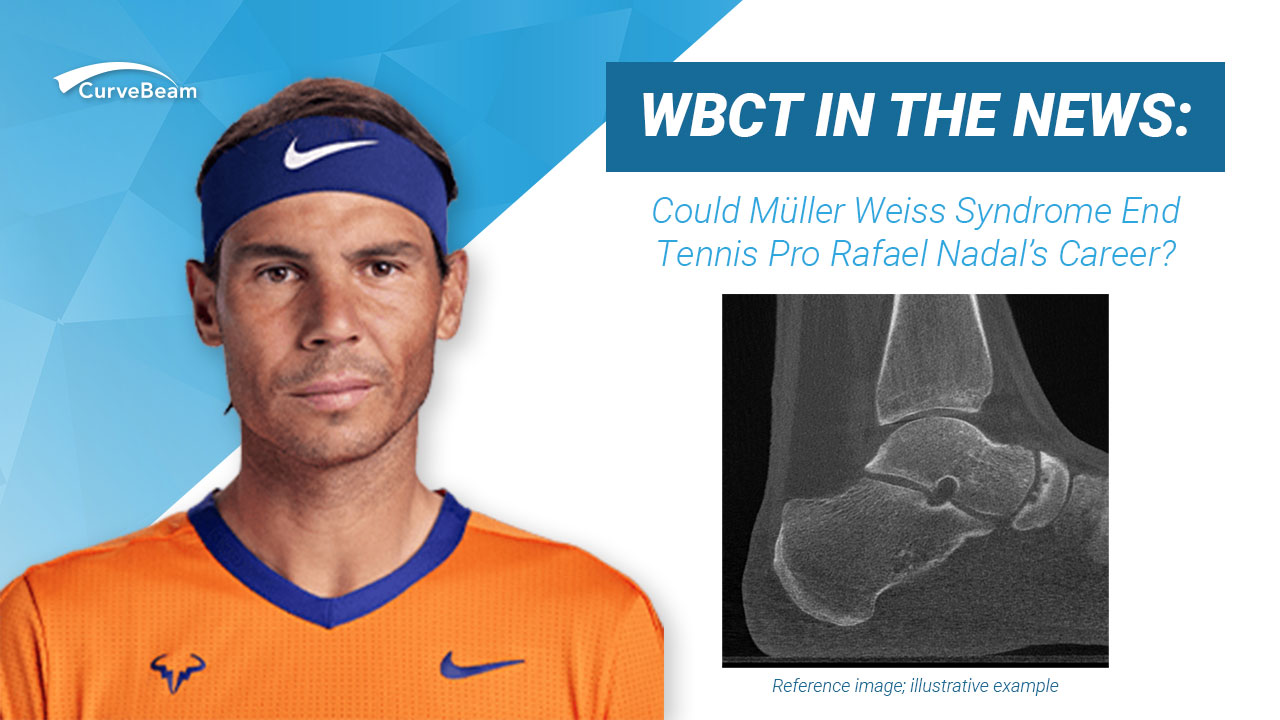 Tennis Player Rafael Nadal Diagnosed with Müller Weiss Syndrome
Sports fans and sports medicine specialists alike are all watching sports star Rafael Nadal as he continues to collect victories at the Wimbledon Grand Slam as he plays with an injured foot.
Despite his current performance, the question is whether his foot will be his ultimate unbeatable opponent.
Nadal is a 36-year-old Spanish professional tennis player, who is currently ranked number 4 in the world by The Association of Tennis Professionals (ATP).
Despite dealing with nerve pain in his left foot, Nadal won the 2022 French and Australian Opens prior to heading to London for Wimbledon.
According to ESPN, Nadal suffers from Muller-Weiss syndrome, a rare condition which causes chronic pain.
Nadal underwent a procedure prior to Wimbledon to subdue the pain, "but the treatment that I did, didn't fix my injury," Nadal told ESPN. According to Yahoo! News, Nadal takes anti-inflammatories daily to manage the pain.
Muller-Weiss syndrome results in dorsolateral collapse of the navicular associated with rotation of the talar head and subtalar varus deformity. If the navicular deteriorates significantly, it could result in a potentially career-ending surgery for Nadal.
The reasons for why the navicular bone is subjected to stress are not fully known, said Professor Didier Mainard, the president of the French association of foot surgery and head of orthopaedic surgery at Nancy Hospital in northeast France, in a news article.
Walther Muller, the German surgeon who first reported the disease, believed the Muller Weiss is due to "chronic compression of the navicular from adjacent bones." Further studies found other contributing factors could be congenital delayed ossification of the navicular and abnormal force distribution on the navicular, which produces lateral sided compression. In adults, Muller Weiss syndrome is often described as spontaneous osteonecrosis of the navicular. (Welck, 2016)
Foot & ankle surgeon Matthew Welck and colleagues posited that it is unlikely that primary osteonecrosis is the reason for the hindfoot and talus deformities associated with Muller-Weiss, in a 2016 article published in Foot & Ankle Specialist.
"In early cases, there is minimal necrosis of the navicular evident, yet the changes of varus are visible. Therefore, it may be that developmental pathology of the navicular as described later results in lateral osteonecrosis," the study said.
Regardless of the cause, the disease typically results in a foot arch collapse, leading to flat foot.
While early stage disease can be detected on magnetic resonance imaging (MRI) and bone scan, WBCT is "invaluable" in helping to plan for surgical reconstruction of a complex, dynamic deformity, as it gives a "detailed appreciation of the deformity in a load bearing position is vital to planning reconstruction," Welck and colleagues said.
This change of shape results in decompensation of the whole foot and ankle complex architecture, said Dr. Francois Lintz, MD, FEBOT, a foot and ankle orthopedic surgeon in Toulouse, France.
Dr. Lintz used Paragon 28®'s Disior™ Bonelogic™ software to visually compare the healthy foot with the pathological side of a CurveBeam bilateral WBCT scan of a patient diagnosed with Muller-Weiss. Using a technique called bilateral bone morphing, a dynamic picture was created that illustrated the change in shape of the navicular bone and the entire foot and ankle complex. Three-dimensional mapping of the joint distances illustrated how change in shape affected degeneration of the cartilage cover.
"This new technique, beyond providing the surgeon with beautiful preoperative images will yield in the future a host of information both diagnostic and predictive, to allow for earlier management of patients before the condition leads to a potentially career ending deformity," Dr. Lintz said.
Bonelogic™ software unlocks the information provided in WBCT datasets and allow orthopedic surgeons to analyze and quantify morphological changes of the foot anatomy. In addition to the 3D mathematical models, the results include a full report of the anatomical area with up to 39 accurate, repeatable radiographical measurements. Based on the software analysis it is also possible to create illustrative videos to visualize changes in different stages of a deformity. For more information, please contact  anna-maria@disior.com or telephone: +358 50 483 6433.
Welck and colleagues emphasized the importance of obtaining imaging of the contralateral foot to look for changes and to aid comparison. CurveBeam's weight bearing systems offer a field of view up to 43 centimeters in diameter, allowing for both lower extremities to be captured in a single scan while the patient is standing naturally.