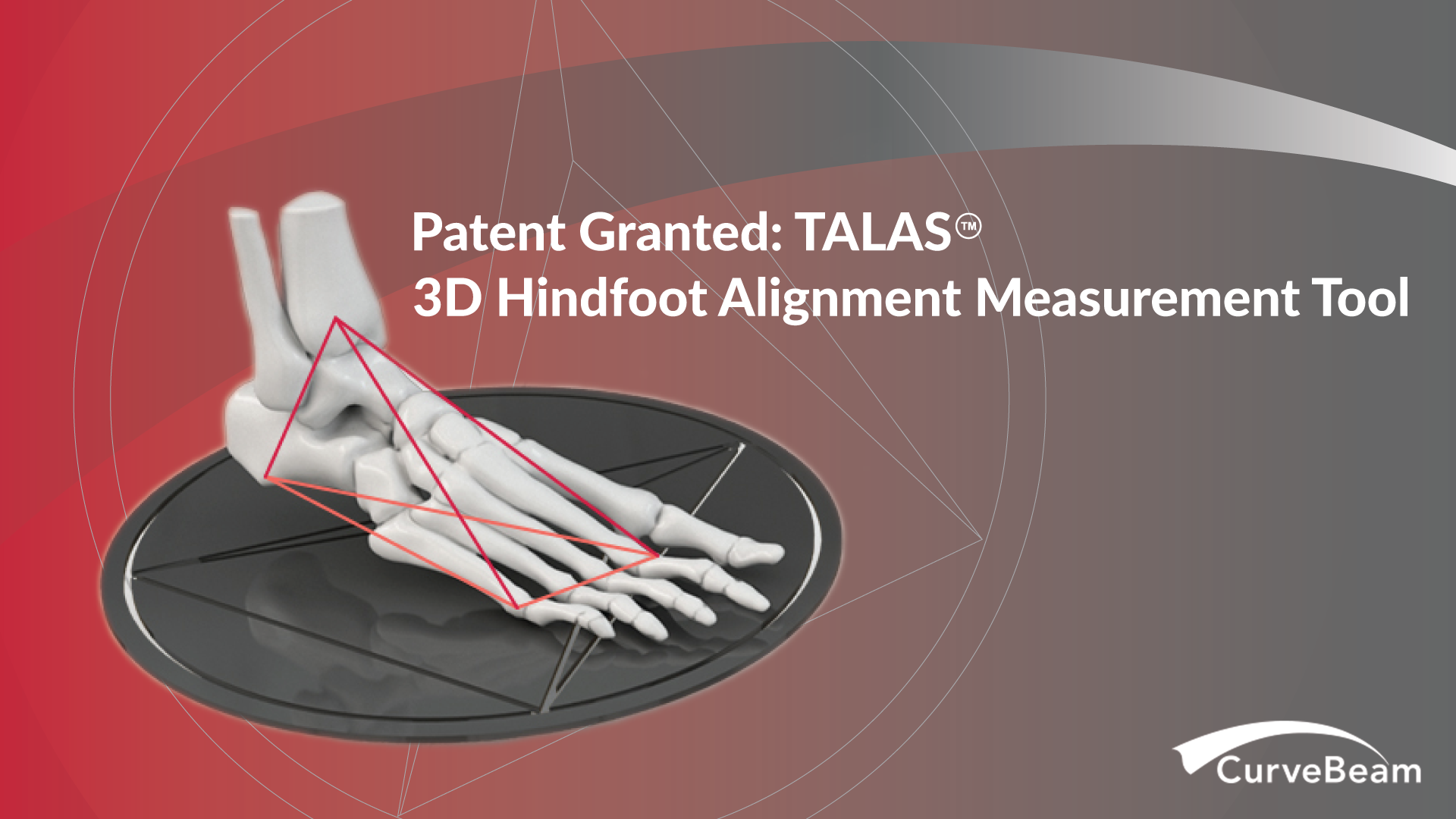 CurveBeam Announces Patent for TALAS 3D Hindfoot Measurement Tool
CurveBeam has formally been issued a patent (both in the U.S. and internationally) for TALASTM,  or Torque Ankle Lever Arm System, a 3D biometric tool which measures the foot-ankle offset (FAO) on weight bearing CT scans. Dr. Francois Lintz, MD, is the primary inventor of the concept.
Since TALASTM was introduced as a semi-automatic research tool on the CubeVue platform, several publications in peer-reviewed medical journals have validated its reproducibility and reliability, including:
A 2019 study by Dr. Lintz, researchers from Beijing Tongren Hospital and NHS Stanmore (U.K.) that showed FAO is a reliable tool to measure hindfoot alignment.
Another 2019 study by Dr. Lintz and Dr. Cesar de Cesar Netto that found FAO measurements can successfully quantify the risk of chronic lateral ankle stability.
Dr. Lintz and colleagues were honored with the International Federation of Foot & Ankle Societies (IFFAS) Award for Excellence at the 2019 AOFAS Annual Meeting for research regarding how residual misalignment contributes to cyst formation post-total ankle replacement. Resaerchers said TALAS could be used to categorize a "safe zone" for 3D alignment prior to a TAR procedure to prevent osteolysis.
CurveBeam plans to pursue commercialization of the TALASTM tool later this year, after seeking FDA and CE certifications.
CurveBeam continues to work with surgeon partners to develop biometric tools for midfoot & forefoot alignment measurements, as well as volumetric tools for quantification of Syndesmosis.
Watch the video below to learn how the TALAS tool works.