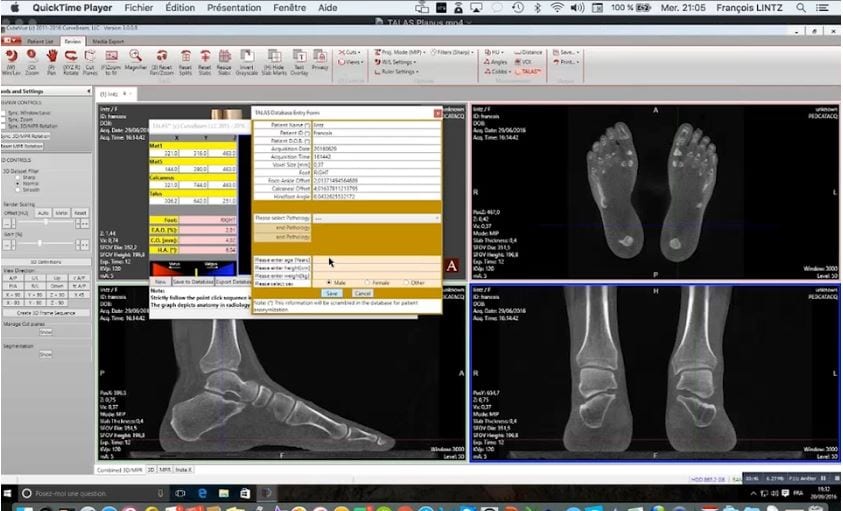 Join The TALAS Revolution in Foot and Ankle Diagnosis
For years, Dr. François Lintz, an orthopedic foot & ankle surgeon at Clinique de l'Union in Toulouse, France, relied on 2D (weight-bearing) X-rays and 3D (non-weightbearing) CT scans in treating patients, some with extraordinarily complicated deformities. Because of the shortcomings of the images, the doctor had to rely on his eyes and hands to calculate alignment measurements. The combination of the rudimentary tools and his expertise allowed him to successfully correct many malformations, although for reasons unknown, a fraction of patients did not experience positive treatment outcomes.
In order to minimize these unsuccessful treatment outcomes, Dr. Lintz searched for more advanced imaging tools and found CurveBeam's pedCAT. pedCAT provides bilateral, weight bearing 3D CT imaging of the foot and ankle. Dr. Lintz quickly discovered that pedCAT greatly surpassed traditional imaging methods. pedCAT technology proved to be ten times faster than X-Ray and CT studies, reduced the number of patient trips to the hospital, and exposed patients to significantly less radiation.
Dr. Lintz also realized the 3D data generated by pedCAT was far more robust than could be interpreted by available software for making foot alignment measurements. So he embarked on a collaboration with CurveBeam engineers to develop a revolutionary new measurement software – TALAS.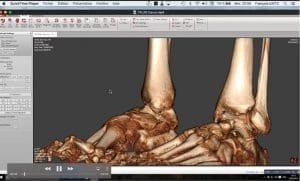 TALAS (Torque Ankle Lever Arm System) is a groundbreaking feature within pedCAT's visualization application CubeVue. Currently only applicable for hindfoot alignment with forefoot alignment coming soon, TALAS automatically determines foot and ankle offset in a 3D volume. While not approved as a diagnostic tool in humans, TALAS can be used in research for establishing a 3D database of important anatomical landmarks for future diagnostic use. TALAS is patent pending.
Using TALAS to conduct his own research, Dr. Lintz compared the correlations of 3D and 2D biometrics of hindfoot alignment with actual alignment. What he discovered was a 20% greater correlation with actual alignment using pedCAT's 3D imaging and TALAS feature. pedCAT outperforms radiographs and non-weightbearing CT scans in detecting correct angles, helping to prevent inaccuracies of projection and foot orientation. And TALAS utilizes this wealth of data to provide remarkably precise measurements.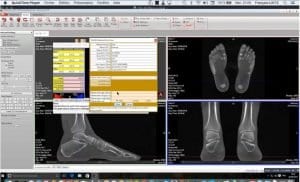 TALAS is the only tool available dedicated to measure hindfoot alignment with a weight bearing 3D dataset. While presently useful for research, Dr. Lintz hopes clinicians around the world will use the software feature to help build a comprehensive database of (anonymized) information, which will allow TALAS to one day serve in diagnosis. Quantifying deformities is the first step to helping medical experts develop treatment plans to correct them. You're invited to join the data harvesting effort by utilizing TALAS in order to create more positive outcomes for your current, and future, patients.