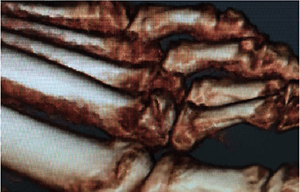 Diagnostic Options for Freiberg's Avascular Necrosis
The underlying causes of avascular necrosis of the second metatarsal head are not totally understood, but early diagnosis is essential. Delayed treatment can result in a collapse of the articular surface, making treatment more difficult.
Dr. Bob Baravarian, DPM, explained his preferred methods for diagnosing the condition in the May 2015 issue of Podiatry Today.
An X-Ray will show the overall contour and alignment of the metatarsal head.
MRI is one option for a secondary study, but edema and swelling can limit visualization of the surrounding bone region, Dr. Baravarian explained.
Weight bearing CT scans, meanwhile, clearly show the bones and joints and how they are aligned. Weight bearing CT is "our go-to imaging study," Dr. Baravarian said in the article.
"With adequate diagnostic testing and proper patient and procedure selection, one can treat avascular necrosis of the metatarsal head with good to excellent outcomes," Dr. Baravarian said.
Dr. Baravarian is the director of University Foot and Ankle Institute in Los Angeles. His practice offers weight bearing CT imaging services.