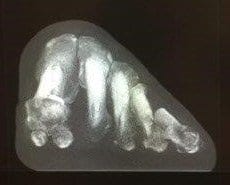 Need Bunion Surgery? A Weight Bearing CT Scan Could Help You Decide
When a patient appears to have a bunion, a physician typically orders traditional foot X-Rays as part of the clinical evaluation. The X-Rays capture three views of the foot- dorsoplantar, medial oblique, and lateral. But is this enough information to understand complex, three-dimensional object such as the foot? 
A growing number of foot & ankle specialists are advocating that there may be better way to evaluate this common deformity.
"Weight bearing computed tomography scans are beginning to take our understanding to the next level," Dr. Paul Dayton, DPM, of Des Moines, IA, said in a roundtable discussion on bunions published in the Foot & Ankle Specialist academic journal. "Once you see the connection between coronal rotation and what we have traditionally evaluated on AP radiographs, it opens up a whole new understanding."
On X-Rays, physicians have to "mentally interpolate" the valgus component of the bunion because they do not adequately capture the frontal plane, said Dr. Robert Weinstein, DPM, FACFAS, of Atlanta, explained in a CurveBeam case study.  
"Since the condition is a tri-plane deformity, we need to understand all of the components and their angular values contributing to the deformity," Weinstein said. "Better deformity analysis leads to better pre-operative planning, surgical execution, and post-operative results."
The new data on the coronal position is "exciting" because it explains so many of foot and ankle specialists' previous questions, Dayton said.  
Weight bearing CT imaging also allows for evaluating deformities that involve external rotation. Rotation of one or more metatarsals, including displacement of the sesamoids, cannot be clearly seen in standard foot X-ray imaging. The lack of the weight-bearing aspect in traditional medical CT imaging means the physician cannot evaluate displacement and rotation under load.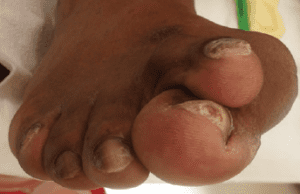 "It has long been known that in hallux valgus or bunions the relationship between the metatarsal head and the sesamoids is altered," Andy Goldberg, MD, MBBS, FRCS (TR and Orth), of Stanmore, United Kingdom, told Lower Extremity Review magazine. he said. "The sesamoid bones should sit underneath the metatarsal head, while in hallux valgus the big toe drifts off the sesamoids and the tip of the big toe points outwards. But our research has shown that in many cases the cartilage is worn, which in essence is localized arthritis, and we believe that this could affect the outcome of surgery."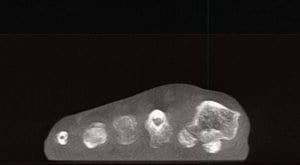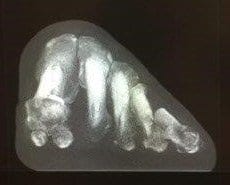 Weight bearing CT images could have an impact on the technique a physician selects to repair a bunion, Dr. Dayton said.
"The knowledge that the sesamoids can be in normal position medial and lateral to the crista yet look dislocated on the AP X-ray because of pronation completely changes our mindset about the need for capsular balancing," Dayton said. "We can see that in those cases supination corrects the deformity."