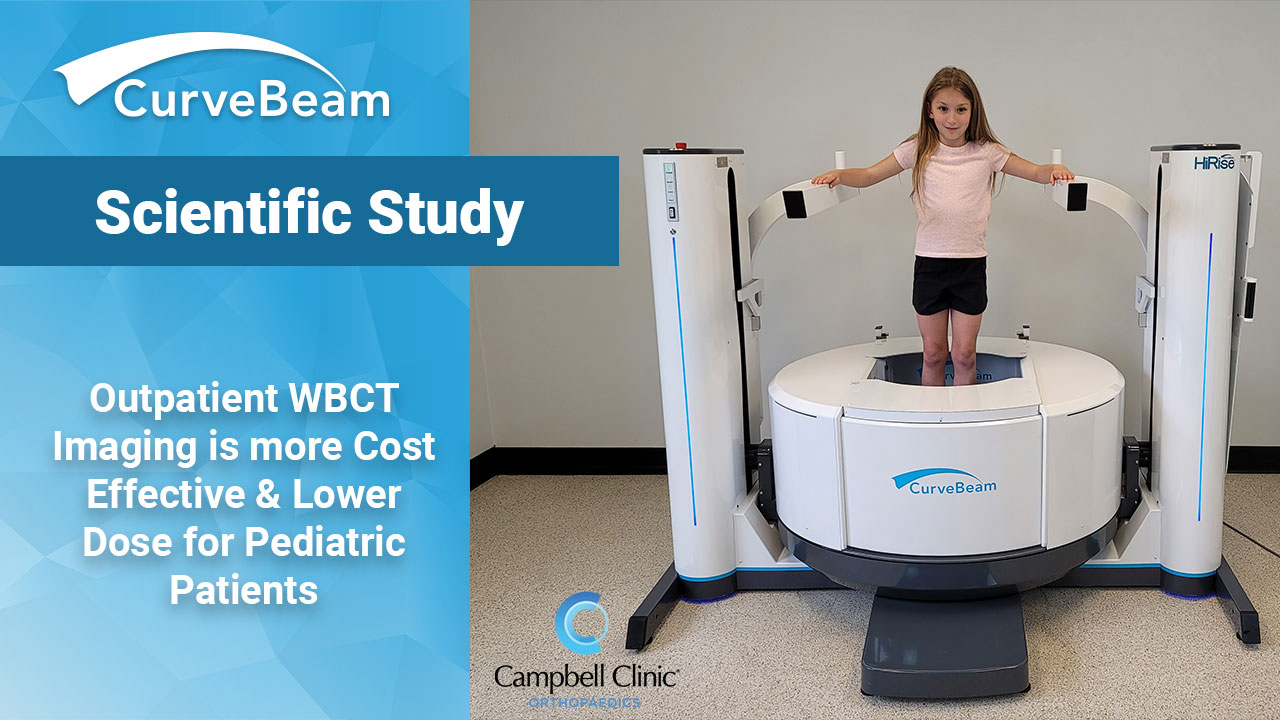 Campbell Clinic Analyzes Pediatric WBCT Scans
Key Points:
This study compared clinical indications, demographic data, radiation dose and cost of weight bearing CT (WBCT) imaging with traditional supine CT imaging (MDCT) for a cohort of pediatric patients.
WBCT scans were performed in a private outpatient orthopedic clinic, while the MDCT scans were performed in a hospital. The 68 patients in this study who got a WBCT scan reduced healthcare spending by $23,334.
Radiation dose to pediatric patients was significantly less on WBCT than on MDCT for patients both over and under 100 pounds.
Weight bearing CT (WBCT) has become increasingly popular for evaluating foot and ankle pathology, but most research thus far has focused on adult populations.
Dr. Hayden S. Holbrook, MD et. al out of the Department of Orthopaedic Surgery and Biomedical Engineering, University of Tennessee Health Science Center – Campbell Clinic, in Memphis, Tennessee, took a close look at WBCT scans taken of pediatric patients. They found that overall, WBCT scans cost less for the patient and exposed the patient to less radiation, when compared to traditional supine CT imaging (MDCT).
Materials and Methods
The study (IRB #19-06448-XP) compared 68 pediatric patients (86 extremities) from a retrospective cohort who underwent WBCT for a variety of conditions with 48 pediatric patients (59 extremities) who underwent traditional supine non-weight bearing CTs (NWBCT). Clinical indications, demographic data, radiation doses, and cost were obtained from the medical records of all patients. The WBCT scans were obtained in a private outpatient orthopaedic clinic with a CurveBeam's weight bearing CT system  and the conventional NWBCTs were obtained within a hospital-based system utilizing a standard supine CT system.
Clinical Indications
The most common clinical indications for both WBCT and MDCT were coalition, fracture, and Lisfranc injury. For Lisfranc injuries specifically, WBCT was ordered 10 times more frequently than MDCT. WBCT is "an important tool in the management of subtle Lisfranc injuries as weight bearing may provide greater diagnostic imaging over supine," the authors said. WBCT can guide pre-operative planning for more advanced Lisfranc cases, the authors added.
Radiation
The pedCAT WBCT radiation dose is predetermined by settings based on the patient's weight. For CTs of the entire foot and ankle, a radiation dose of 0.63 mGy is absorbed in patients that weigh less than 100 lbs and 1.10 mGY for patients who weight 100 lbs or greater.
For the MDCT group, the average radiation dose for patients weighing under 100 lbs was 7.92 (range: 2.6 to 12.9) mGy and for patients over 100 lbs, 10.4 mGy (range: 2.9 to 13.9).
Researchers noted that the radiation dose was significantly less with WBCT performed on the pedCAT scanner than traditional MDCT.
Cost
Over the course of the study, the average collected amount for the WBCTs on the pedCAT scanner was $345 for unilateral studies and $635 for bilateral studies. The average reimbursement for MDCTs was $505 for unilateral studies and $1,451 for bilateral studies.
Researchers noted that if the 68 patients who had WBCT scans had undergone MDCT instead, the reimbursement would have been $23,344 more in total for the combined unilateral and bilateral scans.
To read the full study please click here.