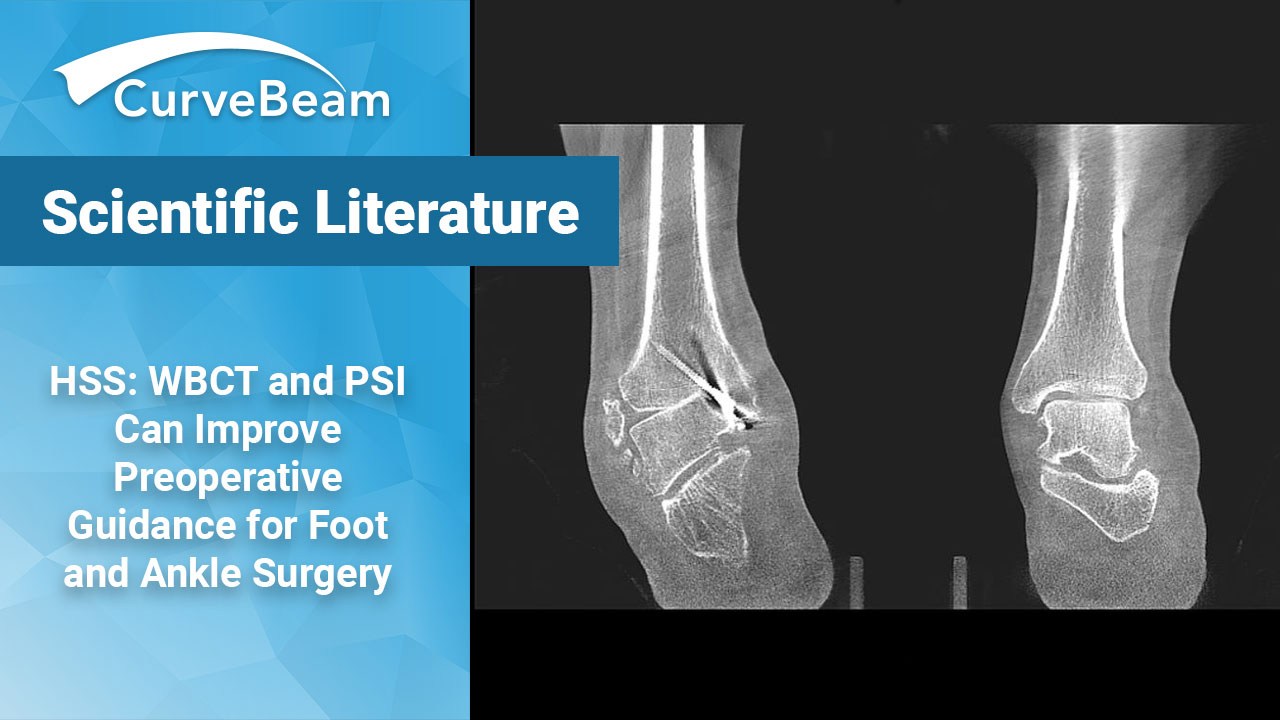 HSS: WBCT and PSI Can Improve Preoperative Guidance for Foot and Ankle Surgery
Key Points:
Weight Bearing CT (WBCT) has helped surgeons better understand the orientation and specifications of patients' joints, and it allows for the development of individualized cutting guides that are both reliable and reproducible.
Using preoperative WBCT for intraoperative procedures can both decrease operative time and increase rates of implant survival.
WBCT with patient specific instrumentation (PSI) has the potential to improve accuracy and reproducibility of component alignment, resulting in more appropriate correction of deformities which can in turn decrease the need for corrective osteotomies, lowering the burden on patients.
The following is a summary of review article in HSS Journal: The Musculoskeletal Journal of Hospital for Special Surgery, published July 2021 by Dr. Jacob Zeitlin, Henry Jensen, MD, and Scott Ellis, MD, on the advantages of weight bearing CT (WBCT) and patient-specific instrumentation (PSI) for total ankle arthroplasty (TAA).
As weight bearing CT (WBCT) emerges as the new standard of care, the ability to create patient-specific instrumentation (PSI) and obtain intraoperative images has been invaluable when it comes to procedures such as total ankle arthroplasty (TAA), as well as several other foot and ankle procedures.
WBCT uses Cone Beam CT technology to image a patient in a natural standing position. This technique allows for a clearer view when identifying underlying pathologies such as malalignment and impingement, which may not be as obvious when a joint is under it's normal load.
Conventional X-Rays have several perspective limitations, including rotation, fan distortion, and reproducibility, not to mention the 3D complexity of the foot and ankle presents a big challenge when analyzing in two dimensions. Conventional CT (MDCT) can compensate for some of these limitations by adding in the 3D element, but still lacks the ability have the patient in a weight bearing position, giving a misrepresented view of the pathology.
WBCT for Preoperative Imaging
WBCT can enhance pre-operative planning for TAA, adult-acquired flatfoot deformity (AAFD), hallux valgus, syndesmosis, lateral ankle instability, and many other foot and ankle related surgeries.  For patients with hallux valgus, WBCT could identify the degree to pronation of the first metatarsal to guide surgical management.
WBCT for TAA
Arthritis of the ankle joint affects about 1% of the population with the end-stages leading to daily pain, swelling, and debilitation. TAA is now seen as a valid alternative to ankle arthrodesis, which historically was the gold-standard treatment for ankle arthritis.
WBCT images assist in modeling  implant sizing and position and creating preoperative guides that optimize implant placement to be more accurate and reliable, leading to higher rates of implant survival.WBCT and PSI improve bone cutting precision prior to implant insertion, which is vital to a successful surgery and postoperative outcomes.
Those same preoperative WBCT scans are also useful for evaluating concomitant deformity corrections, such as calcaneal osteotomies, which is clinically relevant as 73% of ankles with a varus deformity greater than five degrees require an ancillary procedure.
The available evidence shows that using preoperative WBCT for intraoperative procedures can both decrease operative time and increase rates of implant survival.
Several PSI systems use customizable modules created from CT images to help surgeons with implant placement. Most widely used is the Stryker Prophecy® Surgical Planning System commonly used for preoperative navigation with the Infinity™ total ankle system. WBCT has recently been used alongside Prophecy® to aid in more precise measurements to improve patient outcomes. Other PSI systems which also benefit from WBCT are Exactech Vantage® Ankle PSI (Exactech, Gainesville, FL) and APEX 3D™ Total Ankle Replacement System (Paragon28, Englewood, CO).
Future Applications
There are significant potential benefits to adopting intraoperative navigation systems, such as those used for hip and knee replacements, for foot and ankle. These systems could offer precise and accurate implant positioning. While current WBCT and PSI allow for precise tibial and talar cuts, there is still a risk for implant malrotation or malposition.
Dr. Jacob Zeitlin noted that a key to unlocking further improvements would be to validate deep learning and artificial intelligence algorithms that could, for example, predict clinical outcomes. These methods would only become more accurate as more data is collected.
To read the full article click here.