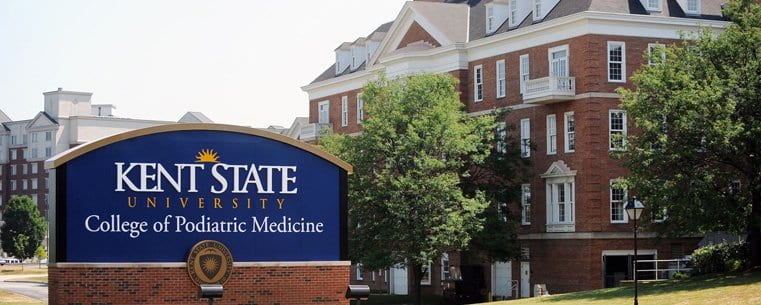 CurveBeam Announces First pedCAT Installation at an Accredited College of Podiatric Medicine
CurveBeam is proud to announce the installation of a pedCAT cone beam CT imaging system at Kent State University College of Podiatric Medicine.
Kent State is the first member of the American Association of Colleges of Podiatric Medicine to acquire weight bearing CT imaging technology.
"Kent State University is proud to be the first facility in the Northeast Ohio region to provide this 'state- of-the-art" imaging modality," said Dr. Allan Boike, Dean & Professor of Foot & Ankle Surgery at KSUCPM. "The CurveBeam pedCAT will allow the college to improve the foot and ankle health of the community while providing the highest quality education for our students and research opportunities for our faculty and residents."
The pedCAT is the only cone beam CT imaging system that allows for bilateral, weight bearing CT images of the foot & ankle. Due to its compact size and low radiation exposure, the pedCAT is an an ideal solution for CT imaging at the podiatric point-of-care. Recent articles in orthopedic journals demonstrate weight bearing CT imaging is a valuable research tool that is shedding new light on even our basic understanding of foot & ankle biomechanics and deformities.
"Our initial euphoria in acquiring the pedCAT weight-bearing cone beam CT has only been eclipsed by actually getting to use it first-hand," said Dr. Lawrence Osher, Director of the Radiology Department. "Simply put, this is an utterly amazing tool in the podiatric diagnostic and research armamentarium.  The ability to do 3D and multi-planar reconstructions on a weight-bearing foot and ankle, coupled with the prospect of marrying structure and function, opens up a seemingly endless array of research opportunities.  Bounded only by our creativity, we at KSUCPM look forward to adding significantly to the pool of knowledge in the medical literature."
The pedCAT was funded through a research grant from the Ohio College of Podiatric Medicine (OCPM) Foundation, which was established to promote podiatric medical education and research.
"Dean Boike is to be commended for his foresight in procuring this advanced apparatus which further enables the College to maintain and expand its competitive edge in podiatric medical education," said Dr. David Nicolanti, Executive Director of the OCPM Foundation. "In addition, this weight bearing CT imaging system provides a basis for enhancing collaboration between the College and foot and ankle specialists, from all medical stratums throughout the state of Ohio and the encompassing region."
The College has a number of weight bearing CT research initiatives planned.
The pedCAT is located at the Cleveland Foot and Ankle Clinic's midtown office at 7000 Euclid Ave in Cleveland. Weight bearing CT services will be offered to the clinic's patients.