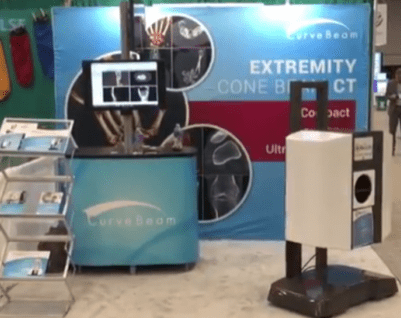 Curvebeam's Booth Is a Must-See at RSNA 2016!
In just a little over a week, many of the greatest minds and innovators in radiology will convene in Chicago for RSNA 2016, and we at CurveBeam are proud to have our talented and skilled team there representing us. Over the course of the conference, there will be groundbreaking research presented, technological advances displayed and educational classes offered. In the heart of it all, our booth will be featuring some incredible innovations – proving once again that CurveBeam is continuing to find new ways to push the boundaries of our field.
Our core team pioneered Cone Beam CT imaging technology for the dental and ENT specialties. The ability to provide point-of-care imaging revolutionized these industries and allowed not only for improved care, but for the possibility of custom dental implants. Now we are taking that same breakthrough technology and adapting it to the orthopedic field, and we are proud to introduce the results of our efforts at this year's RSNA. Here are our top three reasons why you can't afford to miss the CurveBeam booth this year:
See the LineUp
We will  unveil the prototype for the LineUP, a bilateral weight-bearing Cone Beam CT imaging system for the knees and lower extremities. It will not only plugs into a standard wall outlet, but will also be self-shielded and will complete a scan in under a minute. While the technology is still investigational only, it is PACS/ DICOM compliant and is sure to revolutionize the way orthopedic clinics approach radiology.
Experience InReach
While the LineUp is certainly fast, the InReach completes scans of the hand wrist, forearm, elbow and extremities in under 20 seconds flat. We designed InReach technology to bring the idea of point-of-care extremity CT imaging  to upper extremity specialists. While it is also still investigational technology, the progress we've made toward this goal is worth coming to see.
Discover TALAS
One of the most crucial elements of orthopedic surgical planning is the precise pre-operative measurement of hindfoot realignment. TALAS is a tool that makes the process not only smoother, but more accurate and precise. It is a semi-automated hindfoot alignment measurement device that has been adapted for weight-bearing CT. Come check it out for yourself, and discover the potential TALAS has to one day be a true game-changer in the field.
"We are tremendously excited to share our recent research and development efforts with the global radiology community," says CurveBeam President and CEO Arun Singh. RSNA is an opportunity to share and learn together as a community and we are thrilled to be a part of that experience. Feel free to come by and discover our innovative new technology. If you want to learn more before seeing our products in person, visit CurveBeam.com. We hope to see you soon at RSNA 2016!