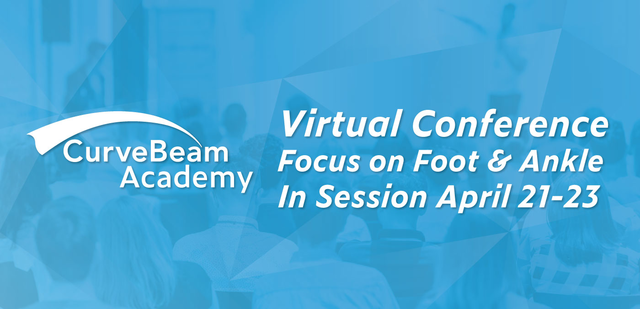 Watch Recordings: CurveBeam Academy: Focus on Foot & Ankle
Location: Online, Virtual
You are invited to review CurveBeam Academy: Focus on Foot & Ankle, an informative 3-day virtual event that featured expert presenters. Gain practical clinical knowledge and stay abreast of the latest innovations in orthopedics.
Scroll down to see what events took place.
Pre-Planning for Total Talar Replacement with Bilateral WBCT
Presented by Dr. Kent Ellington, MD
Dr. Ellington reviewed a total talar replacement he performed on a patient with long-term avascular necrosis. He discussed how a bilateral weight bearing CT scan was utilized for Pre-Op planning.
Watch the recording here.
Financial and Operational Perspectives of Implementing CurveBeam WBCT
Presented by Dr. Calvin Rushing, DPM
Dr. Rushing provided insights on how implementing a new technology in private practice was used to improve patient outcomes.
Watch the recording here
Panel Discussion: Potential Research and Clinical Applications of CubeVue Autometrics
Panelists: Prof. Dr. Martinus Richter, Dr. Cesar de Cesar Netto, MD, PhD, Dr. Francois Lintz, MD, Stuti Singh 
A panel of foot & ankle surgeons and CurveBeam engineer Stuti Singh discussed how CubeVue Autometrics could be utilized in clinical practice.
Watch the recording here
3D Joint Space Width from Weight Bearing CT Detects Progressive Narrowing After Tibial Pilon Fractures
Presented by Dr. Donald Anderson, PhD
Dr. Anderson presented research utilizing weight bearing CT to measure joint space width changes in the wake of articular fractures of the lower extremity as an early indicator of post-traumatic osteoarthritis development.
Watch the recording here
How Important is Weight Bearing CT in Hallux Valgus?
Presented by Dr. Cristian Ortiz, MD
Dr. Ortiz reviewed research on the utilization of WBCT for Hallux Valgus, as well as provided insights from his clinical practice.
Watch the recording here