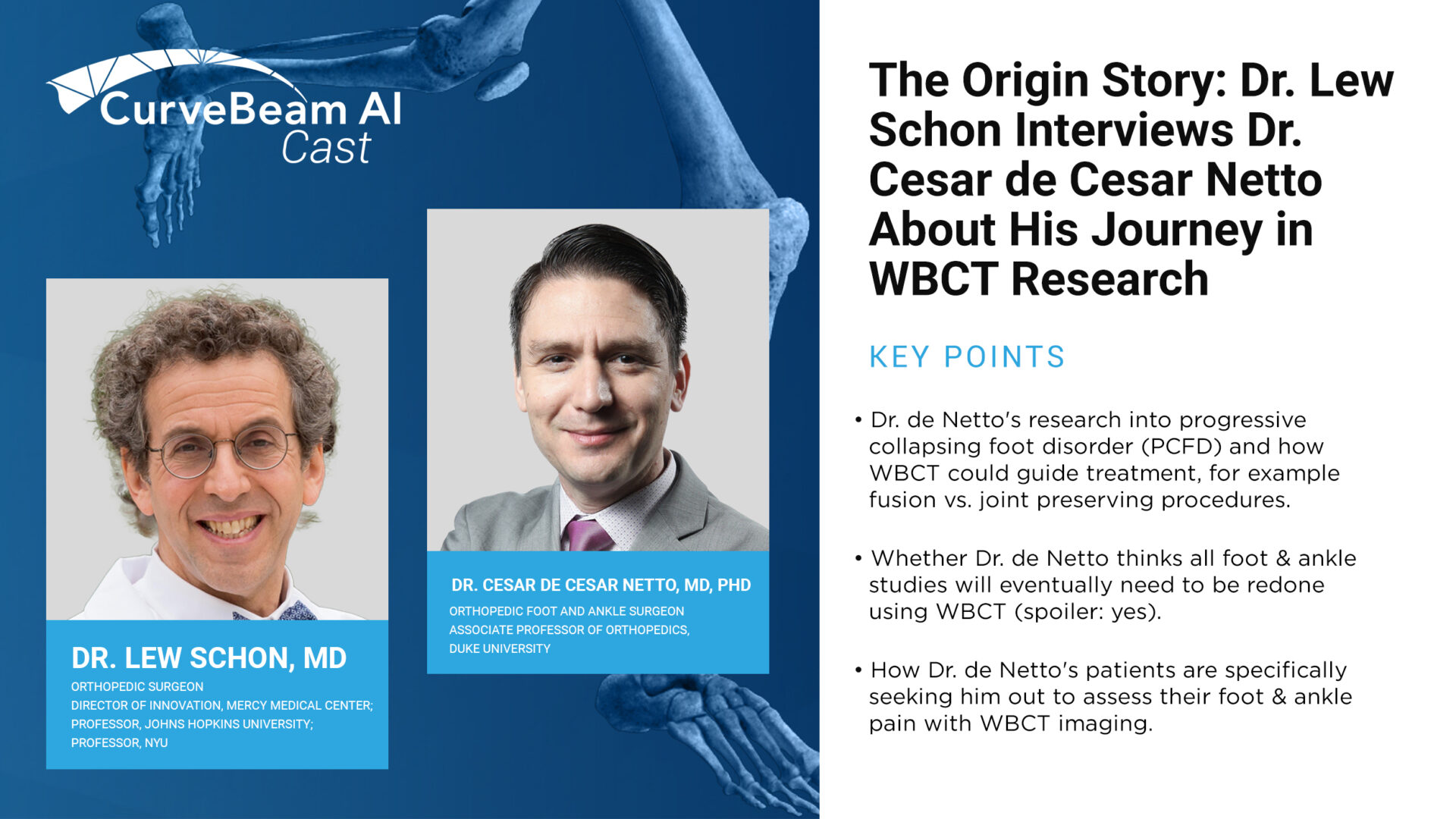 CurveBeam AI Cast – The Origin Story: Dr. Lew Schon Interviews Dr. Cesar de Cesar Netto about his Journey in WBCT Research
Dr. Lew Schon, MD, makes his debut as guest host on CurveBeam AI Cast in an interview with his former fellow, Dr. Cesar de Cesar Netto, MD, PhD. The reminisce how Dr. De Netto was first introduced to WBCT imaging at Medstar Union Memorial Hospital in Baltimore, and how he is now a global leader in WBCT research and applications.
The two discuss
1. Dr. de Netto's research into progressive collapsing foot disorder (PCFD) and how WBCT could guide treatment, for example fusion vs. joint preserving procedures.
2. Whether Dr. de Netto thinks if all foot & ankle studies will eventually need to be redone using WBCT (spoiler: yes).
3. How Dr. de Netto's patients are specifically seeking him out to assess their foot & ankle pain with WBCT imaging.
Click here to read about a research project in which Dr. de Netto's team combined WBCT imaging with coverage mapping and distance mapping to better understand bone positioning in patients with progressive collapsing foot deformity (PCFD).
Dr. Cesar de Cesar Netto is an Assistant Professor at the University of Iowa, Carver College of Medicine, specifically in the Department of Orthopedics and Rehabilitation. Dr. de Cesar Netto has had four Clinical Fellowships, including at the University of Sao Paulo, the University of Alabama, the Hospital for Special Surgery in New York, and the Medstar Union Memorial Hospital in Baltimore. He specializes in Foot and Ankle Surgery Disorders and Imaging of the Foot and Ankle, with a focus on Flatfoot Deformity, Tomography and Achilles Tendinopathy.