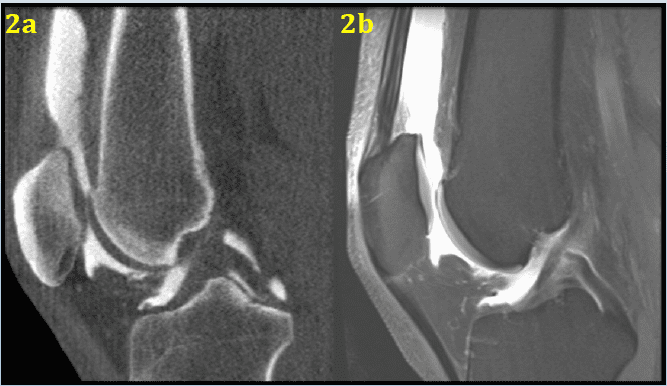 New Findings on the Impact of Weight on Arthroscopic Osteochondral Talar Reconstruction; MRI Over CT for Detecting Edema
A recent study published by the American Orthopaedic Foot and Ankle Society on the impact of weight on arthroscopic osteochondral talar reconstruction suggests that the AT-AMIC procedure can safely and reliably be performed—regardless of a patient's weight—resulting in a significant improvement in quality of life.
The goal of the study was to evaluate healing as well as the functional outcomes after an AT-AMIC for two categories of patients: those with a BMI score greater than or equal to 25, and those with a score of less than 25. Using both CT and MRI, the study's authors— Federico Giuseppe Usuelli, MD, Camilla Maccario, MD, Chiara Ursino, MD, Nicola Serra, PhD, and Riccardo D'Ambrosi, MD—analyzed 37 arthroscopic osteochondral reconstructions undertaken between January 2012 and June 2014 at a site renowned for foot and ankle procedures. The 37 patients could be divided nearly evenly into two groups: a healthy weight group and an overweight group, according to standard BMI recommendations.
As the study unfolded, the authors found that "being overweight leads to an overuse of the ankle joint and increases the stress on the soft tissues and joints." The most interesting discovery, however, was "the significant difference between the measurements obtained with the CT and those with MRI at each time point," especially in the overweight group.
With the healthy weight group the differences were minimal and nearly undetectable, except for measurements taken at T0 and at T1. With the overweight group, however, lesions became more visible when measured with MRI. It was these observations that led the authors to hypothesize that "weight plays a key role in the edema surrounding the osteochondral lesion," and that such lesions are better identified and measured with MRI.
"Conversely, the strength of CT scan is its ability to focus on the condition of the subchondral bone plate," the study said. "The integrity of the subchondral bone plate is crucial for the vitality of the articular cartilage."
In addition, "we hypothesized that in overweight patients a load focused on the talus could lead to edema, with an over-estimation of the lesion measured with MRI."
All of the study's patients demonstrated substantial improvement at the study's final follow-up. As a result, in the authors' view, a patient's weight should not be used as a "negative predictor" for how that person will ultimately respond to an AT-AMIC procedure.