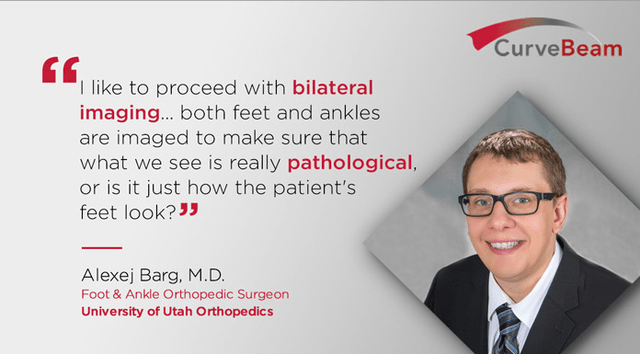 CURVEBEAM CONNECT: THE FUTURE OF SYNDESMOSIS EVALUATION
On this month's edition of CurveBeam Connect, Vinti Singh, Director of Marketing at CurveBeam interviews Alexej Barg, M.D., an orthopedic surgeon at the University of Utah.

Dr. Barg specializes in the care of the foot and ankle, as well as reconstruction of traumatic injuries to the foot, ankle replacement, and joint preserving procedures.
Prior to coming to the University of Utah, he was the head of the Orthopedic Department at the University of Basel in Switzerland.
Dr. Barg currently serves as a reviewer for numerous medical journals including Foot & Ankle International, Journal of Biomechanics, Clinical Anatomy, and BMC Musculoskeletal Disorders, and is well published in foot and ankle replacement.
Currently, Dr. Barg is working with a variety of other researchers on a series of weight-bearing CT projects, including two cadaver research studies. On working with Dr. Arne Burssens on a templating method, Dr. Barg said, "we're able to compare the healthy side versus the injury side and can detect very small differences in imaging using weight-bearing, which we're not able to do using conventional radiographs and MRI."
Give this podcast a listen to hear Singh and Dr. Barg break down his recent presentation on evaluating syndesmosis, his discoveries on the effect that torque plays in syndesmosis measurement, and whether these findings could translate to imaging in the clinical setting.