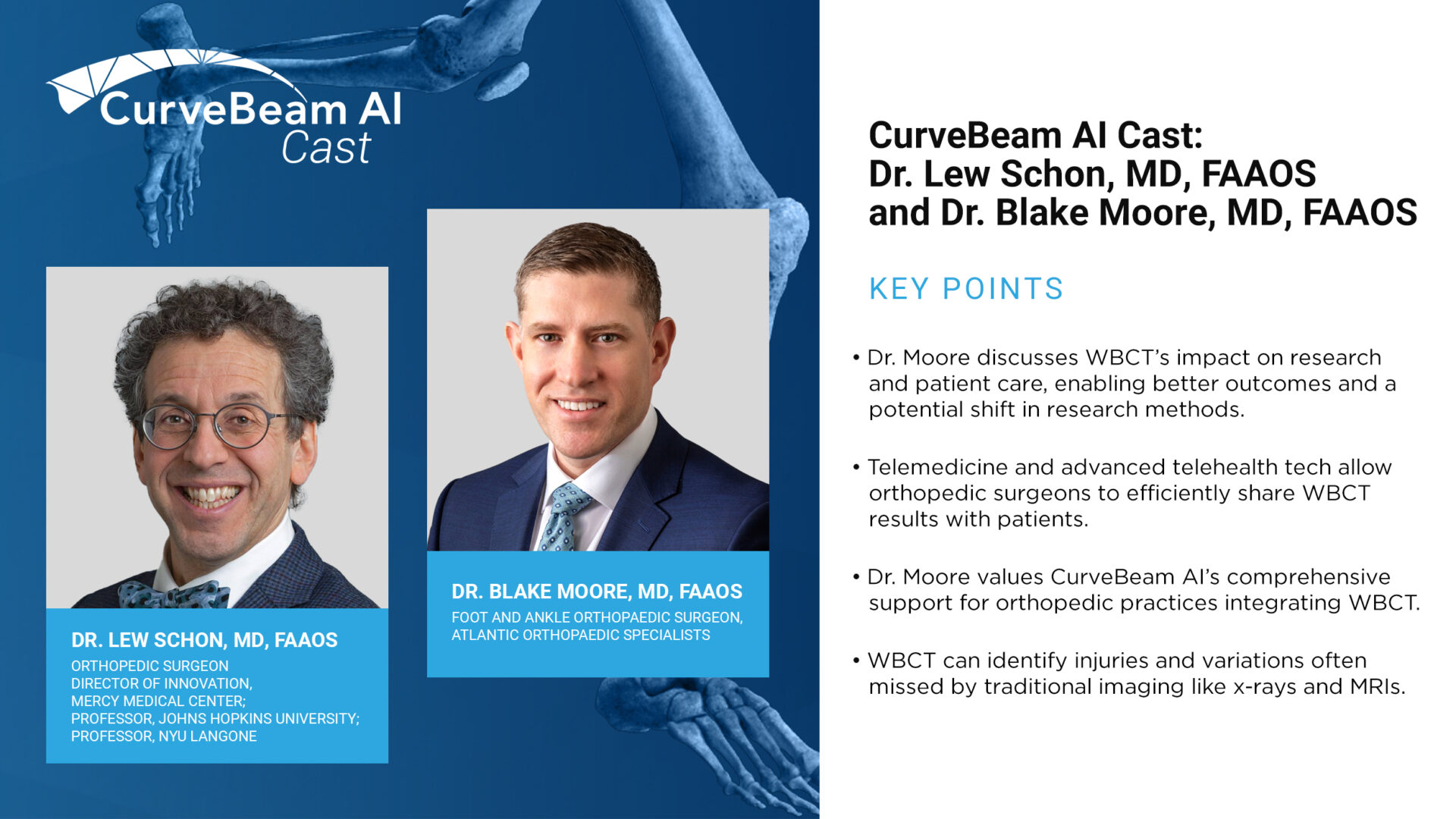 Beyond Traditional Imaging: Dr. Blake Moore on Weight-Bearing CT Scans
The introduction of weight-bearing CT scans has revolutionized how surgeons assess and treat various orthopedic conditions. Research indicates this technology can provide clinicians with in-depth, real-time insights, allowing for better patient outcomes and more accurate diagnoses.
How is weight bearing CT technology influencing the approach of orthopedic surgeons, and how are patients benefitting from it?
Welcome to the CurveBeam AI Cast, where the future of orthopedics is at the forefront. In this episode, hosted by Dr. Lew Schon, a renowned Orthopedic Surgeon and Director of Innovation at Mercy Medical Center and Professor at John Hopkins University and NYU Langone, examines the impact of weight bearing CT imaging in a typical orthopedic clinic with his guest Dr. Blake Moore, an experienced Orthopedic Surgeon from Virginia Beach, who shares his journey with this innovative technology.
Key conversation points include:
The evolution and early adoption of weight bearing CT scans
The physiological benefits of assessing limbs under actual weight bearing conditions
How the imaging precision of weight bearing CT scans influences surgical decision-making
Dr. Blake Moore, originally from Albany, New York, completed his medical studies at Albany Medical College before undertaking his residency at Geisinger Medical Center in Pennsylvania. Following a fellowship with Paul Giuliano at Penn State, Dr. Moore has spent almost a decade in Virginia, using weight bearing CT scans in his practice and advocating for its broader implementation. His commitment to advancing orthopedics through technology and research is evident in his work and collaborative efforts with fellow professionals.