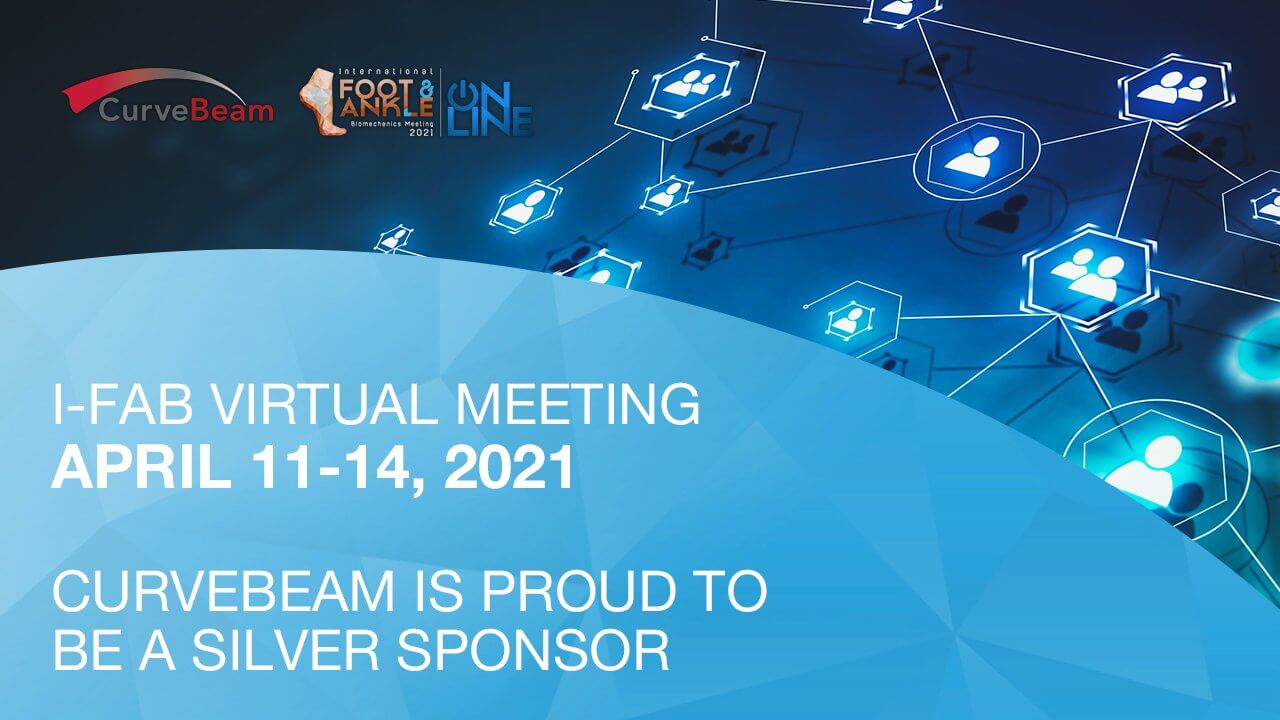 Virtual Conference: I-FAB 2021
The 2021 International Foot & Ankle Biomechanics Meeting, or i-FAB, moved to a virtual setting where exhibitors and attendees could share their insights for the new year.
CurveBeam is proud to sponsor that year's event, which was held from April 11-14.
Weight bearing CT imaging was featured as one of the main themes of the conference.
Weight bearing CT imaging was featured in a special session chaired by Alberto Leardini and Francois Lintz. Cesar de Cesar Netto and Paolo Caravaggi led a keynote session on the role of WBCT in diagnosis and treatment of collapsing foot.
Register here.
Two Oral Sessions on Weight Bearing CT 
Annamaria Guiotto, University of Padua, and Jayishni Maharaj, of Griffith University, chaired the first oral session on April 11, 2021. Topics during this session included hallux valgus deformity in patients with adult acquired flatfoot deformity and if WBCT alignment can predict postoperative patient reported outcomes in adult acquired flatfoot deformity. The second oral session was chaired by Rajshree Hillstrom, of New York University, and Sophie de Mits, of Artevelde University of Applied Sciences on April 12. Topics included WBCT analysis of foot alignment in symptomatic National Football League (NFL) athletes and an analysis of the motion of foot bones under controlled vertical load via weight bearing CT.
Keynote Session on Weight Bearing CT
On April 14, Cesar de Cesar Netto, of University of Iowa, and Paolo Caravaggi, of Instituto Ortopedico Rizzoli, led a keynote session titled, "The Collapsing Foot: Challenges in Diagnosis & Treatment & The Role of Weight Bearing CT." They will discuss preoperative, intraoperative and postoperative radiographic assessment of deformity correction, and the multiple measurements reported in the literature, as well as how the advent of weightbearing CT has changed the understanding, the staging and the treatment algorithm for the collapse of this biomechanical and anatomical masterpiece that we know as foot.
Special Session on Weight Bearing CT
Following the keynote on April 14 was a special session on weight bearing CT led by Francois Lintz, president of WBCT Society,  and Alberto Leardini. A diverse range of panelists discussed topics including a radiologist's perspective on near-term and long-term implications of WBCT imaging,
CurveBeam Industry Session on Weight Bearing CT
CurveBeam hosted an industry session on April 14 featuring a panel of researchers from the University of Iowa. They discussed how they utilized the HiRise, CurveBeam's weight bearing CT imaging system that can scan the entire lower extremity, in their investigations. Panelists include Michael Willey, who discussed the potential WBCT holds for examining hip dysplasia. CurveBeam representatives were available for a live Q&A at the conclusion of the panel.
Even virtually, i-FAB is an excellent opportunity for education and growth. According to the event's organizers, attendees can expect:
-Five-minute oral presentations followed by Q&A;
-Virtual social events for networking and more;
-Discussion and chat functionality to facilitate additional discussion.