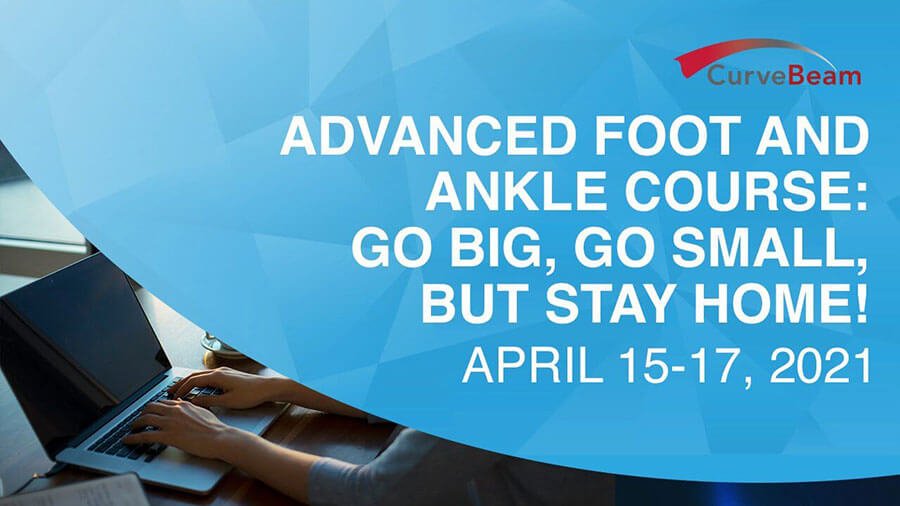 Virtual Conference: AOFAS Advanced Foot and Ankle Course
CurveBeam is proud to be sponsoring the upcoming American Orthopaedic Foot & Ankle Society®'s Advanced Foot and Ankle Course, set to help professional "go big, go small [and] stay home."
Attendees could visit CurveBeam's virtual booth and video chat with CurveBeam representatives.
The course was held online over three days, with sessions taking place on Thursday, April 15 from 4 to 7 p.m. Central Time, Friday, April 16 from 4 p.m. to 7 p.m. Central Time and Saturday, April 17 from 10 a.m. to 4 p.m. Central Time.
The course featured an interactive virtual platform empowering attendees to ask speakers questions, "upvote" their favorites to be answered and network with other attendees. Direct access to faculty for advice on personal cases via breakout rooms and exhibit hall presentations were also on the schedule to elevate the virtual experience.
Recordings and on-demand sessions were made available until May 31, helping you get the most out of the course even after the three days of learning and engagement have come to a close.
Faculty will include:
Christopher P. Chiodo, MD, Course Chair
Peter G. Mangone, MD, Course Co-chair
Rebecca A. Cerrato, MD
Timothy R. Daniels, MD, FRCSC
Mark E. Easley, MD
Steven L. Haddad, MD
John Y. Kwon, MD
Michael S. Pinzur, MD
Alastair S.E. Younger, MBChB, ChM, FRCSC
Completing the course should give learners the tools and knowledge they need to take on their toughest cases by comparing and contrasting treatment approaches, surgical solutions and more, describing and evaluating patient selection and treatment strategies for revision procedures, outlining ways to manage complications, and applying best practices for elevating outcomes.
To register, click here.