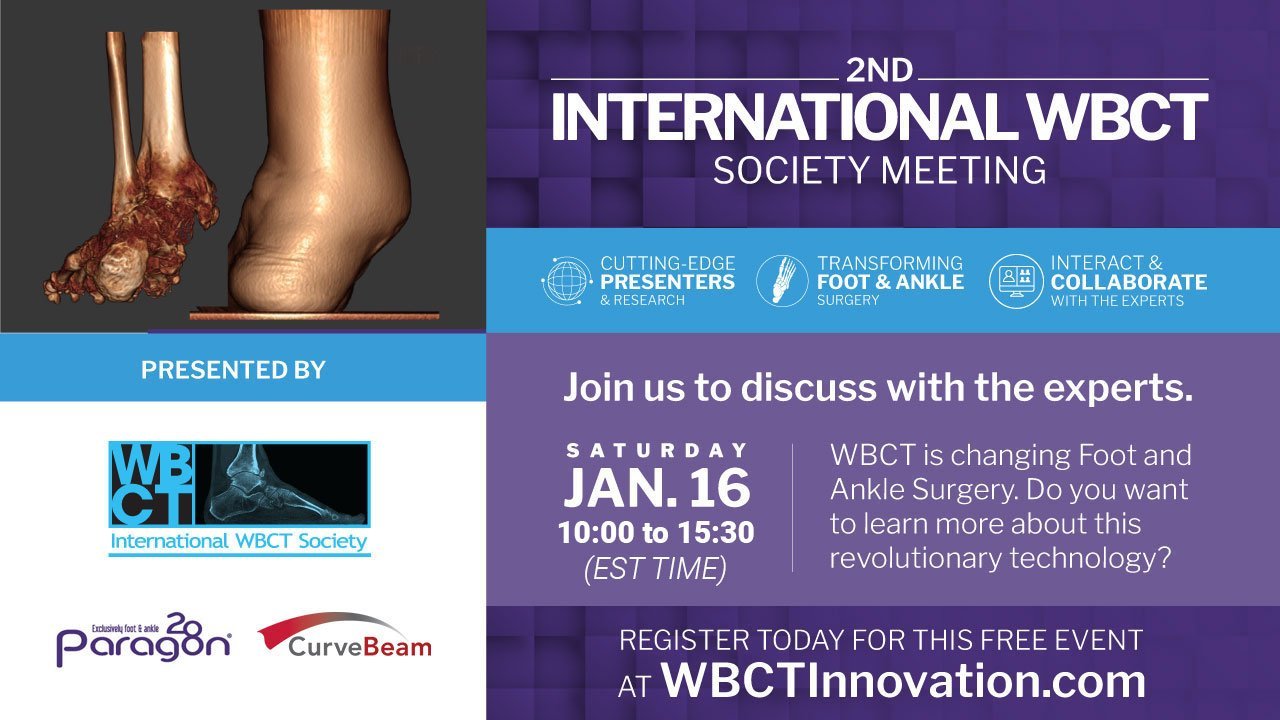 Agenda Posted & New Time: 2nd International WBCT Society Virtual Meeting
Location: https://www.wbctinnovation.com/
On Jan. 16, 2021, the International Weight Bearing CT Society will host its second virtual meeting, which will feature invited talks and research submitted via the Society's call for abstracts. CurveBeam is proud to sponsor the event, which will bring together WBCT experts from around the world.
The event is free of charge for attendees, offering a valuable resource for insights about the growing use of and wide range of benefits offered by WBCT. You can register here.
UPDATE: The WBCT Society announced the agenda for the meeting this week, as well as an updated start time of 10 a.m. EST to accommodate attendees in US time zones.
Session 1 (Chaired by Dr. Fracois Lintz, MD, FEBOT)
10 a.m. EST
Francois Lintz
Introduction
10:10 a.m.
Ruud Wellenberg
Quantitative 2D versus 3D geometric analyses on bones and joints in weight-bearing and non-weight-bearing cone-beam CT images
10:22 a.m.
Claudio Belvedere
Elongation of knee ligaments revealing patellar instability: differences between assessments via conventional and weight-bearing computer tomography
10:34 a.m.
Cesar de Cesar Netto
The Efficacy of Surgical Treatment in the Correction of Progressive Collapsing Foot Deformity
10:46 a.m.
Michele Conconi
Differences between loaded and unloaded kinematic synergies among foot bones through weight-bearing CT
10:58 a.m.
Arne Burssens
Correction of the Hindfoot Alignment after Supramalleolar Osteomy in Tibia Vara Deformity – A Three-Dimensional Weightbearing CT Analysis
11:10 a.m.
Alberto Leardini
Thorough morphological assessment of adult flexible flat foot via weight-bearing CT scans and 3D reconstruction tools
11:22 a.m.
All
Q&A
Session 2 (Chaired by Dr. Martinus Richter, MD, PhD)
10:40 a.m. EST
Martinus Richter
Introduction
10:45 a.m.
Matthew Conti
Correlation of Different Methods of Measuring Pronation of the First Metatarsal on Weightbearing CT Scans
10:57 a.m.
Matthieu Lalevée
Is Lateral Impingement a Good Predictor of Peritalar Subluxation in Patients with Progressive Collapsing Foot Deformity?
11:09 a.m.
Mark Carl Miller
The Pronation Angle Calculated from the Sulci and Floor Changes with Axial Alignment of the Metatarsal
11:21 a.m.
Nacime Salomao Barbachan Mansur
Automatic 3D Volumetric Analysys of the Distal Tibiofibular Syndesmotic Incisura: A Case-Control Study of Subtle Chronic Syndesmotic Instability
11:33 a.m.
Neil A. Segal
WBCT Provides an Increased Rate of Detection of Meniscal Extrusion Compared with MRI in Adults with or at Increased Risk for Knee Osteoarthritis
11:45 a.m.
Victoria Vivtcharenko
Ankle Joint Weightbearing CT Three-Dimensional Distance Maps of Adult-Acquired Flatfoot Deformity: A Retrospective Case-Control Study
11:57 a.m.
All
Q&A
Session 3 (Chaired by Alexej Barg, MD)
13:10 p.m. EST
Alexej Barg
Introduction
13:15 p.m.
TBA
TBA
13:27 p.m.
Sajid Butt
Innovations in Cone Beam CT for Orthopaedic Care
13:39 p.m.
Heidi Haapasalo
WBCT image analysis innovations
13:51 p.m.
Cesar de Cesar Netto
Titrating PCFD Reconstruction using WBCT
14:03 p.m.
All
Q&A
Session 4 (Chaired by Arne Burssens, MD, PhD)
14:15 p.m. EST
Arne Burssens
Introduction
14:20 p.m.
Scott Ellis
WBCT Innovation: the Surgeon's point of view (USA)
14:32 p.m.
Matthew Welck
WBCT Innovation: the Surgeon's point of view (EUR)
14:44 p.m.
John Carrino
WBCT Innovation: the Radiologist's point of view (USA)
14:56 p.m.
Mario Maas
The added value of WBCT imaging from the radiologist's point of view
15:08 p.m.
All
Q&A
The International WBCT Society is dedicated to enhancing diagnosis and understanding of weight bearing foot and ankle conditions, and this virtual meeting is an opportunity for the Society to advance that mission.
More information will be available in the weeks to come. Stay tuned to the Society's LinkedIn and Twitter pages to stay up to date.