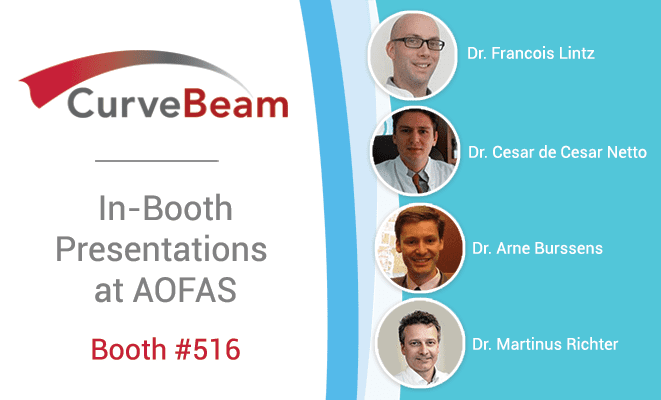 CurveBeam Announces Exhibit Presentation Schedule for AOFAS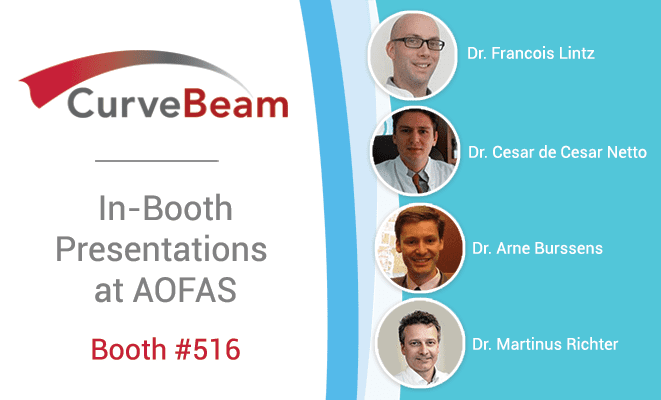 The American Orthopaedic Foot & Ankle Society (AOFAS) will hold its annual meeting from July 11 to July 14 in Boston, Massachusetts. The event will feature exhibits and targeted educational opportunities along with the chance to network with professionals in the orthopaedic specialties.
CurveBeam is honored to be exhibiting at this year's event and will host the following presentations in booth #512:
Thursday, July 12, 9:30 AM to 9:45 AM: Francois Lintz presents "Automatically measuring hindfoot in Three-Dimensions."
Thursday, July 12, 3:45 PM to 4:00 PM: Cesar de Cesar Netto presents "Weight Bearing Cone Beam CT: The Road to Somewhere!"
Friday, July 13, 10:00 AM to 10:15 AM: Arne Burssens presents "Understand what you diagnose, know what you treat using weightbearing CT."
Friday, July 13, 1:15 PM to 1:30 PM: Martinus Richter presents "What we have learned from more than 8,000 scans at a foot and ankle center."
​The American Orthopaedic Foot & Ankle Society (AOFAS) is an organization of more than 2,200 orthopaedic surgeons from the US and abroad who specialize in the medical and surgical treatment of injuries, diseases, and​ other conditions of the foot and ankle. Their annual meeting is a premier event in the orthopaedic community, and CurveBeam is pleased to be participating alongside some of the industry's most distinguished leaders. CurveBeam's highly innovative work in CT imaging has been well received by foot and ankle specialists, and we are proud of our collaboration in efforts toward improved patient outcomes.
Learn more here about CurveBeam's work with the orthopaedic community.