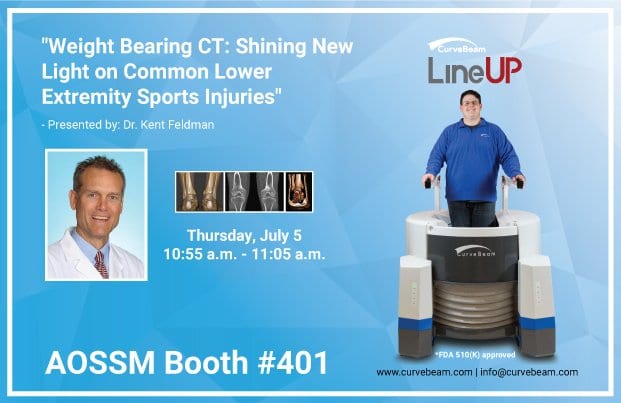 CurveBeam Plans Weight Bearing CT Presentation with a Special Focus on Sports Med at AOSSM Annual Meeting 2018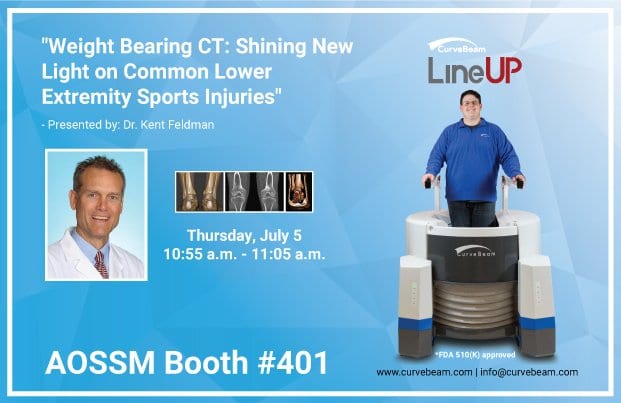 The American Orthopaedic Society for Sports Medicine (AOSSM) Annual Meeting will soon open its doors to welcome 1,300 sports medicine specialists, practitioners, and society members. Meeting attendees receive four days of leading research and education programming from elite orthopaedic sports medicine experts and medical innovators.
While you attend AOSSM, be sure to check out a presentation by Dr. Kent Feldmen titled 'Weight Bearing CT: Shining New Light on Common Lower Extremity Sports Injuries." This presentation will occur on Thursday, July 5 from 10:55 a.m. to 11:05 a.m. at AOSSM Booth #401.
AOSSM 2018 takes place this year on July 5 through July 8 in San Diego, California at the Manchester Grand Hyatt. The Annual Meeting plays a crucial role in providing insights on frontline research to the orthopaedic sports medicine community, which is why CurveBeam is excited to exhibit.
Learn More About pedCAT and LineUP
Visit booth 401 to learn about how pedCAT and LineUP could improve your practice. Bilateral, weight bearing scans of the feet, ankles and knees give physicians the information they need to assess the biomechanical spatial relationships and alignment of the lower extremities.
Also learn about the InReach, an upper extremity imaging solution for immediate point-of-care diagnosis of scaphoid fractures, distal radius fractures, and other easily misdiagnosed injuries.
Weight Bearing CT and Lower Extremity Sports Injuries Presentation
The CurveBeam team is looking forward to the opportunity to meet, educate and connect with top physicians in the field of sports medicine. To learn more about our weight bearing CT technology and find out where the team will be this year, please visit curvebeamai.com/events-and-webinars/events-and-trade-shows/.