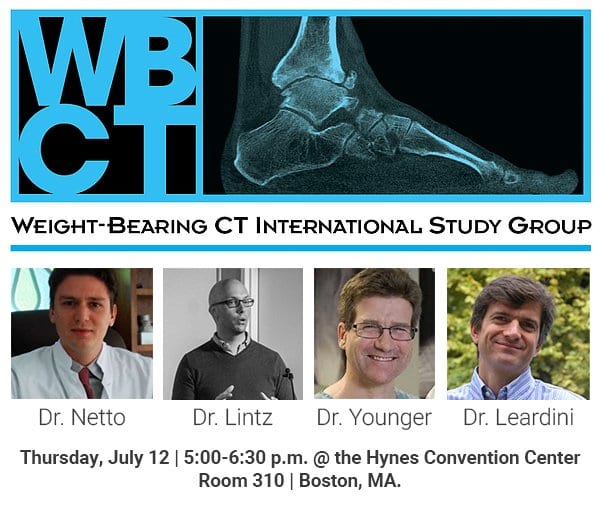 WBCT ISG Special Session takes place next week in Boston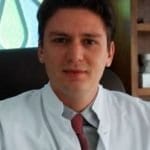 Guest post by Dr. Cesar de Cesar Netto, MD, PhD
Dr. Netto is currently a foot and ankle fellow at Hospital for Special Surgery (HSS). He is part of the WBCT ISG board. His main research interests are weight bearing CT imaging and adult acquired flatfoot deformity. 
Weight-Bearing Cone Beam CT (WB CBCT) is a reality. This relatively new imaging technology has quickly transformed the ability of orthopedic surgeons to assess simple and complex deformities of the foot and ankle.  It is following the path to soon become the standard imaging study for foot and ankle pathologies.
The Weight-Bearing CT International Study Group (WBCT ISG) was formally founded in 2017. Our mission is to promote dialogue and collaboration on WB CBCT research initiatives, and to develop standardized protocols for WB CBCT measurements and imaging analysis and is jointly sponsored by Carestream, CurveBeam and Planmed.
The Group is comprised of active and passive members from relevant international surgical and radiology foot and ankle societies, and research projects are conducted and published in collaboration.  The main tasks of the WBCT ISG are:
To promote and improve research using three-dimensional imaging with WB CBCT
To standardize the methodology regarding measurement methods on WB CBCT images
To serve as a platform of communication for foot and ankle surgeons, radiologists and other healthcare providers with scientific interest in this field
To offer guidelines and reviews regarding the indications and use of WB CBCT at an international level
The WBCT ISG has been promoting Scientific Sessions at least once or twice a year, usually during the most important orthopedic foot and ankle societies meetings in the US and Europe. The sessions have been a great opportunity for people to get to know the technology and learn from the experience of the most important authors that have been publishing on the field. Our next WBCT ISG Scientific Session will take place in Boston (Massachusetts, US) during the American Orthopedic Foot and Ankle Society (AOFAS) Annual Meeting. We are meeting on July 12th, 2018, from 5:00 p.m. to 6:30 p.m., at the Hynes Convention Center, Room 310.
We are having a great line-up with very interesting talks of experienced speakers on the field, with the following agenda:
Moderation: Martinus Richter MD, Ph. D

(05:00-05:10 PM) – Opening and Message of the President
Professor Richter is the current president International WBCT Study Group and the most experienced researcher on the field. He is Associate Professor at the Hannover Medical School and Head of the Department for Foot and Ankle Surgery Nuremberg and Rummelsberg at the Hospital Rummelsberg and Sana-Hospital Nuremberg.
(05:10-05:22 PM) Francois Lintz, MD: Surface Interaction Maps in the Foot and Ankle Joints using Distance Mapping and WBCT
Dr. Lintz a Foot and Ankle Surgeon at the Clinique de L'Union in Toulouse, France. He is part of the WBCT ISG board and a leader on the field.
(05:22-05:34 PM) Daniel Guss MD, MBA: Weight Bearing CT and the Syndesmosis: A Nice-To-Have or Must-Have?
Dr. Guss is Foot and Ankle Surgeon at Massachusetts General Hospital (MGH), In Boston-MA, US. He is Assistant Professor of Orthopedic Surgery at Harvard Medical School. He has been actively looking for answers in the diagnosis and treatment of the challenging ankle syndesmotic injuries.
(05:34-05:46 PM) Alberto Leardini, Ph. D: Preliminary experience in the use of WB CBCT at the Istituto Ortopedico Rizzoli in Bologna.
Professor Leardini is a world famous and recognized author in foot and ankle biomechanics. He is the Director of the Laboratory of Movement Analysis at the Instituto Ortopedico Rizzoli, Bologna, Italy. He has been studying the role of the WB CBCT in the research and clinical environment.
(05:46-05:58 PM) Alastair Younger, MB, ChB, MSc, ChM, FRCSC: Relationship between percentage of bone healing on WBCT and clinical outcomes for fractures and fusions. 
Dr. Younger is world recognized surgeon and researcher from St. Paul's Hospital in Vancouver, British Columbia, Canada.  He has enormous experience with complex deformities of the foot and ankle and special interest in bone healing and non-union.
(05:58-06:10 PM) Cesar de Cesar Netto: How weightbearing cone beam CT is going to change the treatment of flatfoot deformity?
Dr. de Cesar Netto is currently a Foot and Ankle Fellow at Hospital for Special Surgery (HSS). He is part of the WBCT ISG board and his main research interest are WB CBCT and adult acquired flatfoot deformity.
(06:10-06:25 PM) Questions and Answers
We would be glad to have you attend! Please RSVP today; see you in Boston!