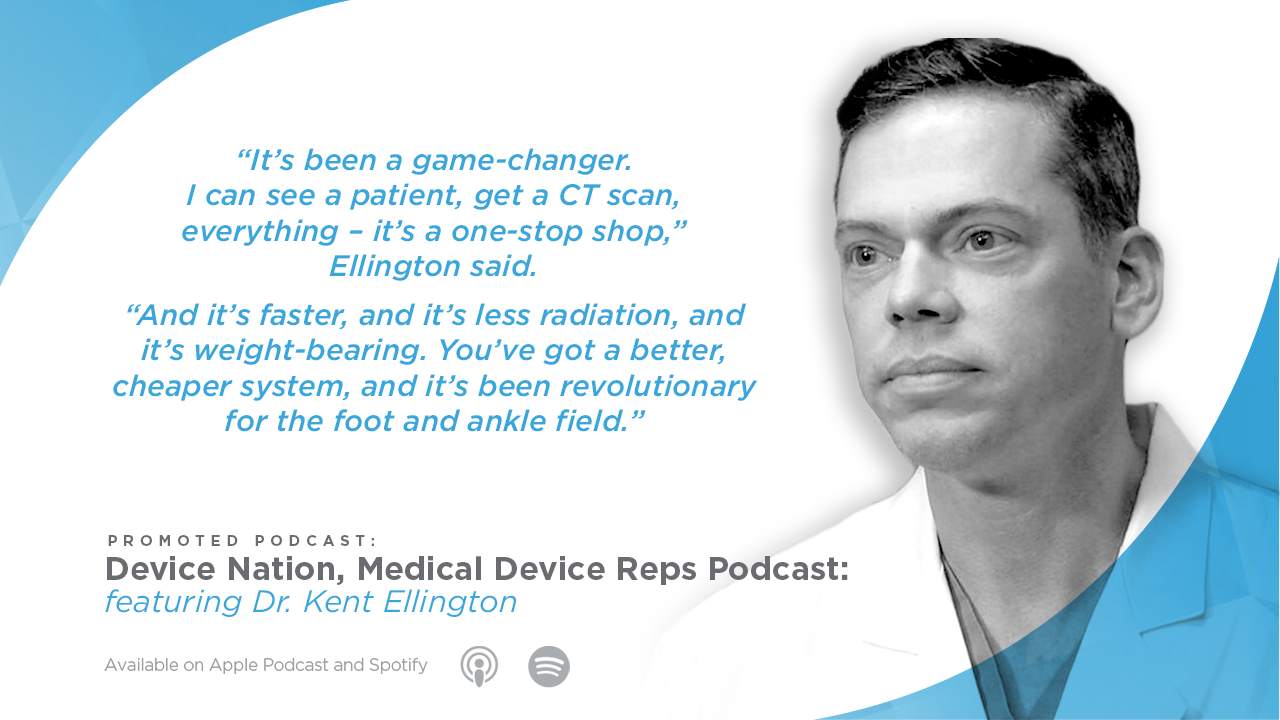 Promoted Podcast: Device Nation Features Dr. Kent Ellington
Dr. Kent Ellington, an OrthoCarolina Foot and Ankle Surgeon and team physician for NASCAR's Stewart-Hass Racing team, has more than two decades of research experience in his field and is a well-respected name in diagnosis and treatment of below-the-knee conditions.
Ellington recently joined the Device Nation podcast to explore his long history of startups, patents, and innovation. He also dove into the benefits of weight-bearing CT imaging and CurveBeam's industry-leading solutions.
Listen to the full episode here.
Ellington explored how his mechanical engineer father, who was the first in his family to attend college, inspired him to gain practical skills and to begin down his path toward an impactful career. He also spoke about his initial interest in foot and ankle orthopedics, how he became involved in NASCAR, and some of his 17 patents, including his first – a three-legged staple.
In particular, Ellington said CurveBeam's solutions allow for simple patient scanning with lower levels of radiation than traditional CT imaging and quick results. Ellington said his staff usually obtains pre-approval in minutes for the in-office scans.
"A weight-bearing CT scan gives me a tremendous amount of information," Ellington said. "It helps with pre-op planning and diagnosis, and we can do it post-operatively to look at positioning and fusion. … [CurveBeam] is really expanding their technology."
CurveBeam's weight-bearing CT solutions are empowering practices and physicians to engineer better patient outcomes in foot and ankle treatment.
"It's been a game-changer. I can see a patient, get a CAT scan, everything – it's a one-stop shop," Ellington said. "And it's faster, and it's less radiation, and it's weight-bearing. … You've got a better, cheaper system, and it's been revolutionary for the foot and ankle field."
CurveBeam takes pride in delivering solutions that give specialists the information they need to develop comprehensive treatment plans that help patients get the best care possible.