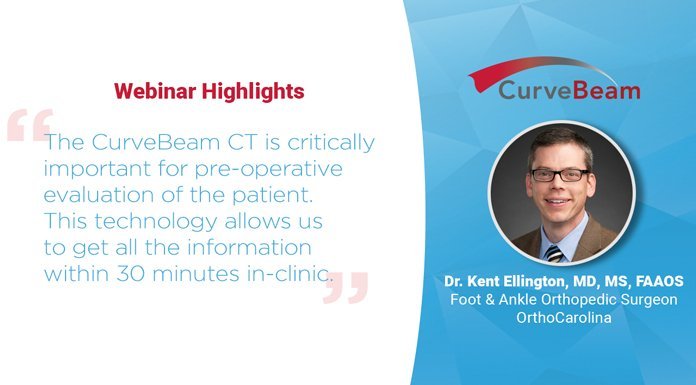 WBCT Imaging Assists with Preoperative Planning for Total Talar Replacement
Dr. Kent Ellington, MD, MS, FAAOS, a foot and ankle orthopedic surgeon at OrthoCarolina, discussed the role weight bearing CT (WBCT) imaging plays in the preoperative planning for total talar replacement as part of the CurveBeam Academy: Focus on Foot & Ankle webinar series.
Dr. Ellington explained how he worked with Restor3D engineers to design a custom cobalt chrome total talar replacement from a WBCT scan acquired in-office. Click below to watch a condensed, 1o-minute version of the webinar. 
To access the full length webinar, please click here.
Dr. Ellington reviewed a case of a 69-year-old female with idiopathic talar avascular necrosis who failed all conservative treatment. After another surgeon recommended an ankle fusion, the patient came to Dr. Ellington for a second opinion. He ordered a WBCT scan during her initial consult, and reviewed the case a half-hour later. X-Rays and an MRI had "hinted" at a talar collapse, but the WBCT scan clearly showed collapse of the talar plafond, a raised lateral talar dome, and a cyst in the fibula. However, the tibial plafond and he posterior facet of the subtalar joint, and the navicular joint were healthy.
The talus on the contralateral side was used to template the total talar replacement.
To access the full length webinar, please click here.