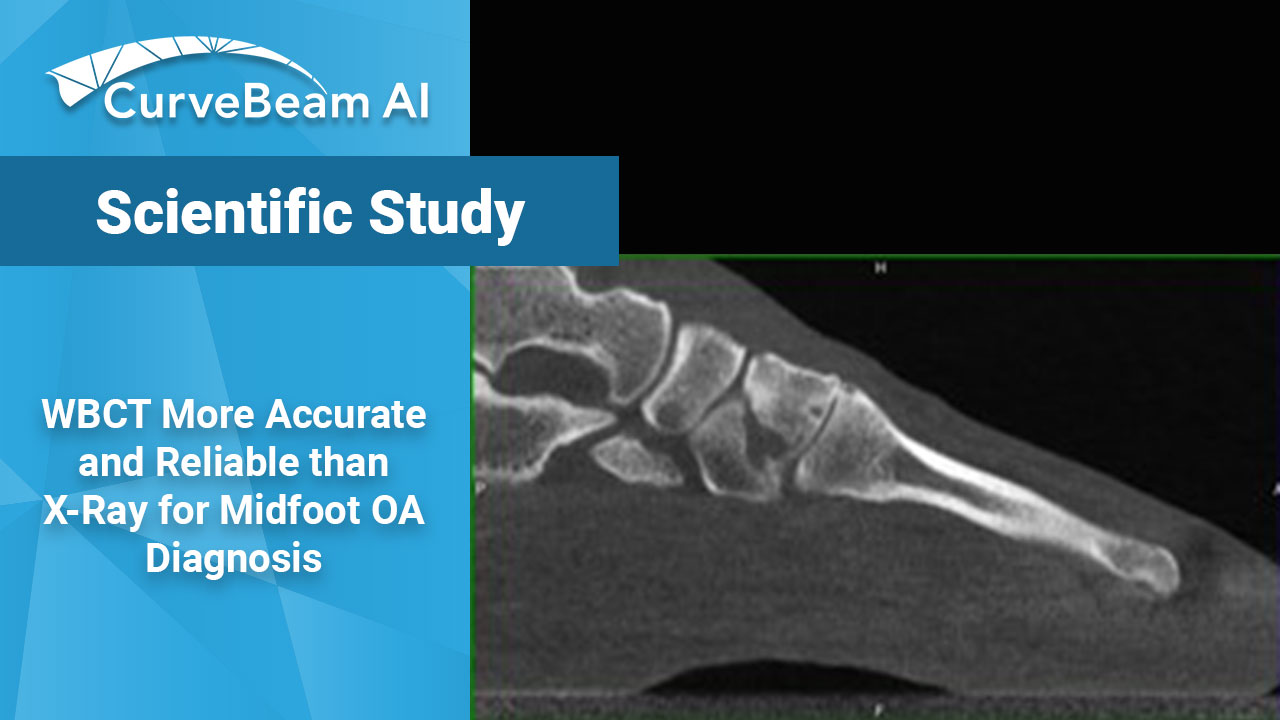 Comparative Assessment of Midfoot Osteoarthritis Diagnostic Sensitivity Using Weight Bearing Computed Tomography vs Weight Bearing Plain Radiography
Key Points: 
When evaluating midfoot arthritis osteoarthritis (OA), Weight Bearing X-Ray shows many false negatives and false positives, even when read by a musculoskeletal (MSK) radiologist, as compared to weight bearing CT (WBCT).

 

WBCT is diagnostically and clinically superior to weight bearing X-Ray, allowing for more accurate and reliable diagnosis and grading of OA.

 
Osteoarthritis (OA) of the midfoot can cause significant pain, disability, and decreased quality of life. The midfoot is defined as the part of the foot between the tarsometatarsal (TMT) joints or "Lisfranc joint" distally and the transverse tarsal joints of "Chopart joint" proximally.  
Weight Bearing X-Ray is the standard method for evaluating various conditions of the foot and ankle as pathology may become obscured or underestimated in a non-weight bearing scan. X-Rays of the midfoot have limitations, regardless of whether they are weight bearing, as osseous border articulation can be obscured due to the natural overlapping of adjacent bones viewed in two-dimensions (2D). 
WBCT has the added advantage of clearer bony landmark identification and joint space visualization in three-dimensions (3D), allowing it to reproduce the physiological positioning of the foot and lower extremity, providing a more accurate assessment of the pathology. 
Dr. Steadman et. al out of the Department of Orthopedics, University of Utah, Salt Lake City, Utah, USA, conducted a study examining the discrepancies in the accuracy and severity of OA in the midfoot between weight bearing X-Ray and WBCT. They found that midfoot OA often went completely undetected on weight bearing X-Ray and that WBCT helped diagnose and grade earlier, and more reliably, the onset of midfoot OA. 
Researchers used internal data from a cohort of 302 patient feet. The MSK radiologist interpretation of the WBCT and weight bearing X-Ray of each patient was then assessed for any direct diagnosis or mention of OA signs in specific articulations of 3 midfoot joint groups (Chopart, "central", and TMT).  
Results of the weight bearing X-Ray radiologist interpretations showed 17 cases of Chopart OA were assigned higher severity when examined with WBCT.  
In the central joint group, seven cases of OA were graded as more severe on WBCT than they were on weight bearing X-Ray. 
In the TMT joints, 15 cases were downgraded in severity, the largest discrepancy among the three groups. 
Researchers concluded that there was a significant discrepancy observed in the diagnostic abilities of the two imaging modalities, even when readings were completed by a MSK radiologist. Weight bearing X-Rays were associated with many false negatives and a notable number of false positives.  
Researchers stated that WBCT is diagnostically and clinically superior to weight bearing X-Ray and allowed radiologists to make a more accurate and reliable diagnosis and grading of OA compared to weight bearing X-Ray.  
To read the full study click here.