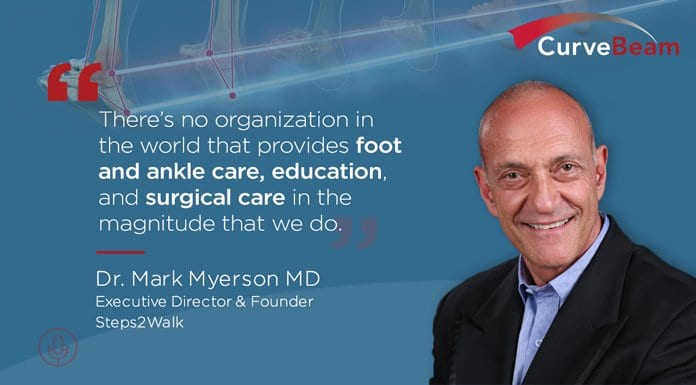 CurveBeam Connect: The Humanitarian Effort with a Growing Global Footprint
When we sprain our ankle or break a toe, it's assumed that proper care is rarely far from reach. This isn't the case for everyone, especially those who live in rural corners of the world. But there is significant hope for these patients with debilitating foot and ankle issues.

Click here to download the executive summary podcast for this episode of CurveBeam Connect, featuring Dr. Mark Myerson, founder of the Steps2Walk Foundation.
The philanthropic organization, Steps2Walk, offers life-changing treatments to patients all over the world. In many cases, the program's surgeon's have given permanently disabled patients the ability to walk again. We explored this forward-thinking organization on CurveBeam Connect.
Our guest was the esteemed doctor himself, founder and executive director of Steps2Walk, Dr. Mark Myerson. Regarded as one of the premier foot and ankle surgeons in the world, Dr. Myerson explored the operation of his organization, and how its reach is only expected to grow in the coming years.
"We are 'Doctors Without Borders' for the foot and ankle," Dr. Myerson said when explaining the organization in brief; and if Dr. Myerson had his way, in coming years Steps2Walk would be just as much of a household name. With over 200 surgeons volunteering to participate in Steps2Walk, the organization is a force to be reckoned with. But the humanitarian program doesn't accept just any surgeon.
Participants must be excellent educators, as well as highly skilled surgeons accustomed to deformities not often found in the Western world, like Cleft Foot. Steps2Walk aims to not only treat patients in need but to educate them on their foot and ankle health.
"Probably 80% of work that we're doing is teaching." Dr. Myerson said.
Steps2Walk is continuing to change patient lives and the way care is administered in a variety of countries with different health care systems. For doctors interested in participating in the program, or interested listeners wanting to know more, visit www.Steps2Walk.org.