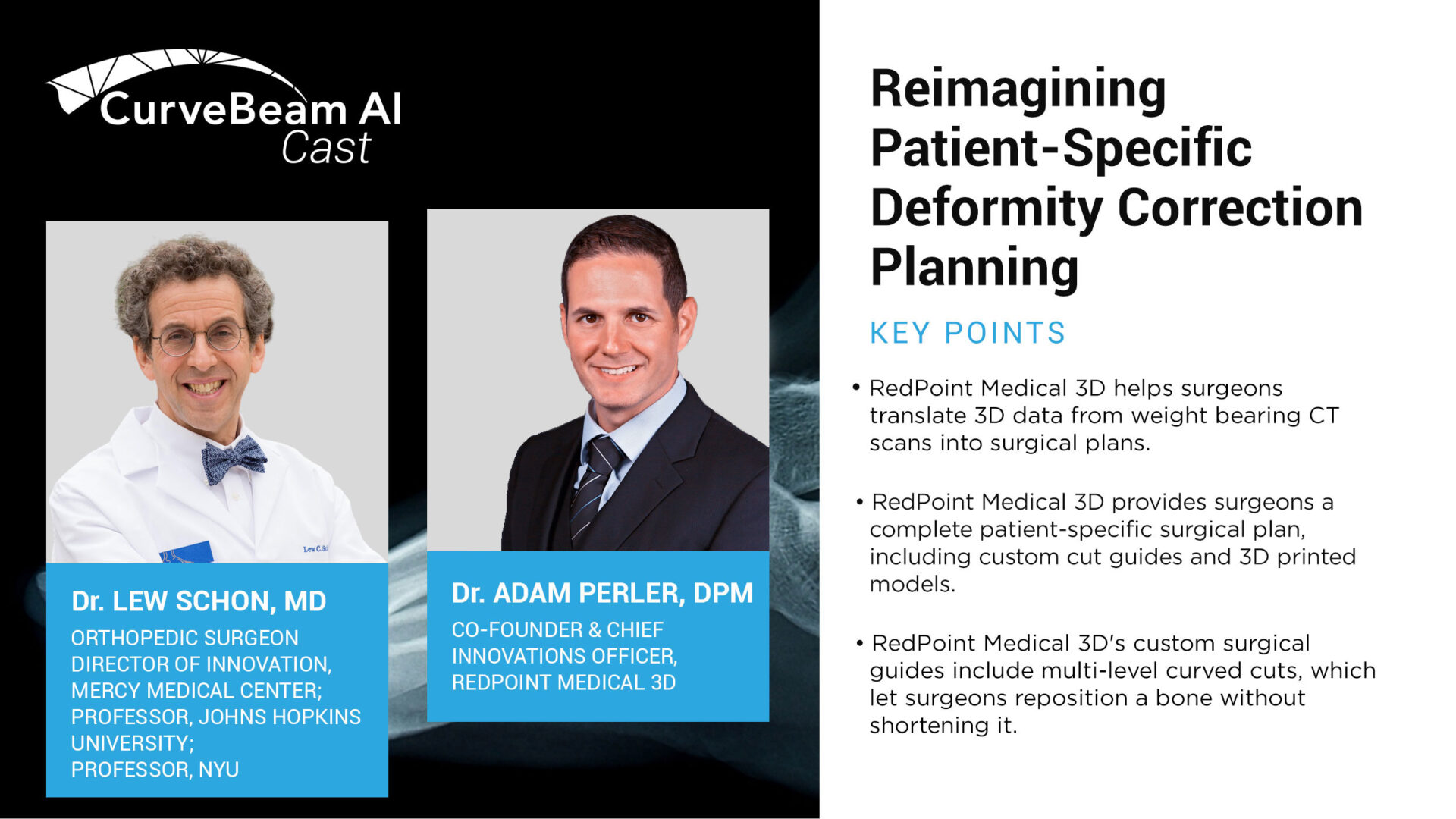 CurveBeam AI Cast – Reimaging Patient-Specific Deformity Correction Planning
The foot and ankle are complex structures comprised of 26 small bones and 29 muscles. With so many structures and an incredible amount of variation in how deformities can present, surgical corrections aren't so simple. For example, there are more than 100 operations that can be performed for hallux valgus deformities, commonly known as bunions. 3D planning helps to address the variations and nuances of foot and ankle surgeries to assist in obtaining optical post-surgical outcomes.
How is one company, RedPoint Medical 3D, making 3D planning more accessible to orthopedic surgeons?
On this episode of CurveBeam AI, host Lew Schon, MD, Director of Orthopedic Innovation at the Institute of Foot and Ankle Reconstruction at Mercy Medical Center, speaks with Dr. Adam Perler, DPM, Co-Founder & Chief Innovations Officer at RedPoint Medical 3D and Surgeon at Alexander Orthopaedic Associates, to discuss the RedPoint Medical 3D has created a vendor-agnostic, streamlined process for 3D modeling, custom surgical planning, and 3D printed cut guides.
Dr. Schon and Dr. Perler also discussed…
The role that 3D printing plays in helping surgeons visualize their surgical approaches
How older and more experienced surgeons have reacted to the redpointing philosophy
What the process of redpointing looks like from receiving a 3D CT scan to the point of the surgical procedure
Dr. Perler explained how RedPoint Medical 3D was named. "Redpointing is where a professional climber will write down all the details of the route, where they're going to place their hands, where they're going to place their feet. And then they hand that plan to a judge and they don't actually touch the rock face until they hand the plan over. Then they go about their climb. If they do it perfectly, that's called redpointing. So, to me, this was a vision of what I wanted to be able to help surgeons do with their surgeries and I would love to get to the point where redpointing becomes a very grammatical term for us all to describe, 'Hey, I've got this big surgery coming up' and another surgeon says, 'Hey, are you going to redpoint that?' meaning are you going to meticulously plan that and flawlessly execute that?"
Dr. Adam Perler, Doctor of Podiatric Medicine (DPM), is an experienced foot and ankle surgeon passionate about new product development for surgeries. He is Co-Founder & Chief Innovations Officer at RedPoint Medical 3D and Surgeon at Alexander Orthopedic Associates. Dr. Perler earned his B.A. in Biology from Indiana University Bloomington and his DPM from Dr. William M. Scholl College of Podiatric Medicine at Rosalind Franklin University of Medicine. He is residency-trained at Palmetto General Hospital's Surgical Residency and later pursued fellowship training from the Ilizarov Orthopedic Lower Extremity Reconstructive Fellowship and the AO Trauma Fellowship in Hannover, Germany.