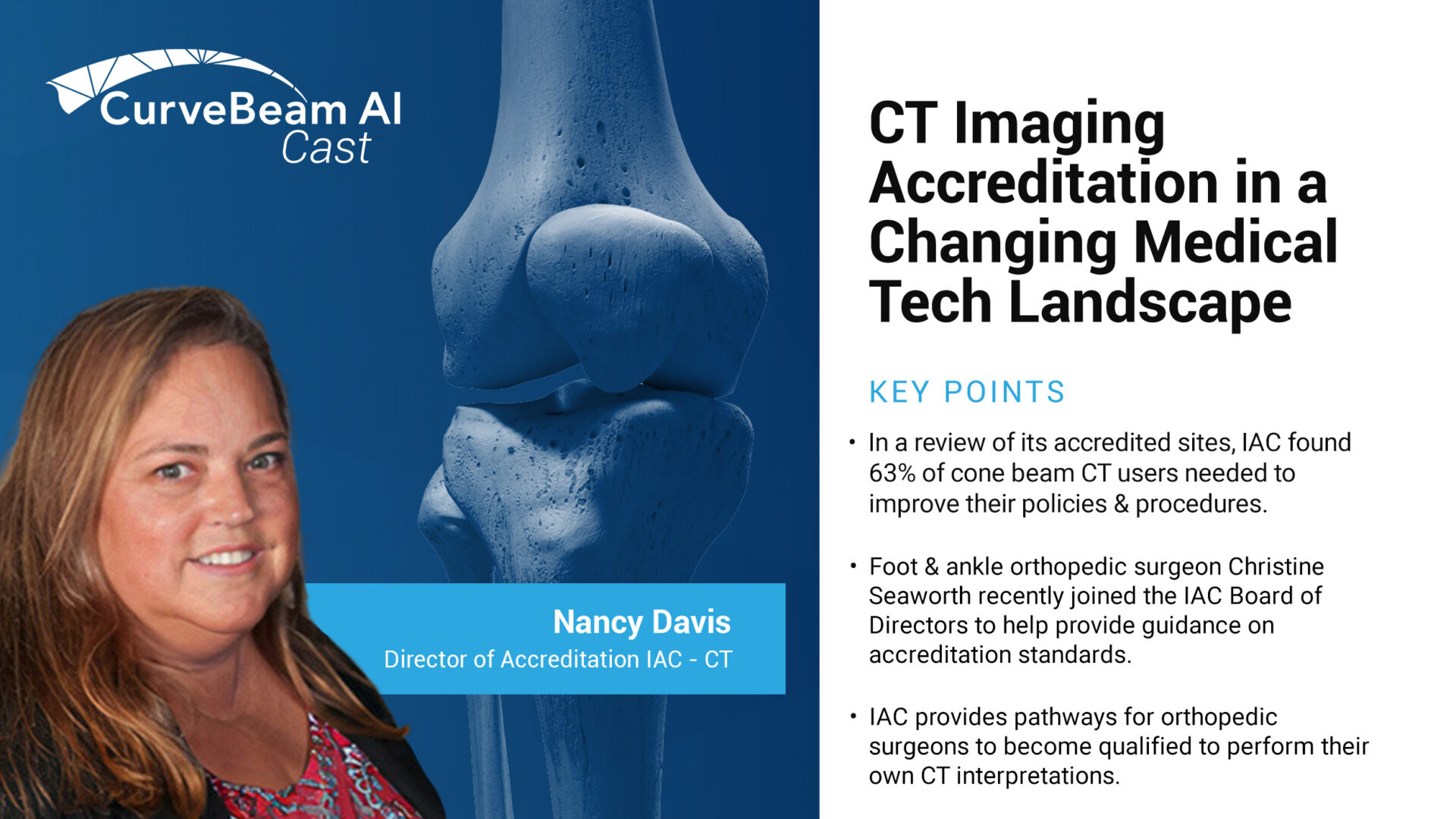 CurveBeam AI Cast: Orthopedic CT Imaging Accreditation in a Changing MedTech Landscape
The medtech landscape is constantly evolving. Keeping up with those changes to maintain accreditation standards can be a challenge. CurveBeam AI's Vinti Singh recently sat down with Nancy Davis to discuss how the Intersocietal Accreditation Commission (IAC) ensures its standards help orthopedic practices stay compliant while also adapting to changing needs itself.
Davis is a technologist trained in Radiography, MRI, and CT and worked in direct patient care for 30 years. Before joining the IAC as the Director of Accreditation for the CT Division at (IAC), her last role was as an imaging center manager handling radiology and compliance.
Advanced diagnostic modalities in outpatient settings such as orthopedic clinics require accreditation to satisfy the Medicare Improvements for Patients & Providers Act (MIPPA) mandate issued by the Centers for Medicare Services (CMS).
"The main areas we assess are medical and technical staff credentials," Davis said. "We also look at safety policies and procedures, such as your pregnancy screening and radiation safety policies. We also look at quality assurance practices, including business surveys and routine quality control scans."
IAC also examines image and report quality.
One current growth area at the IAC is orthopedics.
"We recognize the need for orthopedic facilities to have the representation…so they can grow their practices," Davis said.
To that end, IAC recently added the American Orthopaedic Foot & Ankle Society (AOFAS) as a "Sponsoring Society." Sponsoring societies do not provide monetary funding to the IAC. Rather, they designate a member to sit on the IAC's Board, a multi-disciplinary group that provides guidance on new standards.
The AOFAS appointed Christine Seaworth, MD, a foot & ankle surgeon in private practice in Knoxville, TN. Dr. Seaworth also holds the position of Clinical Assistant Professor at University of Tennessee Medical Center Knoxville.
"She's a great representative because she understands the challenges of private practice and practices at university," Davis said. "And it's just sometimes that those two worlds have a hard time connecting."
Societies interested in becoming a sponsoring society member can reach out directly to Davis, and she can initiate the process.
IAC had an abstract on display at the recent AOFAS Annual Meeting, held in Quebec City in September. IAC reviewed accreditation applications from orthopedic practices and discovered that it helped 63% of orthopedic practices improve their policies and procedures. Only 10% of practices had issues with image quality, which IAC also assisted with. Take a look at the abstract below: