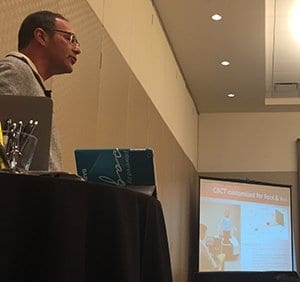 Dr. Gary Briskin: The pedCAT is the Future
"It's the future – embrace it. It's your future – control it."
Dr. Gary Briskin delivered this motivating message at the Foot & Ankle Business Innovations conference in Chicago on Jan. 23.
Dr. Briskin, of University Foot & Ankle Institute in Santa Monica, Cali,  discussed how the pedCAT weight bearing CT system has improved his practice since his group acquired one last year.
His main take-away points were:
– The pedCAT gives you the advantage when it comes to diagnosing pathology.
"You can solve that Lisfranc case no one else can," Dr. Briskin said. "It opens up the midfoot, which historically has been a problem for us."
– The pedCAT allows him to clearly determine if bones and joints are completely fused after surgery.
"I do a lot of lapidus procedures," Dr. Briskin said. "My concern; is this patient fused adequately to start bearing weight?" The exact level of fusion is visible with a pedCAT scan 5 – 6 weeks later, and with minimal scatter.
– Radiologists like the pedCAT images
"I think I'm getting a better CT, because it's weight bearing and I think the quality is far superior. We get all of our CTs read by a radiologist. We have everything sent digitally. And the feedback we get is they are also impressed with the quality of the images."