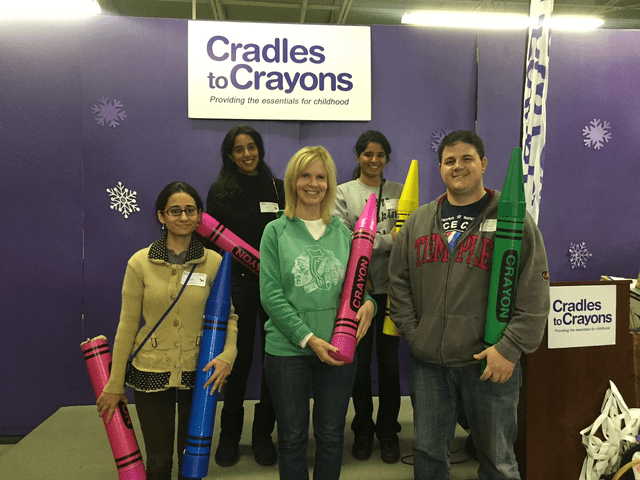 CurveBeam's Volunteer Day Warms Community
The holiday season is an excellent time for any company to celebrate and share its values. The team at CurveBeam believes in giving back, just as much as it believes in innovation. To reach out with this spirit, a group of CurveBeam volunteers recently connected with an amazing organization.
Everyone had a simple goal in mind: to make sure kids in the community have the supplies they need for this season and beyond.
Cradles to Crayons serves as a resource for communities in need and a hub of civic engagement in Greater Philadelphia. This organization provides children from birth through age 12 living in homeless or low-income situations with the essential items they need to thrive – at home, at school and at play – free of charge.
Ensuring kids are safe, warm and ready to learn throughout the year
Cradles to Crayons was founded in 2002 to get basic necessities to the kids who need them, including clothing, school supplies, toys, and more. The organization provides all the physical goods that children need to be safe, protected from the elements, and ready to learn.
By supplying kids with high-quality used or new goods, Cradles to Crayons and its partners make children feel valued.
The organization partners with social service organizations to connect groups that have surplus resources with the communities and families that need them. Cradles to Crayons makes it simple for children, families, and corporations to participate by organizing a clothing collection, hosting a fundraiser, or working in one of its warehouses.
Charity Navigator – an independent group that rates charities on both their organization capacity and efficiency – recently awarded the Cradles to Crayons a four-star rating: their highest ranking. In receiving this designation, Cradles to Crayons was recognized for exceeding industry standards and outperforming most charities in its cause.
In addition, Cradles to Crayons Philadelphia was included in Main Line Today's list of local charities to support.
A CurveBeam volunteer party
In lieu of a traditional Christmas party, a group of CurveBeam volunteers spent half a day at Cradles to Crayons, helping prepare items to go out to kids in need in time for the holidays.
The team enjoyed the experience. It was the perfect expression of the company's ongoing commitment to giving back, and one the team looks forward to repeating next year.
To learn more about CurveBeam's work and its talented and warm-hearted team, visit CurveBeam.com. Happy New Year!