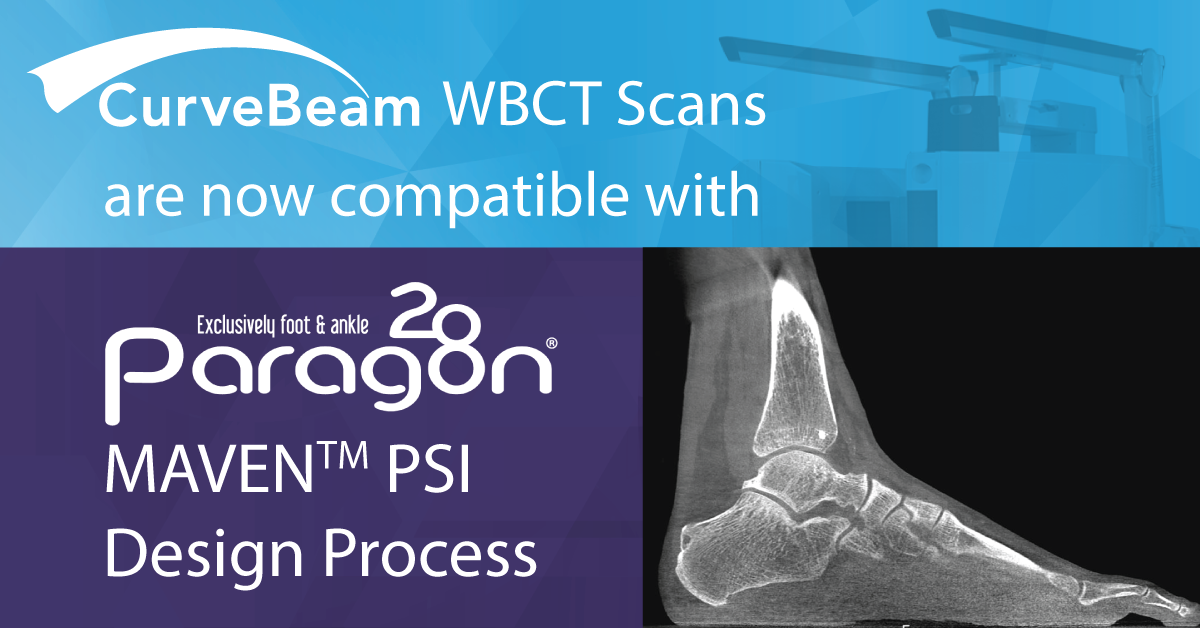 CurveBeam Weight Bearing CT Systems Offer Protocol for Paragon 28's MAVEN Patient-Specific Instrumentation System
HATFIELD, PENN. – Apr. 6, 2021 – CurveBeam, a leader in weight bearing CT (WBCT) imaging, announced its systems now include specific protocols for Paragon® 28™'s MAVEN Patient-Specific Instrumentation (PSI) System.
The Paragon 28 MAVEN PSI System is an accurate and simple-to-use technology that fits in the palm of your hand. The MAVEN PSI System is designed to improve upon existing orthopedic patient-specific technologies currently on the market, incorporates surgeon inputs during the development of surgical planning case reports and is designed to provide best-in-class PSI alignment guide technology specifically developed to expedite positioning of the APEX 3D™ Total Ankle System.
The MAVEN PSI System utilizes an advanced CT based coordinate system designed for precise component alignment, accurate size selection and implant placement critical for long term survivorship.1 This first-to-market tibial AP positioning technology was developed utilizing CT based research. The solution simplifies the time-consuming sizing evaluation process of the tibial component, reduces potential guess work, and establishes optimal tibial bone coverage based on the patient's anatomy.
CurveBeam LineUP and HiRise WBCT imaging systems can be enabled with a MAVEN-compatible protocol to scan the entire distal lower extremity from the knee down through the base of the foot in one continuous scan. Then MAVEN PSI engineers use the WBCT datasets to design custom alignment guides for the Paragon 28 APEX 3D System.
"Paragon28 is excited about partnering with CurveBeam to provide weight bearing data to guide our MAVEN PSI instrumentation and pre-operative case reports," Paragon 28 CEO Albert DaCosta said.  "MAVEN PSI, in tandem with a WBCT protocol provides the surgeon with a more accurate, 3-dimensional representation of each patient's anatomic structures to help determine optimal alignment and implant placement. The combination of the patient specific information, contoured guides and implant design provides the surgeon with additional tools to ultimately help improve surgical outcomes."
WBCT imaging reveals functional inversion/eversion of the ankle that is not presented on supine CT. Using WBCT to assess foot & ankle alignment in three dimensions could be instrumental in preventing osteolysis, a condition which often leads to implant failure, according to a 2019 study by Lintz et al published in Foot & Ankle International.
Dr. Cesar de Cesar Netto, MD, PhD, will present on optimizing his pre-operative workflow for his total ankle replacements by combining the two technologies in an industry symposium on Wednesday, April 14 at the American Orthopedic Foot & Ankle Society Advanced Foot and Ankle Virtual Course.
"WBCT imaging has become an integral part of my clinical practice," Dr. de Cesar Netto said. "My patients will benefit if I can assess their 3D deformity and the total ankle replacement surgical planning  more accurately with weightbearing imaging."
The MAVEN PSI Guides uniquely feature a distal tibia metaphyseal press-fit that contours to the patient's bone geometry not osteophytes, a medial malleolus wrap that hooks into the notch of Harty for additional stability during guide positioning and is the only system that includes an integrated dovetail to allow for streamlined bone resection.
CurveBeam's WBCT systems plug into a standard wall outlet, typically require minimal shielding, and are easy to operate.
About CurveBeam
CurveBeam researches, designs and manufactures cone beam CT imaging systems for the orthopedic specialties. CurveBeam's corporate headquarters is located in Hatfield, Pennsylvania. The company was founded in 2009 and is privately owned and operated.
About The MAVEN PSI System
For more information contact APEX3D@paragon28.com
About Paragon 28
Our mission is to strategically build a company around the core principles that drive innovation and quality while relentlessly working to advance the science behind foot and ankle surgery. Paragon 28® is passionate about and committed to re-inventing the space of foot and ankle surgery. It is not enough for us to develop products. We emphasize the philosophy of innovation through design and carry that through for the entire procedure to support our surgeon customers and to help optimize patient outcomes.
Thomas, Rhys H. BSc, FRCS(Orth); Daniels, Timothy R. MD, FRCS(C) Ankle Arthritis, The Journal of Bone & Joint Surgery: May 2003 – Volume 85 – Issue 5 – p 923-936