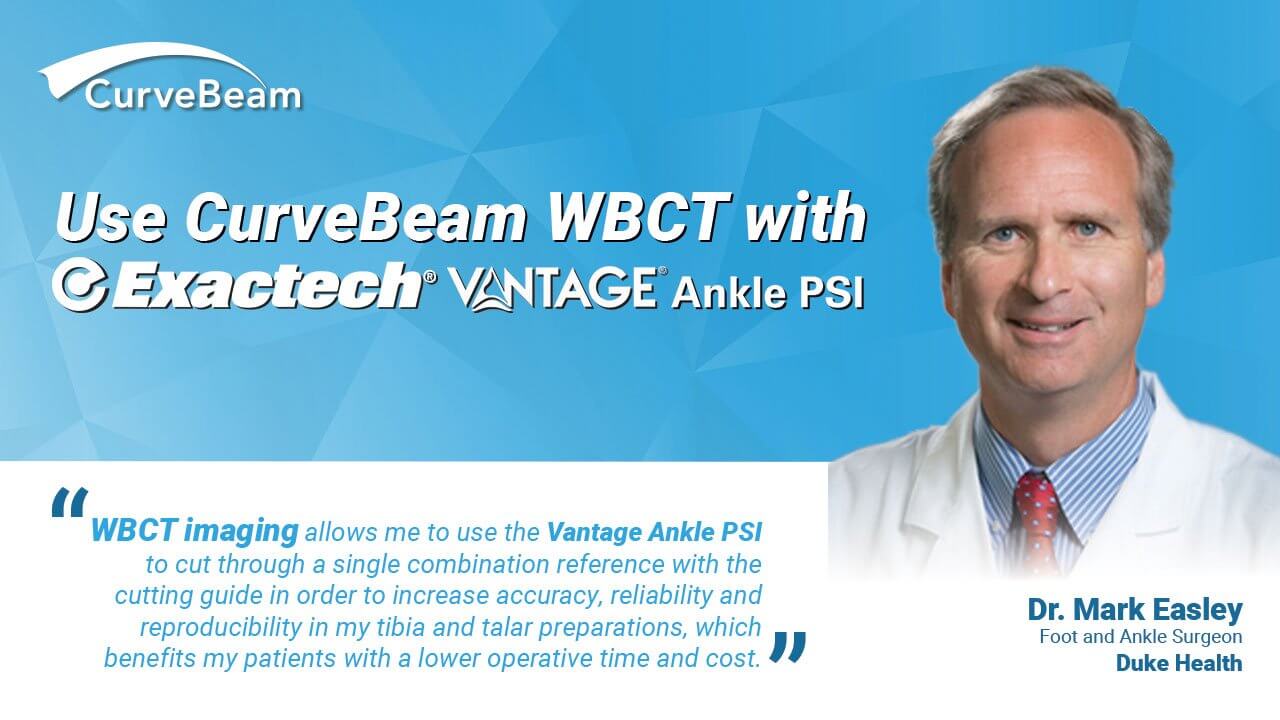 CurveBeam Weight Bearing CT Systems Offer Protocol for Exactech VANTAGE Ankle PSI
HATFIELD, PENN. – March 16, 2021 — CurveBeam, a leader in weight-bearing CT (WBCT) imaging, announced its systems now include specific protocols for Exactech's Vantage® Ankle PSI, its patient-specific instrumentation created in collaboration with 3D Systems (NYSE:DDD).
Vantage Ankle PSI is the only ankle system that accepts WBCT datasets of solely the foot and ankle region for pre-surgical planning and 3D-printing of patient-specific cutting guides. Users of the CurveBeam pedCAT and pedCAT Premium WBCT systems can submit foot and ankle scans to the Vantage Ankle PSI. CurveBeam's LineUP and HiRise WBCT systems offer a compatible protocol that includes a scan of the knee and foot and ankle regions.
"Building on the success of our Vantage Total Ankle System, we wanted to continue to provide clinically-relevant and innovative solutions to our surgeon customers to further our mission of making patients more mobile. This patient-specific instrument solution was an important next step for us, providing real benefits to both the surgeon and patient," said Exactech's Vice President of Extremities Chris Roche.
Orthopaedic surgeon Mark Easley, MD, who worked on the Vantage Ankle PSI design, reported that he considered integration with WBCT to be pivotal from the onset. "For nearly 5 years, 3D analysis with CurveBeam's weight-bearing pedCAT WBCT scanner has been invaluable in my preoperative planning for the Vantage Total Ankle System. Now through the collaboration of Exactech, CurveBeam and 3D Systems, I can create patient-specific cut guides with the patient in a full, not simulated, weight-bearing position," said Dr. Easley.
"This imaging allows me to use the Vantage Ankle PSI to cut through a single combination reference with the cutting guide in order to increase accuracy, reliability and reproducibility in my tibia and talar preparations, which benefits my patients with a lower operative time and cost."
Dr. Easley will be featured in a web broadcast on May 25. He will review cases in which CurveBeam WBCT scans were used with the Vantage Ankle PSI.
CurveBeam's WBCT systems plug into a standard wall outlet, typically require minimal shielding, and are easy to operate.
WBCT imaging reveals functional inversion/eversion of the ankle that is not presented on supine CT. Using WBCT to assess foot and ankle alignment in three dimensions could be instrumental in preventing osteolysis, a condition which often leads to implant failure, according to a 2019 study by Lintz et al published in Foot & Ankle International.
An element of Exactech's Active Intelligence® platform of smart technologies, the Vantage Ankle PSI received FDA clearance in November 2020. CurveBeam introduced the pedCAT, its first generation WBCT system in 2012. CurveBeam received FDA clearance for its third generation WBCT system, the HiRise, in 2020.
About CurveBeam
CurveBeam researches, designs and manufactures cone beam CT imaging systems for the orthopedic specialties. CurveBeam's corporate headquarters is located in Hatfield, Pennsylvania. The company was founded in 2009 and is privately owned and operated.
About Vantage Ankle PSI
Created  for  patients'  unique  anatomies,  the  Vantage Ankle PSI 3D-printed tibia and talar cutting guides allow surgeons to pre-plan resections to align and cut in one  step. Its soft  tissue  offsets are  designed to preserve the periosteum while maintaining a reproducible fit. The Vantage Ankle PSI is the result of a collaboration between 3D Systems and Exactech, and is part of Exactech's Active Intelligence® smart solutions. It is exclusively used with the Vantage Total Ankle System and is available for surgeons who have received training on the product. Vantage Total Ankle System is manufactured and marketed by Exactech.
About Exactech
Exactech is a global medical device company that develops and markets orthopaedic implant devices, related surgical instruments and the Active Intelligence® platform of smart technologies to hospitals and physicians. Headquartered in Gainesville, Fla., Exactech markets its products in the United States, in addition to more than 30 markets in Europe, Latin America, Asia and the Pacific. Visit www.exac.com for more information and connect with us on LinkedIn, YouTube and Instagram.
About 3D Systems
More than 30 years ago, 3D Systems brought the innovation of 3D printing to the manufacturing industry. Today, as the leading additive manufacturing solutions partner, we bring innovation, performance, and reliability to every interaction – empowering our customers to create products and business models never before possible. Thanks to our unique offering of hardware, software, materials, and services, each application-specific solution is powered by the expertise of our application engineers who collaborate with customers to transform how they deliver their products and services. 3D Systems' solutions address a variety of advanced applications in healthcare and industrial markets such as medical and dental, aerospace & defense, automotive, and durable goods. More information on the company is available at www.3dsystems.com.