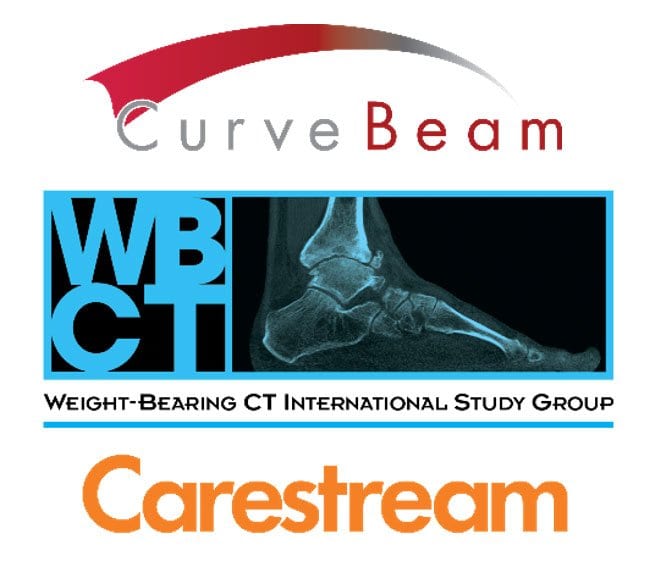 CurveBeam and Carestream Health Announce Collaboration to Promote Weight-Bearing CT Awareness and Research
Warrington, Penn. – June 6, 2017 – Medical device companies CurveBeam and Carestream Health announced a collaboration to support and facilitate education and research for weight-bearing computed tomography imaging.
"The ability to capture weight-bearing CT images allows foot and ankle specialists to study foot biomechanics in three dimensions. Significant clinical research has already demonstrated weight-bearing CT has the potential to be the new standard of care for an initial diagnosis. However, much work remains to be done to increase awareness among orthopaedic specialists," said Vinti Singh, marketing manager for CurveBeam. "Through collaboration, CurveBeam and Carestream can best support these efforts."
Before the introduction of weight-bearing CT imaging in 2012, patients could get either a weight-bearing radiographic 2D X-ray or a non-weight bearing medical CT scan. X-rays can at times obscure and distort anatomical details, while non-weight bearing CT scans may inaccurately represent joint space and alignment. The American Orthopaedic Foot & Ankle Society recommends weight-bearing imaging when possible to get the most accurate assessment.
"The image quality and detail captured with 3D weight-bearing CT exams allow the surgeon to view and measure anatomical abnormalities of lower extremities under natural load conditions," said Helen Titus, Carestream's Worldwide Marketing Director for Ultrasound & CT. "The goal of this collaboration is to spread the word about this new imaging modality among orthopaedic specialists."
The companies will work together to support the Weight-Bearing CT International Study Group, which is comprised of orthopaedic researchers from leading institutions in the U.S. and Europe. The group is working to create standardized protocols for weight-bearing CT measurements and analysis.
The companies' first joint initiative is to co-sponsor an evening scientific session during the American Orthopaedic Foot & Ankle Society (AOFAS) annual meeting in Seattle, WA. Speakers at this session include Dr. Mark Easley of Duke Orthopaedics in Durham, NC, and Dr. Lew Schon of MedStar Union Memorial Hospital in Baltimore, MD. For more information about the Study Group, and how to RSVP for the session, please visit www.wbctstudygroup.com.
Both companies offer weight-bearing solutions for extremity CT imaging. The devices employ cone beam CT technology and are designed for point-of-care settings, as well as hospitals and imaging centers.
To view Carestream's latest news announcements, please visit www.carestream.com/news.
CARESTREAM is a trademark of Carestream Health.