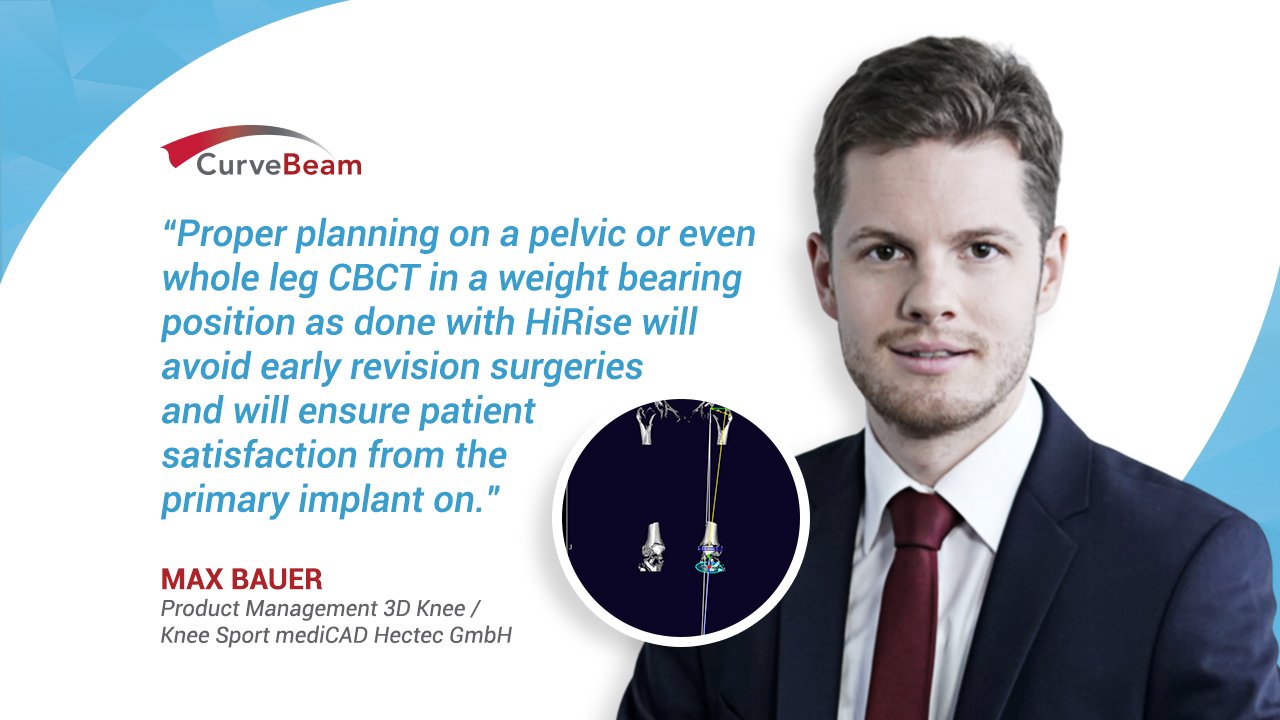 Improve TKA & Osteotomy Planning w/ Full Leg WBCT
Preoperative plans for arthroplasty and corrective osteotomies rely on a weight-bearing long leg AP X-Ray. However, the modality has several limitations when it comes to surgical pre-planning in programs like mediCAD 2D:
A true AP on weight bearing X-Ray is difficult to capture since torsional deformities do not allow the patient to achieve that position.
Scaling is often inaccurate due to a misplaced calibration sphere, if one is used at all.
A second advanced diagnostic imaging scan, either an MRI or a CT, is required to perform a torsion assessment of the long leg if a torsional deformity is identified on X-Ray. CT scans are generally avoided for large areas and young patients due to radiation considerations. Patients' own CT scans usually do "not meet the requirements for successful, precise 3D planning, and the risk of radiation exposure [made] it ethically unjustifiable to generate another CT soon afterward," Priv.-Doz. Dr. med. Mike H. Baums has said in an interview.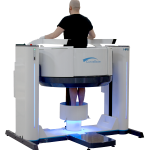 The CurveBeam HiRise is a game changer – the system provides a weight bearing CT scan of the entire lower extremity. Because it is a true 3D scan, no scaling is required. The CT scan delivers not only the full leg axis, but also torsional deformity information. Implant and corrective osteotomy planning can be done in a 3-dimensional environment that takes alignment into account. The HiRise uses cone beam CT technology, which is low dose compared to traditional medical CT. The HiRise is CE Marking and FDA 510(k) certified.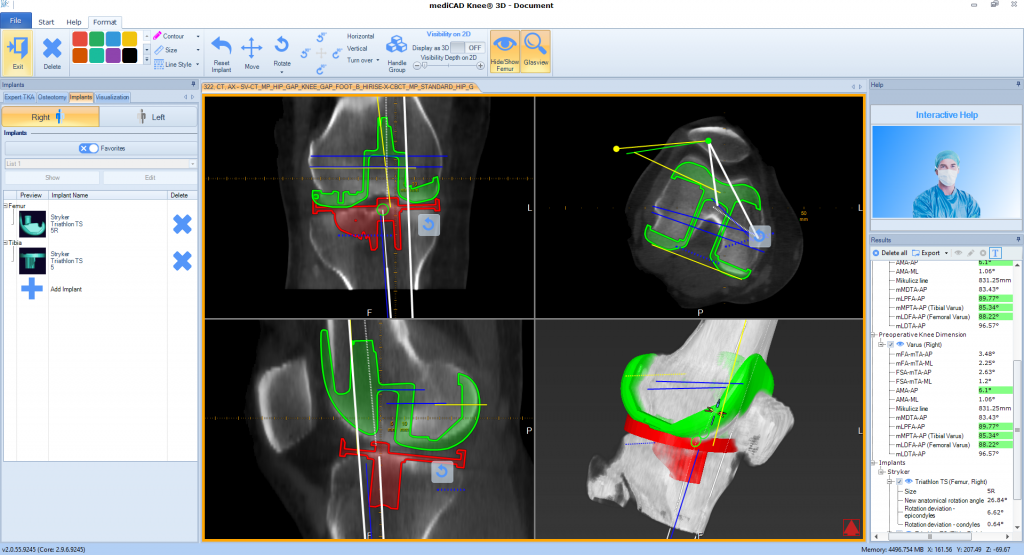 By providing CT services in the office, orthopedic practices or partnering radiology facilities can not only capitalize on an additional revenue stream, but also control for scan quality to ensure the surgeon gets the information he or she needs for surgical pre-planning. In step, surgical planning software solutions like mediCAD Knee 3D opens entirely new opportunities in anatomical assessment, planning and measurements of the knee.
CurveBeam sat down with Maximilian Bauer, Product Manager for 3D Knee / Knee Sport at mediCAD, to learn more about MediCAD's solution.
How do you anticipate 3D planning for the hip & knee and whole leg, respectively will evolve over the next 1 – 3 years?
"In THA (Total hip arthroplasty) we see 3D planning being used for complex and revision cases these days. Let me ask you now: Why is there a revision? Mostly because of dissatisfaction of the patient e.g. simply wrong implant sizes or misalignment, not accounting for a change in anteversion of the hip leading to a malalignment of the leg axis. Proper planning on a pelvic or even whole leg CBCT in a weight bearing position as done with HiRise will avoid these early revision surgeries and will ensure patient satisfaction from the primary implant on. Therefore, we offer our planning solution mediCAD 3D Hip.
In TKA (total knee arthroplasty) we see a constant 20-30 % of unsatisfied patients throughout almost all countries with sufficient statistics. Recent publications have shown that many cases of the common anterior knee pain are caused by patella maltracking and hence a wrong rotation of the implant in the axial view.
With osteotomies correcting bowlegs or knock knees and in- or out-toeing we have seen corrections where correlated changes have been neglected since the surgeon did not account for side effects caused by his surgery in the third dimension. 
All these problems arise from a planning in 2D instead of 3D on the long leg. mediCAD 3D Knee gives full information on the outcome of the surgery concerning the patient's bony structure and thereby avoids creating pathologies where the surgeon might not have seen his operation has an impact.
Furthermore, we think of our 3D solutions not only as planning programs, but also as simulation and educational programs which can be used by young and rather inexperienced, but ambitious surgeons to simulate the surgery they want to perform first and go into the OR having done the surgery already on the computer. This gives them the courage to perform surgeries they would not have carried out before and they can develop their anatomical knowledge and surgical savviness."
Does mediCAD offer any automated pre-operative planning processes for hip & knee CT scans?
"mediCAD offers for upper and lower extremities -there included hip and knee- preoperative planning solutions with automatic landmark recognition for a wide range of preoperative measurements. Automatic implant fitting is available, too. "
How does mediCAD assist with documentation of pre-surgical plans and intra-op comparisons?
"Planning values traditionally go into a planning report which is used in the OR, however, nowadays with 3D planning and its intraoperative realization we speak about navigation or robotic systems where planning values are fed in and intraoperatively matched with a C-Arm. mediCAD is currently testing intraoperative matching with mixed reality smart glasses. There is the future. "