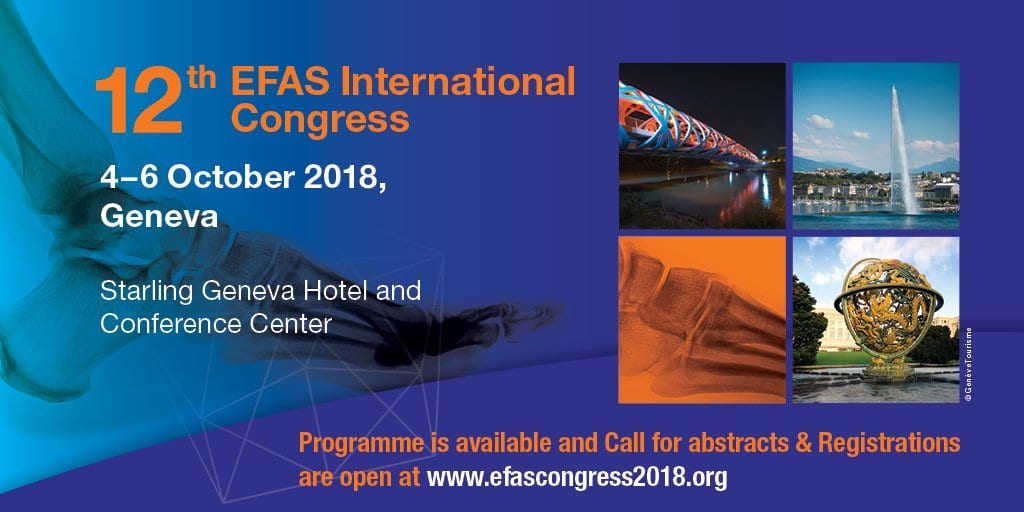 Weight Bearing CT A Key Topic at EFAS 2018
October 4-6 marks the 12th EFAS International Congress in Geneva, Switzerland. This year's theme, State of the Art Foot and Ankle Surgery, focuses on the latest clinical and scientific findings in the foot and ankle community.
Weight bearing CT imaging has emerged as an essential tool for the proper evaluation of deformities of the ankle, midfoot, forefoot, and hindfoot. EFAS attendees will have multiple opportunities to learn about the modality in the main program, including the following podium lectures:
"3D biometrics: A prospective comparative evaluation of the Foot Ankle Offset using weight bearing CT semi automatic software", Presented by Dr. Francois Lintz
"How are coronal alignments of the knee and hindfoot correlated ? A clinical study of 124 lower limbs using 3D weight bearing imaging", Presented by Dr. Francois Lintz
"Weightbearing CT and MRI findings of Stage II Flatfoot Deformity: Can We Predict Patients at High-Risk for Foot Collapse?", Presented by Dr. Cesar de Cesar Netto
In addition, several posters on display will review recent research efforts involving weight bearing CT, including:
– "Distance mapping analysis of the Foot and Ankle complex joints using Weight Bearing CT in varus and valgus deformities", Dr. Francois Lintz
"Comparative study of 3D versus 2D first intermetatarsal M1M2 angle measurement using Weight Bearing CT", Dr. Francois Lintz
"Templating of Acute and Chronic Syndesmotic Ankle Lesions in Weightbearing and Nonweightbearing CT", Dr. Arne Burssens
"Clinical and Radiological Outcome after a Medial Calcaneal Osteotomy Assessed by Weightbearing CT", Dr. Arne Burssens
"Intrinsic Anatomical Risk Factors in High Ankle Sprains Determined by Computed 3D CT Analysis", Dr. Arne Burssens
"Foot Alignment in Basketball and American Football Elite Athletes. Are they different?", Dr. Cesar de Cesar Netto
"Instability of the First Ray and Hallux Valgus in Patients with Adult Acquired Flatfoot Deformity (AAFD): A Weightbearing CT Study", Dr. Cesar de Cesar Netto
The Weight-Bearing CT International Study Group will be hosting a special session on Friday, October 5th featuring presentations by Dr. Arne Burssens, Dr. Cesar de Cesar Netto, and Dr. Francois Lintz. To RSVP, click here.