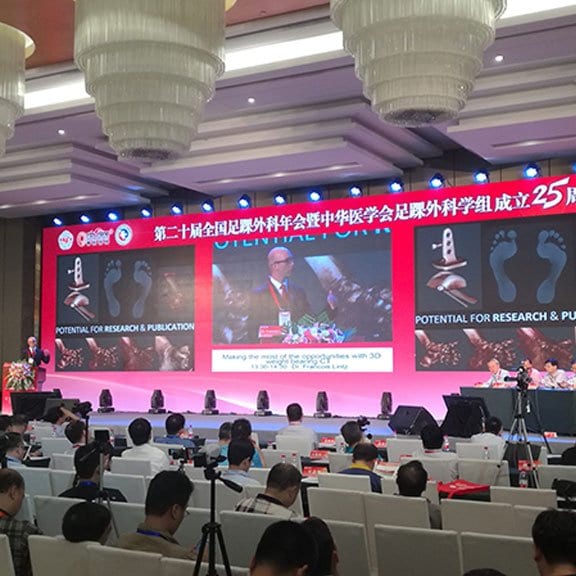 Weight Bearing CT Technology Touted at Chinese National Foot & Ankle Conference
The CurveBeam pedCAT was on display at the 20th National Conference on Foot and Ankle Surgery in Beijing in early September. We had the privilege of meeting with new and current clients, sharing advancements in the industry, and networking with key industry professionals. Dr. Francois Lintz, a pedCAT user and orthopedic surgeon at Clinique L'Union in France, gave a keynote speech on current trends in orthopedic surgery.
Professor Shang, host of the conference, is the director of the Tongren Hospital Foot & Ankle Center, which is the first hospital in China to utilize the pedCAT. During Professor Shang's education session, he shared his first-hand experience with pedCAT in the Tongren hospital. He also discussed the value in using the pedCAT in a research capacity.
CurveBeam's distributing partners in China note that BeBeijing is an exciting place for orthopedic treatment. pedCAT's ability for diagnosis and international research potential is considered especially valuable throughout China as physicians can use it as a tool to prove, through research, that their abilities and skills are on par with the world's academic elites.
The PedCAT allows Chinese doctors to see point-of-care advanced diagnostic imaging and provide patients with comprehensive treatment plans. The single scan protocol captures both feet and ankles in one volume, a feature great for physicians and patients.
The conference was a great experience to advance the CurveBeam brand throughout Asia. From conversation with researchers to strategy sessions with potential clients, we are already looking forward to next year's conference.
CurveBeam designs and manufactures Cone Beam CT imaging equipment for the orthopedic and podiatric specialties. To learn more about pedCAT's value as well as our other innovative products, please visit the website at CurveBeam.com.