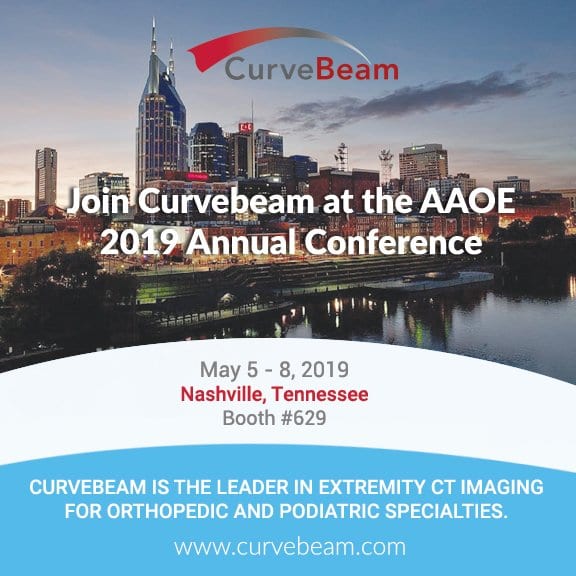 CurveBeam Heads to Nashville for AAOE 2019
CurveBeam will be on hand at AAOE 2019, exhibiting our innovative imaging solutions for orthopedic specialties and subspecialties in Booth #629.
AAOE provides advocacy, networking and business development for the orthopedic and musculoskeletal healthcare professions. To further promote quality healthcare practice management in the industry, each year the AAOE hosts a conference, gathering orthopedic practice professionals from around the country in one venue to learn new practice management techniques and policies, compare new products and services, discuss changes in healthcare and other issues affecting them each day, and more.
Proud to be a field pioneer, CurveBeam's design and manufacture of advanced 3D imaging technologies have been setting new standards in orthopedic and podiatric 3D imaging since the company's founding in 2009. Industry-leading innovation, CurveBeam's imaging systems utilize progressive Cone Beam CT capabilities to provide cutting-edge imaging at a fraction of the cost of traditional CT equipment.
While at AAOE 2019, stop by Booth #629 and let the CurveBeam team guide you through the benefits of our trailblazing solutions that can positively support the imaging needs of your practice and patients.