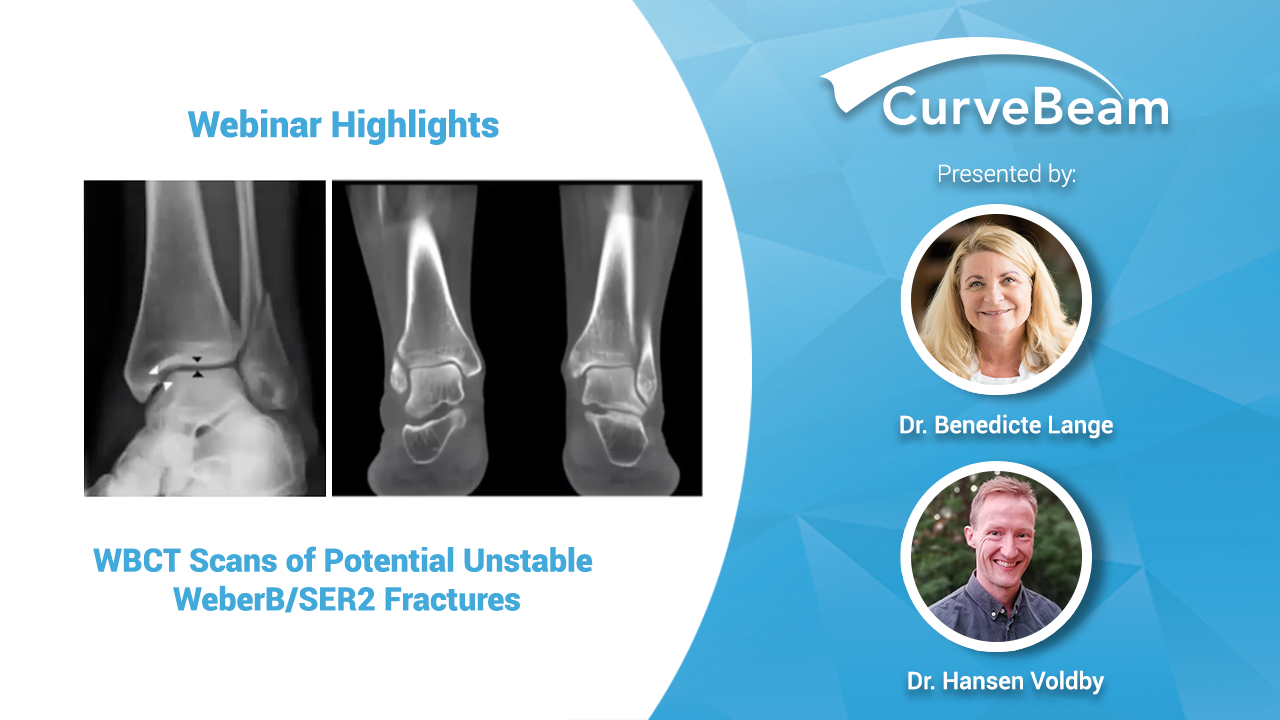 Webinar Recap: WBCT Scans of Potentially Unstable WeberB/SER2 Fractures
In a recent CurveBeam webinar held during the ECR Virtual Congress, Radiologist Dr. Benedicte Lange and Orthopedic Surgeon Dr. Rene Gren Hansen Voldby co-presented on how weight bearing CT (WBCT)  imaging is a better modality for differentiating between stable and unstable  supinated external rotation (SER) fractures.
The doctors both practice at University Hospital of North Zealand in Denmark. The emergency department at the hospital is quite busy, Dr. Lange explained, and ER staff intake a high volume of patients with ankle fractures. Click below to watch a condensed 10-minute version of the webinar.
Although considered the gold standard, weight-bearing radiographs can obscure ligamentous lesions, Dr. Voldby explained. WBCT imaging "gave us much better insight in all the structures possibly involved in the ankle injury," Dr. Lange added.
The doctors examined all patients with potential unstable SER2 fractures who underwent a weight bearing CT exam over a span of 10 months. None of the patients had a widening of the medial clear space significantly different from what was measured on weight bearing X-Ray. However, WBCT did uncover additional clinical findings in 40% of patients. Osteoarthritis and hallux valgus were the most common secondary pathologies. More surprising was that secondary fractures were found in 22% of patients and syndesmosis lesions were found in 4% of patients.
Stability is ultimately determined by the presence of lesion around the medial malleolus, and the study concluded that "pedCAT cone beam CT weight-bearing scans seem to be a valuable method for evaluating potentially unstable WeberB/SER2 fractures compared to normal X-ray with beneficial additional features."
To access the full webinar, please click here.