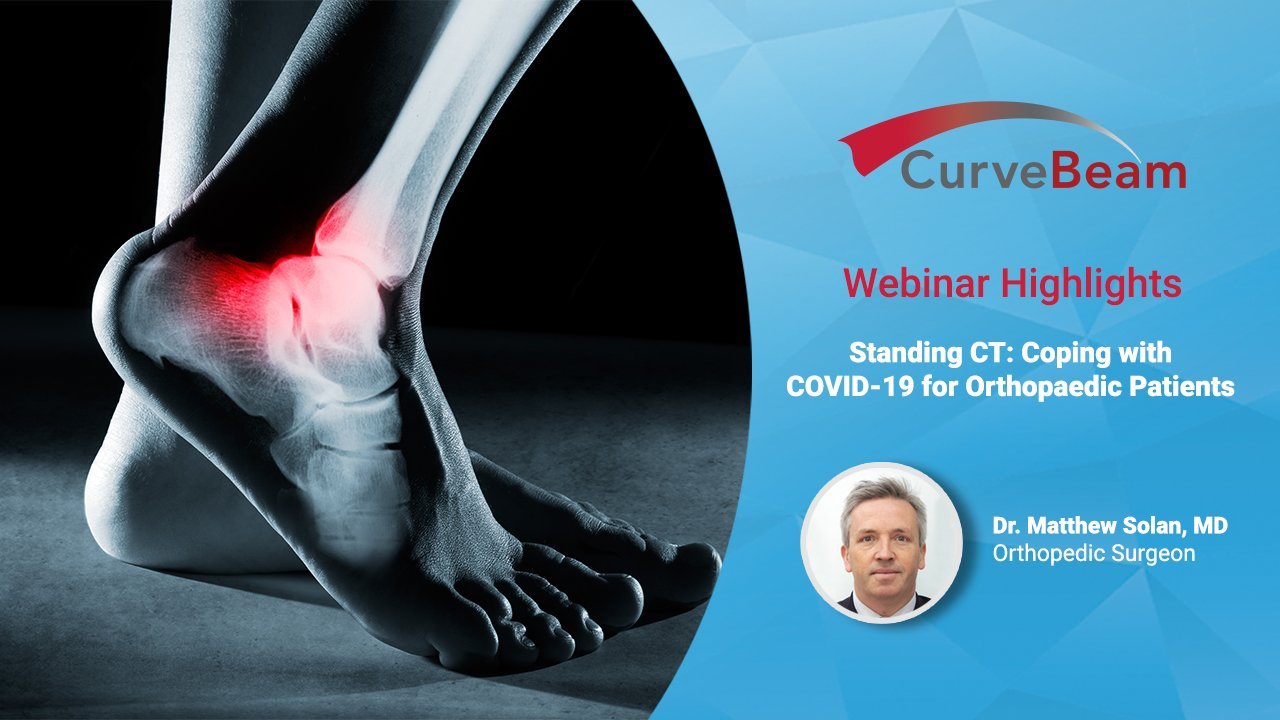 Standing CT: Enabling Treatment & Triage for Orthopedic Patients During COVID-19
To access the full-length webinar, please click here.
COVID-19 is still causing ripple effects across the globe – but standing CT technology played a role in helped one United Kingdom orthopedic service adapt quickly.
In a recent webinar, orthopedic foot & ankle surgeon Matthew Solan outlined explained that the UK government halted all routine care, including orthopedic operations, consultations and imaging. He worried that telehealth consultations would be meaningless if due to a lack of imaging, it was determined at the conclusion of the visit that the patient "simply had to repeat the exercise at some undisclosed future time," he said.
Cick below to watch a condensed, 10-minute version of the webinar.
Enter the Standing CT Company, which provides a mobile extremity CT imaging service. Because cone beam CT imaging is a low dose technique, the modality was used to replace weight bearing X-Rays during the COVID-19 emergency.
"We could telephone or video call them, armed with the results of their scan, and allow their care to progress as if there were no global pandemic going on at all," Dr. Solan said.
Seventy-three total patients were sent to the mobile Standing CT scanner during the 8-week COVID-19 emergency. Dr. Solan was able to discharge, follow-up with or schedule patients for surgery at the same rates he would have in routine times.
Dr. Solan found he made far fewer referrals for MRI scans during that same period since the standing CT scan provided the necessary 3D detail. If after the CT scan, he still needed information about the ligaments or soft tissues, he found an ultrasound scan.
"I would argue that the standing CT scan plus an ultrasound is a much more efficient pathway than weight bearing X-Rays followed by MRI scan," Dr. Solan said.
To conclude, Dr. Solan posited extremity CT imaging could also have a place in the emergency room. An audit at his hospital last year showed 2.5% of patients with minor fractures had missed pathology. "That's quite a large number annually, and I would argue that if the emergency room had a cone beam CT facility for hands, wrists, feet and ankles, that large figure of missed fractures would be reduced dramatically by having 3D axial CT imaging for the same radiation dose and for relatively little cost," he said.
To access the full-length webinar, please
click here
.