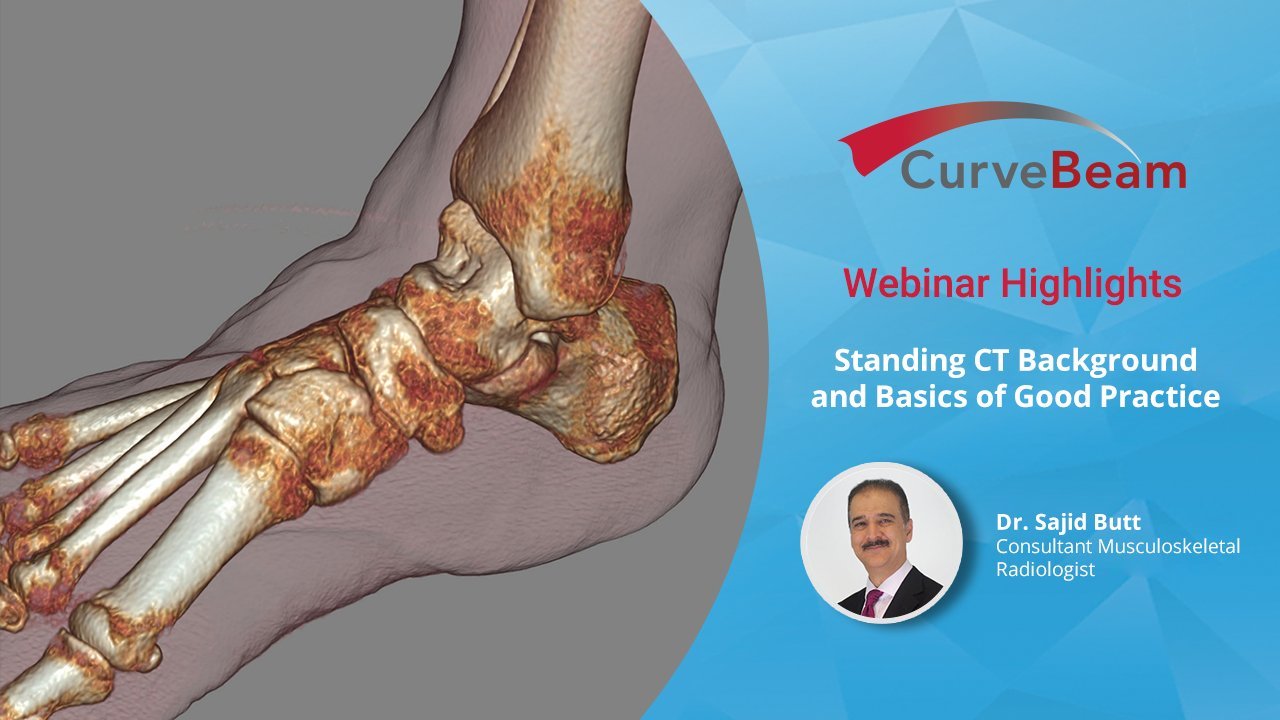 Webinar Recap: Radiologist Sajid Butt Presents Basics of CBCT
Dr. Sajid Butt, Consultant Musculoskeletal Radiologist for the Royal National Orthopedic Hospital in the United Kingdom, delivered an introduction on the clinical uses of weight bearing CT (WBCT) along with overview of some of the most common clinical applications.
Click below to watch a condensed 10-minute version of the webinar. 
Access the full-length webinar here.
"Foot and ankle surgery is one of the fastest growing markets in orthopaedics," noted Dr. Butt.
Cone beam CT (CBCT) differs from traditional fan beam CT in a number of ways. First of all, it is safer for the patient as there is a lower radiation exposure compared to conventional CT and allows imaging of foot and ankles in weight bearing fashion. This is critical as many patients experience symptoms while the foot or ankle while in a standing or weight bearing position.
CurveBeam CBCT technology exposes patients to much less radiation than conventional CT scanner. For example, a CBCT scan of both feet and ankles exposes patients to 4.2 mSv compared to a conventional CT scan of the same area that would result in a patient exposure of 70 mSv. However, lower dose does not mean a compromise in trabecular bone detail. "You get top quality, reproducible pictures," said Dr. Butt.
Dr. Butt explained the distinct advantages of WBCT with regards to specific conditions such as diabetic feet.
"Imaging of diabetic feet is a big clinical problem," said Dr. Butt. He explained the multiplanar and 3D images from WBCT enable expedited identification of features such as the destruction of the talus, calcaneus fracture, Lisfranc subluxation, arch collapse, rocker bottom feet, and vascular calcification. "As a problem solving tool it is really helpful," he added.
The weight bearing CT scan offers tremendous benefit for many other conditions such as subtle arch collapse, fractures, flatfoot, bone spurs, loss of cartilage, syndesmosis, hallux valgus, surgical healing progress, and much more.
Access the full-length webinar here.