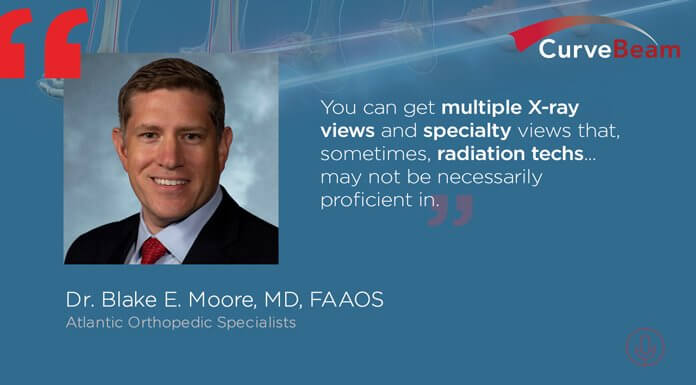 FOOTInnovate Webinar Recap: "Seeing 2020: My First 6 Months with Weight Bearing CT" with Dr. Blake E. Moore, MD, FAAOS
Dr. Blake E. Moore, MD, FAAOS, recently delivered a FOOTInnovate webinar titled "Seeing 2020: My First 6 Months with Weight Bearing CT," diving into specialty views provided by CurveBeam's LineUp weight bearing CT solution.
Dr. Moore is a board-certified orthopedic surgeon and a member of Atlantic Orthopaedic Specialists in Virginia Beach, VA. Atlantic Orthopaedic Specalists is a private orthopedic group comprised of 21 orthopedic surgeons, including two foot and ankle surgeons, and three hand and upper extremity surgeons.
Leveraging Specialty Views
While the LineUP unit provides 0.3mm multi-planar reconstructions and vivid 3D renderings of patient scans, it's the machine's ability to create simulated X-Rays of specialty views with ease that most impresses Dr. Moore.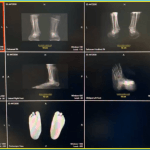 "You can get multiple X-Ray views and specialty views that, sometimes, radiation techs that you have in the office may not be necessarily proficient in," he said. "The image quality is phenomenal there."
In particular, Dr. Moore has begun utilizing pedoscopic views, which were difficult to obtain prior to the introduction of weight bearing CT.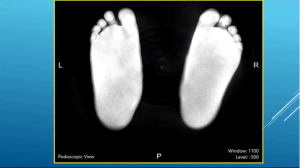 "I didn't really utilize (the pedoscopic view), until we had access to weight bearing CT scanning. … You can really see the distribution of weight along the plantar aspect of the foot," Dr. Moore said. "That can sort of help you guide your treatment in terms of if patients are having medial or lateral column overload."
Putting Weight Bearing CT into Practice
Dr. Moore presented several case studies that highlight the effectiveness of weight bearing CT and the impact it's already having on his practice.
In one case, the bilateral 3D rendering showed how the fibula was impaled into the calcaneus and the lateral aspect of the posterior facet of the subtalar joint, and how the subtalar joint had no congruity at all with the talus.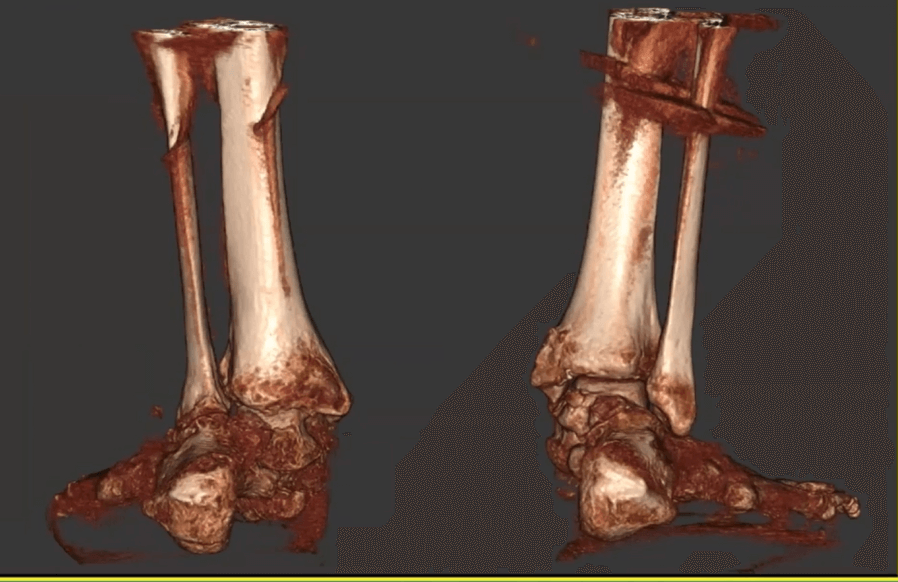 "You can really see the difference between the contralateral side and the affected side and as well look at the contribution of physiologic weight bearing to the overall deformity of the foot," Dr. Moore said. "Seeing the normal side can really help you visiualize where you need to get to to get back to neutral alignment."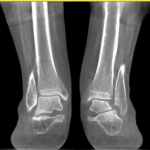 Dr. Moore also shared a case in which a subtle subfibular impingement was revealed.
In another case, Dr. Moore reviewed a patient who had undergone total ankle arthroplasty. While some loosening may be observable through traditional scanning, weight bearing CT allowed Dr. Moore to get a more accurate picture of just how significant that loosening was.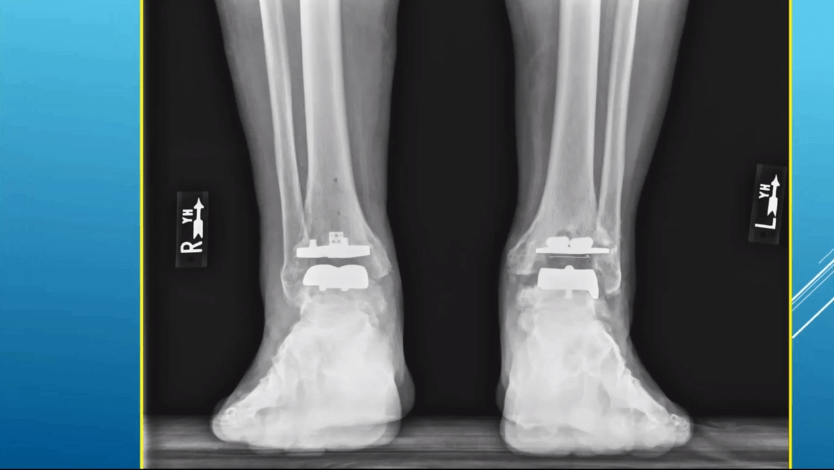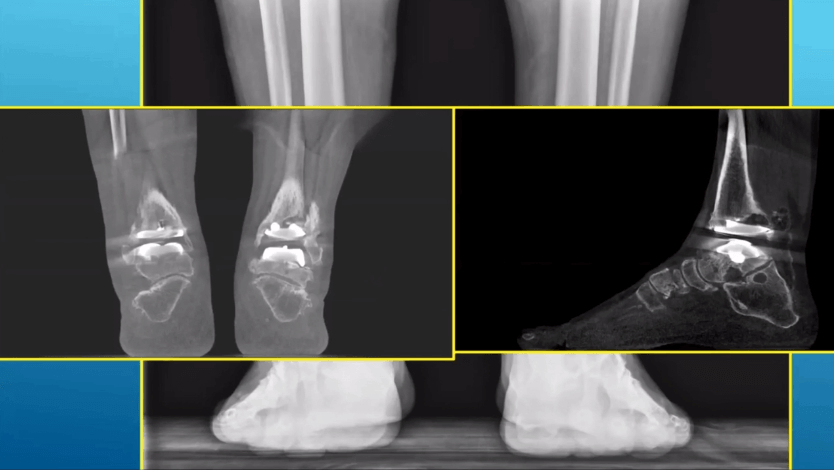 Finally, Dr. Moore was able to thoroughly evaluate osteochondral lesion of the talus in a patient through CT scanning.
"I usually get, in addition to an MRI, a CT scan for most of the osteochondral lesions that I treat in order to really get a true idea of the size," he said. "I think MRI really overestimates the size of these osteochondral lesions and you need to know what the cystic component of that is to pre-operatively plan for these appropriately."
Preop Templating for TAA
Dr. Moore said weight bearing CT is going to play an enormous role in pre-op templating for total ankle arthroplasty moving forward.
"I think pre-operative templating for total ankle arthroplasty, which is just now starting with the CurveBeam LineUP, is going to be a game-changer for looking at complex deformity and correcting that with patient-specific cut guides. It increases the reliability and reproducibility of the procedure."
We're just starting to understand the role that rotation plays when placing these implants, Dr. Moore said.
"When the engineers look at the pre-op templating and make the plans, they really base the rotation off the tibia, and I think that that talar rotation is sometimes difficult to figure out in terms of where that talar implant should be rotated," he said. "When the templating is currently done, the contralateral affected side is really subtracted immediately. I think that there's a lot of critical information that can be gained from looking at the normal rotational axis of the unaffected tibiotalar joint."
Key Financials
Dr. Moore highlighted the immediate financial impact of completing 150 weight bearing scans, which is as follows:
Scans per month: About 35 (90% foot and ankle)

Breakeven: 11 – 12 scans/ month

Reimbursement range: $50 to $750
Average reimbursement: $266
Breaks down to about $39,000 in the first three months
Mobile Weight Bearing CT
Dr. Moore had to decide which location of his practice would house the CurveBeam LineUP machine he utilizes, he said that, were he offered another crack at initial selection, he would have preferred a mobile solution.
CurveBeam offers such a solution, as CurveBeam's Mobile CT Scanning solutions can bring industry-leading CT capabilities directly to your practice.
"If I could do it all over again, I would have put the unit on a truck so that we could have moved it from office to office," Dr. Moore said. "But the experience for the patients is first-class."
Moving Forward
In summary, Dr. Moore said that weight bearing CT has been the most critical addition to his practice since he began it, adding that it "greatly enhances the level of care and sophistication of preoperative planning."
To learn more about CurveBeam's LineUp, visit curvebeamai.com/products/lineup/.