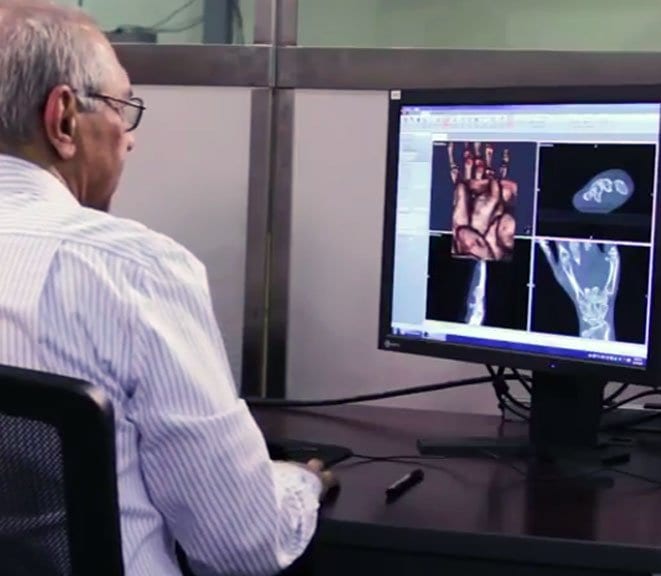 CurveBeam Is the Innovator in 3D Orthopedic Imaging Technology
Cone beam computed topography, or CBCT, has become the standard of care in orthopedic imaging. This technology has revolutionized the practices of doctors in the orthopedic and podiatric industry. Automatic measurement tools lead to better patient outcomes with the added convenience of point-of-care advanced diagnostics. CurveBeam's goal is to lead the way with cutting-edge innovations in orthopedic imaging. CurveBeam not only adopts new technology quickly, but is increasingly setting the standard.
CurveBeam imaging products are designed specifically to analyze extremities, especially knees, ankles, and feet. These compact, affordable units give specialists high-quality, weight-bearing 3D views of a patient's foot and ankle. Scans are low-dose, so units don't require shielding or dedicated facilities. Units are lightweight, mobile, and require no special power sources, so they can easily become an essential tool in virtually any practice.
In the past, doctors had to interpret images manually. CurveBeam's software uses artificial intelligence to predict a patient's future prognosis and recommend a comprehensive treatment plan. Providers will find this advanced capability directly impacts their practice, resulting in improved diagnostics, streamlined workflow, and greater productivity.
CurveBeam is an innovator setting the standard of care in orthopedic imaging. Check out our video below to learn more about this exciting technology!