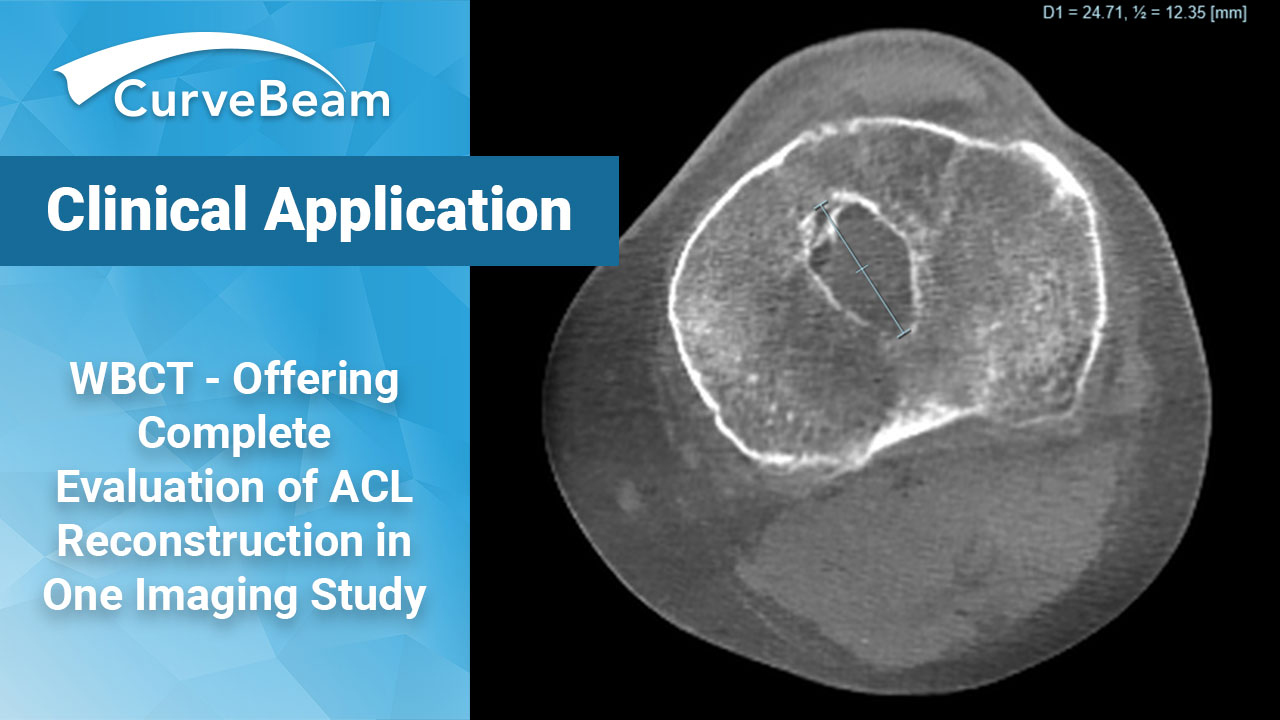 How To Get a Complete Evaluation of ACL Reconstruction in One Imaging Study
With approximately 100,000 – 175,000 Anterior Cruciate Ligament (ACL) reconstructions taking place annually in the United States, it's essential to build out the tools to adequately evaluate patients with post-traumatic osteoarthritis (PTOA), concomitant injuries, and reconstructive complications[1]. As surgical techniques have evolved, evaluating reconstructed ACL patients often includes tunnel widening assessment, signs of post-traumatic osteoarthritis, and tibial slope. de Beus et al., did a critical review of the various imaging modalities and methods for assessment of bone tunnel widening after ACL reconstruction and concluded that CT should be the gold standard. Ideally, specialized software that calculates tunnel volume and measurements in 3D CT should be used[2].
As for post-traumatic injury findings and better diagnostics, Cheung et al. advise, "ACL reconstruction does not prevent the development of OA but can improve knee kinematics and reduce secondary injury to the cartilage and meniscus. Advancements in imaging studies have allowed for earlier detection of degenerative changes in the knee, enabling research into how new interventions can alter the course of these degenerative changes following ACL injury.[3] Weight bearing CT holds great promise for more accurate evaluation of joint space width, early rotational changes, and progressive morphologic changes to the bones. Additionally, improved access to sensitive and easily accessible diagnostic methods to detect OA development can be addressed through this modality.
When it comes to posterior tibial slope (PTS), current clinical evidence demonstrates increased PTS is associated with a higher risk of ACL graft failure after ACL reconstruction[4]. More specifically, increased PTS places significantly increased tension on the native and reconstructed anterior cruciate ligament that leads to an increased risk of failure[5]. As this evaluation is becoming more commonly widespread, some authors suggest an anterior closing wedge osteotomy as being protective for ACL reconstructions[6].
CurveBeam's HiRise offers a key combination of weight bearing, 3D CT imaging in a single, low dose scan. Additionally, with the evolution of Autometrics, there will be additional measurement and volumetric tools available in the future. This provides a great opportunity to meet the need for further broadening the understanding of knee biomechanics as they relate to cruciate ligament injuries.
[1] John Synovec, MC USA, K Aaron Shaw, MC USA, Ivan J Antosh, MC USA, Jason Grassbaugh, MC USA (ret.), Christopher J Tucker, MC USA, Stephen A Parada, MC USA, Edward Arrington, MC USA (ret.), Current Practices in Anterior Cruciate Ligament Reconstruction in the U.S. Military: A Survey of the Society of Military Orthopaedic Surgeons, Military Medicine, Volume 184, Issue 1-2, January-February 2019, Pages e249–e255, https://doi.org/10.1093/milmed/usy142
[2] de Beus A, Koch JE, Hirschmann A, Hirschmann MT. How to evaluate bone tunnel widening after ACL reconstruction – a critical review. Muscles Ligaments Tendons J. 2017 Sep 18;7(2):230-239. doi: 10.11138/mltj/2017.7.2.230. PMID: 29264333; PMCID: PMC5725171.
[3] Cheung EC, DiLallo M, Feeley BT, Lansdown DA. Osteoarthritis and ACL Reconstruction-Myths and Risks. Curr Rev Musculoskelet Med. 2020;13(1):115-122. doi:10.1007/s12178-019-09596-w 
[4] Liu Z, Jiang J, Yi Q, Teng Y, Liu X, He J, Zhang K, Wang L, Teng F, Geng B, Xia Y, Wu M. An increased posterior tibial slope is associated with a higher risk of graft failure following ACL reconstruction: a systematic review. Knee Surg Sports Traumatol Arthrosc. 2022 Jul;30(7):2377-2387. doi: 10.1007/s00167-022-06888-6. Epub 2022 Feb 6. PMID: 35124715.
[5] Dean RS, DePhillipo NN, LaPrade RF. Posterior Tibial Slope in Patients With Torn ACL Reconstruction Grafts Compared With Primary Tear or Native ACL: A Systematic Review and Meta-analysis. Orthopaedic Journal of Sports Medicine. April 2022. doi:10.1177/23259671221079380
[6] Dean RS, Larson CM, Waterman BR. Posterior Tibial Slope: Understand Bony Morphology to Protect Knee Cruciate Ligament Grafts. Arthroscopy. 2021 Jul;37(7):2029-2030. doi: 10.1016/j.arthro.2021.05.006. PMID: 34225996.