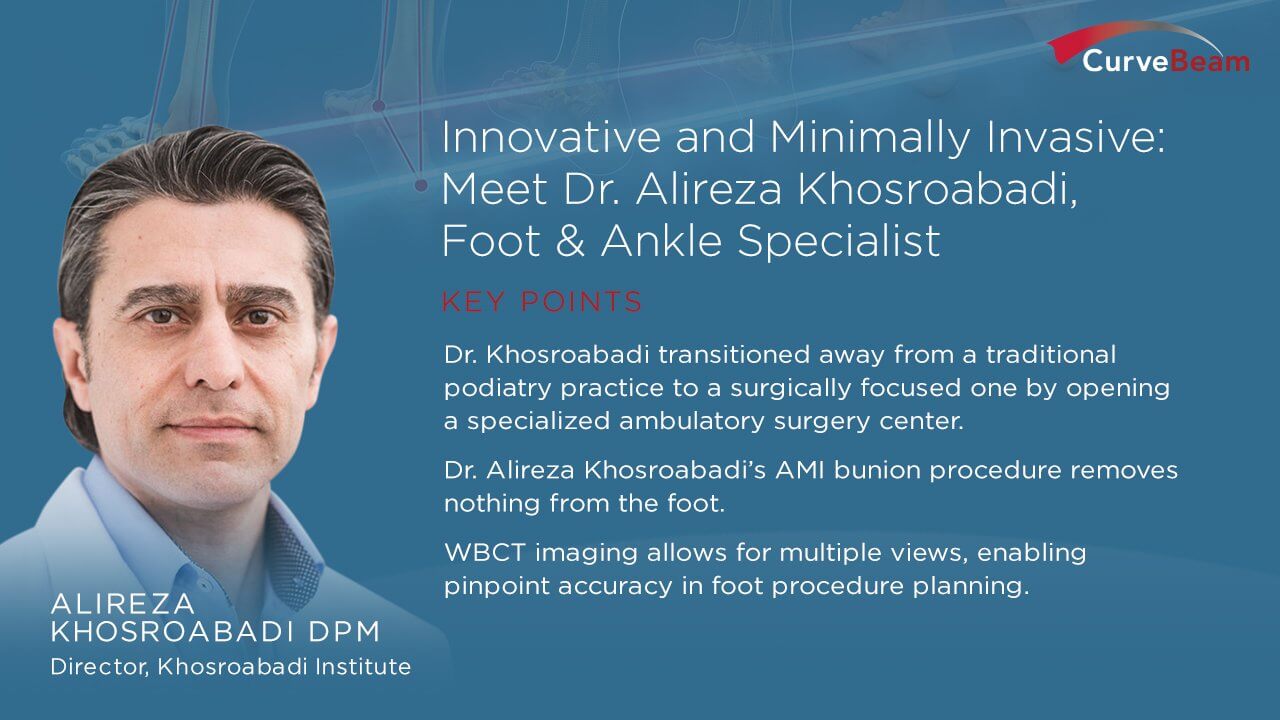 CurveBeam Connect: Innovative and Minimally Invasive – Meet Dr. Alireza Khosroabadi, Foot & Ankle Specialist
Dr. Alireza Khosroabadi, DPM, opened the Khosroabadi Institute in Los Angeles, CA to shift his practice from general podiatry to surgical procedures.
His minimally invasive bunion procedure has been featured on "The Doctors" television show. Dr. Khosroabadi spoke to CuveBeam's Vinti Singh about his approach to bunion correction.
Dr. Khosbroabadi started performing his trademarked AMI (advanced minimally invasive) about six years ago.
"This procedure is similar to one common in Europe," Dr. Khosbroabadi said. He refined it overtime, and can now perform the bunion correction in less than 25 minutes.
AMI is a "true" minimally invasive procedure in that he makes three small stab incisions and an performs abductor release. He strives to realign the joint without removing any bone. In 98% of Dr. Khosroabadi's patient's cases, shaving the bone in the bunion down isn't necessary.
Dr. Khosroabadi invested in a state-of-the-art clinic and surgery center; which includes weight-bearing CT imaging.
"All my patients, anyone going under the knife in my surgery center, gets weight-bearing CT imaging," Dr. Khosroabadi said. "I felt the regular, 2D X-ray wasn't good enough for me to assess everything that I wanted to assess. Also, it would take a little longer for me to obtain the images I wanted."
To learn more about Dr. Khosroabadi & the Khosroabadi Institute, visit https://www.877foot911.com/.