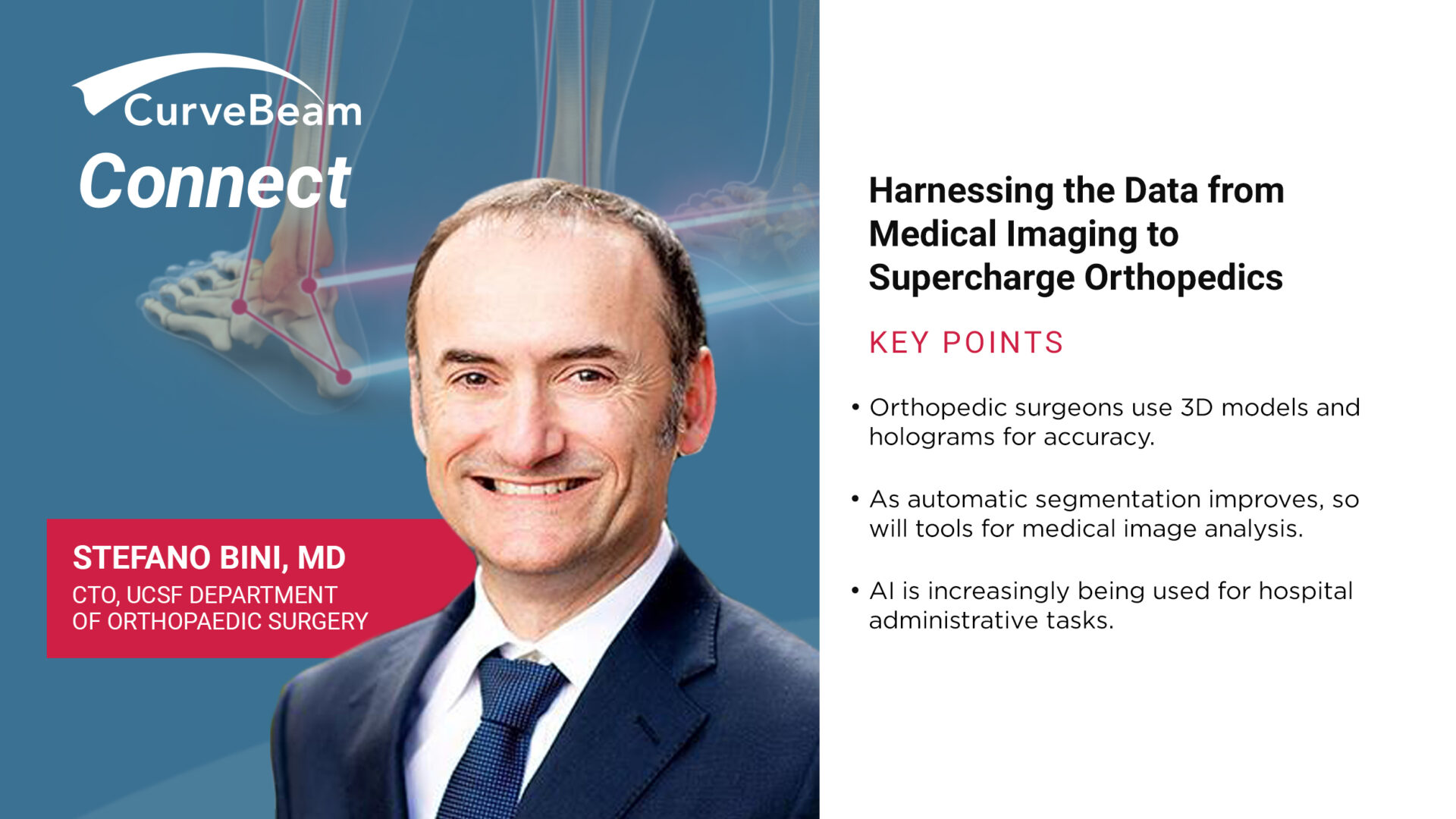 CurveBeam Connect: Harnessing Medical Imaging Data to Supercharge Orthopedics
The orthopedic specialty has progressed since the first robotic applications were first introduced 30 years ago. Dr. Stefano Bini, Chief Technology Officer for the University of California San Francisco (UCSF) Department of Orthopaedic Surgery, discussed these advancements with Host Vinti Singh.
Dr. Bini commented how some of the biggest impacts tech has had at UCSF has been on the administrative side, with improved tools for intake, referral management, surgical scheduling and patient engagement.
In the Operating Room, robotic surgery is a fast growing area, but challenges include the increasing costs for deployment.
In addition, UCSF doctors are using 3D printing to better prepare for complex pediatric deformities and spinal deformities. Dr. Bini himself uses 3D printing prior to hip surgeries to better understand bone loss in the pelvis, especially around the implants.
"The next generation of that, however, is you don't need to print a 3D model – you can create a 3D hologram," Dr. Bini said. "And visualize it using a VR or AR headset, but even a phone or iPad. And then you can literally manipulate it as if you had a 3D model in your hand."
These models, whether printed or virtual, or built from segmented medical images. Machine learning algorithms that automate that segmentation process are becoming stronger with each dataset they are fed.
These algorithms are developing so quickly that, "I'd say you will see clinical applications over the next two to three years," Dr. Bini said.
Adoption of synthetic data, or manmade medical images statistically equal to but different from the original set, could drive AI modelling accuracy even more quickly, he said.
However, not all physicians are running to adopt these trends. Dr. Bini explained that resistance will eventually ease.
"When the technology is presented in such a way that it clearly solves a pain point, and it does so at a price point and at an adoption point that is manageable for that particular person in the environment, then it tends to be adopted rather quickly," he stated.
Finally, Dr. Bini discussed the upcoming Digital Orthopaedics Conference in San Francisco, which he organizes. Visit docsf.health for more information.
For more information on these trends, subscribe to the podcast on Apple iTunes or Spotify and visit the curvebeamai.com website for imaging solutions and AI insight.