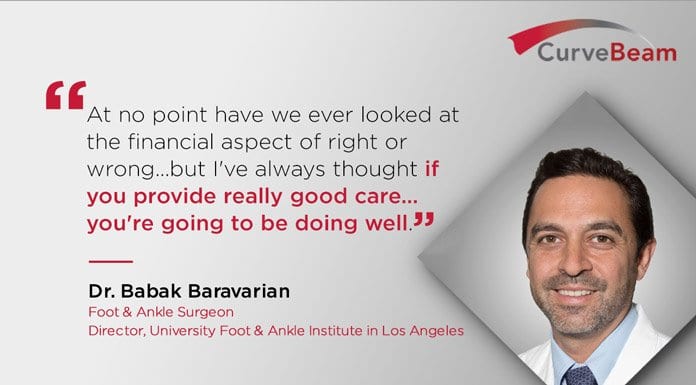 CURVEBEAM CONNECT: A FOCUSED APPROACH TO TECHNOLOGY IN HEALTHCARE
Dr. Bob Baravarian Advocates a Focused Approach to Technology in Healthcare
Dr. Babak (Bob) Baravarian has been at the forefront of technological innovation since the beginning of his career. CurveBeam Marketing Manager Vinti Singh recently had an enlightening conversation with Dr. Baravarian on CurveBeam Connect about his approach to technology in patient care, with an emphasis on the use of the pedCAT weight bearing CT imaging solution.

>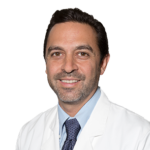 Click here to download the executive summary for this episode of CurveBeam Connect, featuring Dr. Bob Baravarian, DPM, FACFAS.
Dr. Baravarian Embraced Technology from the Beginning of His Career
Dr. Bob Baravarian, DPM, FACFAS,  is a board-certified podiatric foot and ankle specialist and one of the few foot and ankle surgeons to have both foot and reconstructive rearfoot and ankle certifications as a Fellow of the American College of Foot and Ankle Surgeons. He also serves as Editor Emeritus of the international medical journal, Foot and Ankle Specialist.
Dr. Baravarian opened the University Foot & Ankle Institute in Santa Monica, Cali., in 2003 with Dr. Gary Briskin, DPM, FACFAS. The partners wanted to start their own practice so they would have the ability to treat patients from start to finish without outsourcing. Dr. Baravarian says, "We wanted to make sure we offered state-of-the-art care, and the patient was able to get everything done in a cost-efficient, appropriate manner. That's what drove the innovation." The practice was paperless from day one, and was one of the first in  the country to invest in podiatric digital X-Ray technology. They now have 10 locations, offering their own physical therapy, surgery, MRI, and CT scans in-house.
Weight Bearing CT Scans Offer a Number of Benefits
University Foot and Ankle was also one of the first podiatric practices in the country to get a pedCAT weight bearing CT system. "We knew the pedCAT was going to be a significant benefit to patients and a significant benefit for us in being able to take care of patients better," says Dr. Baravarian. The decision came down to three criteria. Was this something that will benefit the patient? Would it allow them to practice better? And does the payment of the machine compared to payments from insurance make sense? The pedCAT checked all three boxes.
Taking the Practice to Another Level
The intangibles were just as important, Dr. Baravarian says. "From a marketing standpoint, the idea of having a weight bearing CT scanner that does 3D renderings of the foot and allows for proper analysis of the foot is something that sets you apart." When a patient is referred to a practice for a 3D scan of their foot and is then able to see those images live – rotated and in multiple planes – they better understand what's wrong with their foot. A 3D CT scan also changes the practice because it allows doctors to have as much information as possible when caring for a patient, so that they can offer the absolute best care with the least risk. "I think that's a really important part of being able to grow your practice substantially and offer best practices to patients," says Baravarian, adding, "It just takes your practice to another level."
A Better Alternative to X-Rays
The University Foot & Ankle Institute uses weight bearing CT scans in complement to X-Ray exams. Dr. Baravarian believes the latter is becoming increasingly obsolete as new and more effective equipment arises. "The two areas where we're using the pedCAT the most are one, for pre-operative planning and two, for post-operative assessment," says Dr. Baravarian. For example, he thinks CT scanning is a must for flat foot reconstruction because it allows doctors to see the structure in three dimensions and better determine the nature of the deformity. That enables a doctor to plan surgery and make better decisions. Not a traditional application for CT scanning, but just as useful in Dr. Baravarian's opinion, is hallux rigidus surgery because it allows the surgeon to have more confidence when creating a game plan, reduces surprises, and saves time during the procedure. And finally, when doing a fusion on any joint, he will get a CT scan before allowing them to become weight bearing. The confidence provided from the information gathered during this 3D view has improved results enormously.
Click here to see additional indications for weight bearing CT imaging.
The Future of Healthcare
Of course, Dr. Baravarian knows technology is only one part of the healthcare equation. Other changes are needed to the system to better serve patients. "What is wrong with our healthcare system is that the dollar is going into the wrong pockets," Dr. Baravarian says, citing the amount of administration that goes into healthcare. "In both in the hospital setting and the health insurance company setting, you used to have one doctor to four administrators. Now you have one doctor to somewhere around 200 administrators." He says servicing Medicare patient is easier than servicing a private care patient, because with private insurance companies, you have to jump through hoops, including pre-authorizations and approvals. Dr. Baravarian believes universal healthcare would be cheaper, better, and faster by eliminating many of the inefficiencies in the system, allowing him to reach his goals. "We want to start to grow to 30, 40, 50 locations and so I think of things much more on a larger scale of practice than seeing one patient at a time."
To listen to the full podcast, visit https://marketscale.com/industries/healthcare/focused-healthcare-technology/. And to find out more about the pedCAT CT Imaging Scanner from CurveBeam, visit https://www.curvebeamai.com/products/pedcat/.