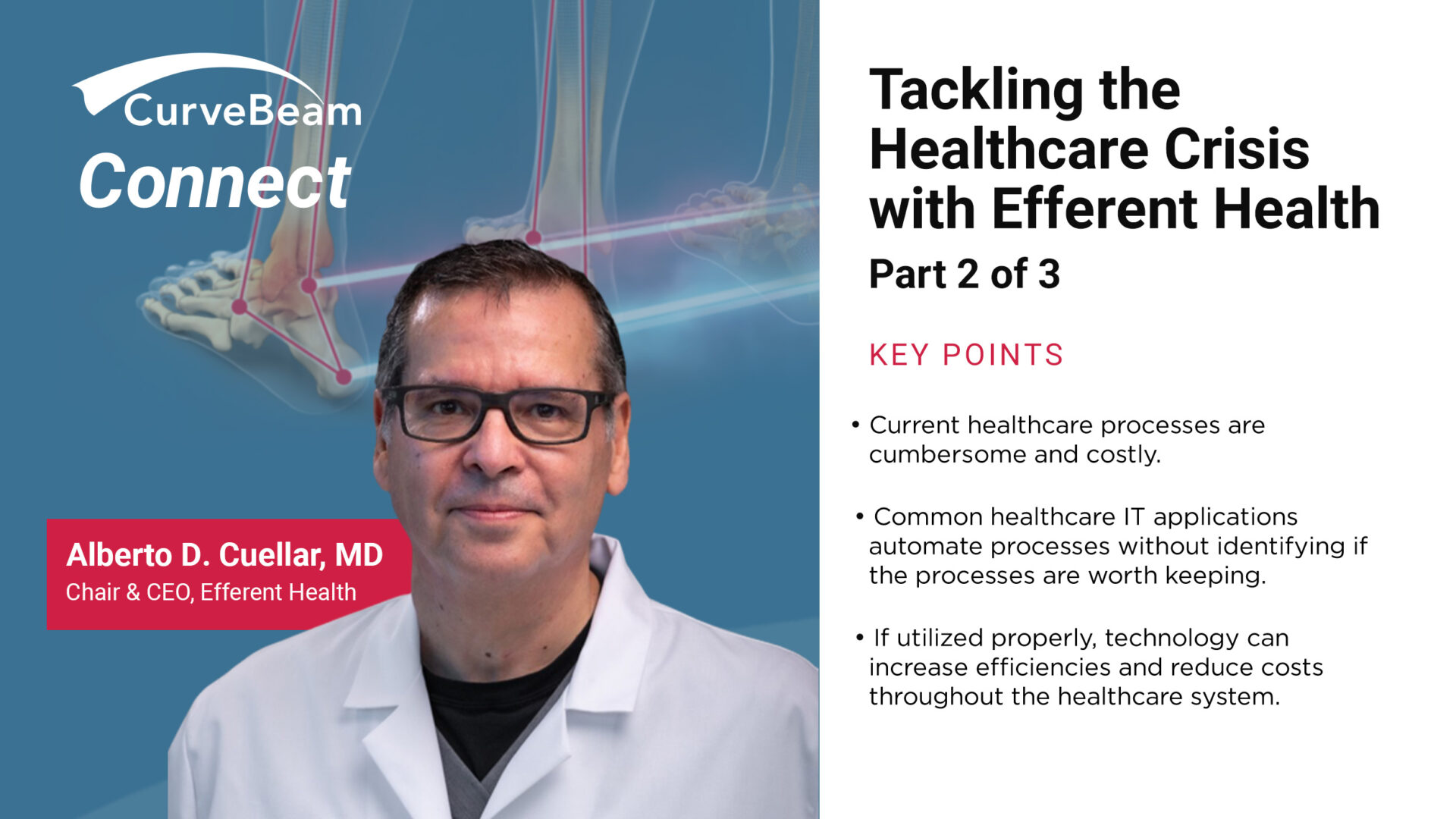 CurveBeam Connect: Innovative Technologies are Changing the Economic Landscape of the Healthcare System – Part 2 of 3
KEY POINTS:
Current healthcare processes are cumbersome and costly.
Common healthcare IT applications automate processes without identifying if the processes are worth keeping.
If utilized properly, technology can increase efficiencies and reduce costs throughout the healthcare system.
One of healthcare's biggest expenses is in the processes utilized to run systems and provide patient care. Dr. Alberto Cuellar, Co-founder and Chief Biomedical Engineer for Efferent Health, spoke to Vinti Singh, Director of Marketing at Curvebeam, about the antiquated processes driving up the cost of healthcare throughout the US.
In the 2nd episode of this 3-part series, Dr. Cuellar noted that current processes are a lot more cumbersome than they need to be. Additionally, "it seems that today's healthcare applications counterintuitively automate the already distorted systems. Although harsh, I came to this grim conclusion after compiling and analyzing the financial healthcare data in relation to the financial information technology data," said Dr. Cuellar.
The conversation continues to recognize that a lot of IT companies are creating applications that automate "existing processes without even examining whether the existing process is the right way to do it in the first place right." He continued to point out that "everything in healthcare except the act of actually providing medical service is riddled with distorted processes communication barriers as well as inadequate and cumbersome data management."
These processes helped to create "an expensive and massive dysfunctional industry. The monetary incentives to protect the pay into healthcare system are such that the industry is destined to fail," he said. This led Dr. Cuellar to begin investigating the idea of "building an organization that provides infrastructure and digital services to enhance the delivery of medical goods and services that are better, more efficient, and less costly than the current system."
And Efferent Health was born. A company that is dedicated to improving healthcare systems for both providers and patients. Dr. Cuellar explained that "Efferent's proprietary SmartLink (Patent Pending) solution facilitates PHI transfers, including images between healthcare facilities, device manufacturers, and other stakeholders without massive servers and resource allocation. SmartLink uses the latest encryption and HIPAA high-tech transfer technology to move data up to Efferent's platform in Microsoft Azure."
Read part 3 here.