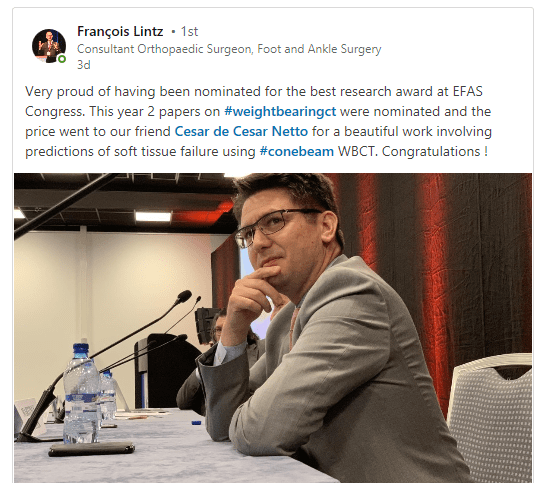 CurveBeam Plays an Important Role in the Best Research Awards at the EFAS Congress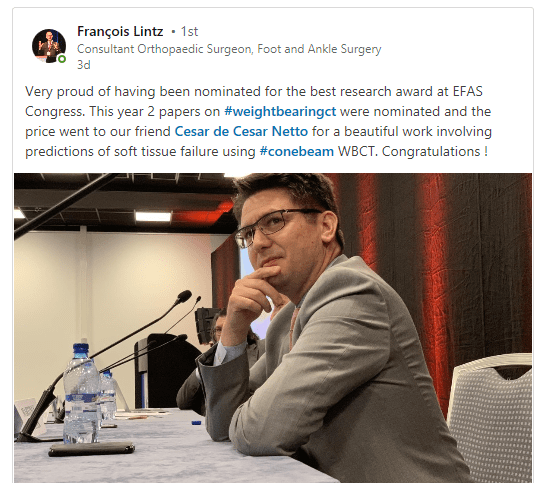 The 12th annual European Foot and Ankle Society (EFAS) Congress was recently held in Geneva. As a part of this prestigious event, Dr. Cesar de Cesar Netto and Dr. Francois Lintz presented papers that were both nominated for research awards. CurveBeam is proud to have played a part in both of these important projects.
Dr. Cesar de Cesar Netto Wins Awards for Research and Best Oral Presentation
 Dr. Cesar de Cesar Netto, Clinical Fellow of Foot and Ankle Surgery at MedStar Union Memorial Hospital, was nominated and won a distinguished research award for his paper titled, "Weightbearing CT and MRI findings of Stage II Flatfoot Deformity: Can We Predict Patients at High-Risk for Foot Collapse?" Earlier in the year, he also won the best oral presentation at the FLAMeCiPP meeting, organized by the Latin American Foot and Ankle Federation.
Dr. de Cesar Netto's research involved the prediction of soft tissue failure using weight bearing cone beam computed tomography (WBCT), an imaging modality that allows excellent evaluation of the relative three-dimensional positioning of the tarsal bones in dynamic deformities such as Acquired Adult Flatfoot Deformity (AAFD). The study indicated that WBCT can predict ligamentous injuries and dynamic bone deformity in AAFD patients.
Dr. Francois Lintz was Nominated for his Research
 Dr. Francois Lintz an orthopedic Surgeon specializing in Foot & Ankle Surgery in Toulouse, France, was also nominated for a research award for his paper, "3D Biometrics: A Prospective Comparative Evaluation of the Foot Ankle Offset Using Weight Bearing CT Semi Automatic Software." The objective of Dr. Lintz's study was to prospectively assess the clinical relevance and reproducibility of the Foot and Ankle Offset (FAO) value for hindfoot alignment, which requires WBCT for measurement, and compare it with previous findings. The study concluded that hindfoot alignment can be measured reliably using WBCT and demonstrated that FAO has good repeatability, and correlates well with clinical examination, 2D findings, and previous literature.
The EFAS Congress  
 The EFAS Congress provides a platform for professionals of all disciplines dealing with foot and ankle surgery and research to share their knowledge and advance the specialty. This year's program, themed "State of the Art Foot and Ankle Surgery," included a line-up of internationally renowned surgeons and scientists in the foot and ankle community. For this year's gathering, the EFAS also invited representatives from two established national foot and ankle societies—the SFAS (Swiss Foot and Ankle Society) and the KFAS (Korean Foot and Ankle Society)—to share their expertise and innovative approaches in foot and ankle pathologies and treatments. The result was a program that provided a multidisciplinary, comprehensive overview of the latest scientific and clinical findings in foot and ankle surgery, state of the art surgical techniques, biomechanics, efficient conservative treatments, and the most recent imaging modalities in the field.
To watch a recording of the Weight Bearing CT International Study Group's open scientific meeting at EFAS, click here.