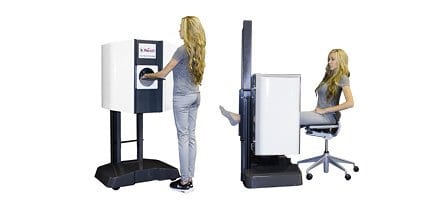 Using The InReach to Detect Scaphoid Fractures
Scaphoid fractures are often difficult to diagnose. The scaphoid may be difficult to visualize on X-Rays due to superimposition.  A delayed or incorrect diagnosis of a scaphoid fracture could result in grave outcomes such as nonunion, delayed union, decreased grip strength, reduced range of motion, and/or osteoarthritis of the radiocarpal joint.
X-ray is currently the standard method of diagnosis, but according to Vinti Singh, an Advanced Medical Imaging Specialist at CurveBeam, "…that particular part of the wrist is really hard to see on X-ray.  CT scans show scaphoid fractures clearly, but traditionally, patients must travel to a hospital or imaging center to access this service." Singh adds that CurveBeam is developing the InReach, a point-of-care cone beam CT imaging system for the upper extremities. The InReach is investigational only and is not available for sale in the United States. The CurveBeam R&D team is striving to  "provide faster, more accurate detection and as a result, better patient care."
Since scaphoid fractures rarely appear on X-rays right away, doctors often send a patient home in a splint or cast for two to three weeks if they suspect a scaphoid fracture. Typically, the patient will then return for another X-ray.  With the InReach, a patient could get a CT scan, at the physician's discretion, for a definitive diagnosis.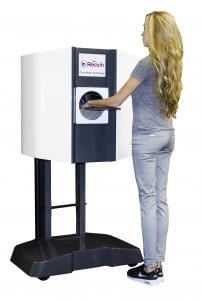 CurveBeam's InReach system will scan the wrist structures in nineteen seconds. MRIs take much longer, as do bone scintigraphy processes, which also require injections of imaging dye or radioactive material. The InReach delivers high resolution images with 0.3mm slices, accounting for their improved diagnostic accuracy over the X-ray. The unit will have a small footprint and uses a regular wall outlet, unlike a traditional CT unit, which requires  more space, power and additional cooling needs of a traditional CT. Patients need only place a hand in the machine for a few seconds, as opposed to having to lie down on a CT bed. So not only does the InReach system reduce patient frustration at scheduling and waiting for multiple appointments, but it also maximizes patient comfort.
With complicated injuries like the scaphoid fracture, timely diagnosis and treatment are critical in avoiding the potential long-term wrist dysfunction resulting from misdiagnosis. Compared to the previous standards of X-rays, MRIs, bone scintigraphy, and traditional CT scans, the InReach would offer superior speed and accuracy while delivering a high level of patient care and comfort. Learn more about CurveBeam and the InReach imaging technology here.