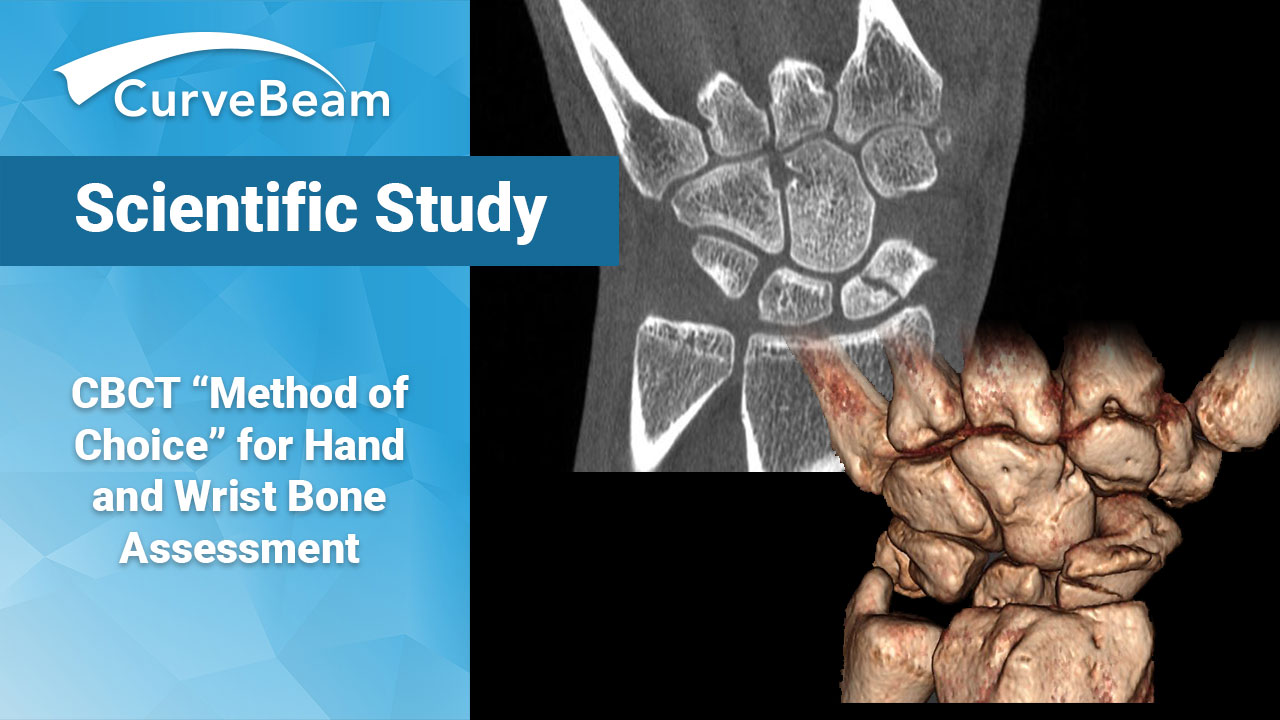 Study Calls CBCT "Method of Choice" for Hand and Wrist Bone Assessment
A study published in the International Journal of Biomedicine concludes Cone Beam CT (CBCT)  imaging is the "method of choice" for compound anatomical structures, such as the wrist, and post-traumatic changes in bone tissue.
"Considering the low dose radiation and high image quality," CBCT could be used as a priority method of choice to assess the structure of wrist and hand bones and be done as a first step in diagnostics, replacing standard radiography," according to the study, which was led by A. Yu Vasiliev PhD, MD, at Moscow State University of Medicine and Dentistry.
The wrist and hand are one of the regions in the human body most prone to injury and disease.  Only one-fifth of incapacitation is the direct result of injury or disease. Many cases of incapacitation are instead due to mistakes made in diagnosis and treatment, according the study. Vasiliev and his team examined the capabilities of cone-beam computed tomography (CBCT) in the assessment of the structure of wrist and hand bones.
The study appeared in a 2013 issue of the International Journal of Biomedicine.
Vasiliev obtained a Cone-beam CT scan of the wrist and hand of a group of voluntary patients, which included 40 members aged 22 – 68 years. A Magnetic resonance imaging (МRI) exam was also performed on 80 percent of the volunteers, multi-slice CT scan was performed on 40 percent of the volunteers, and digital microfocus radiography and standard radiography exams were performed on 63 percent of the volunteers.
When all 40 CBCT scans were examined, structural changes of wrist and hand bones were detected in 77.5 percent of cases, and consolidated fractures and false joints of bones were detected in 10 percent of cases. All the changes were also detected by the multi-slice CT images and digital microfocus X-Rays, but were not defined on standard X-Rays.
The results demonstrated that CBCT provides high efficiency in detection of form, measurements and structural changes of bones of the anatomic region. The cone beam CT images of wrists and hands provided high-resolution, detailed mapping of bone structure, as well as accurate differentiation of bone trabeculae and minor structural changes and defects.
A new generation of cone-beam scanners makes it possible to obtain high-quality images without exposing the patient to a high dose of radiation. This facilitates more and better examinations in orthopedics and traumatology for better patient outcomes.
CurveBeam designs and manufactures Cone Beam CT imaging equipment for the orthopedic and podiatric specialties. To access the full study, please click here.