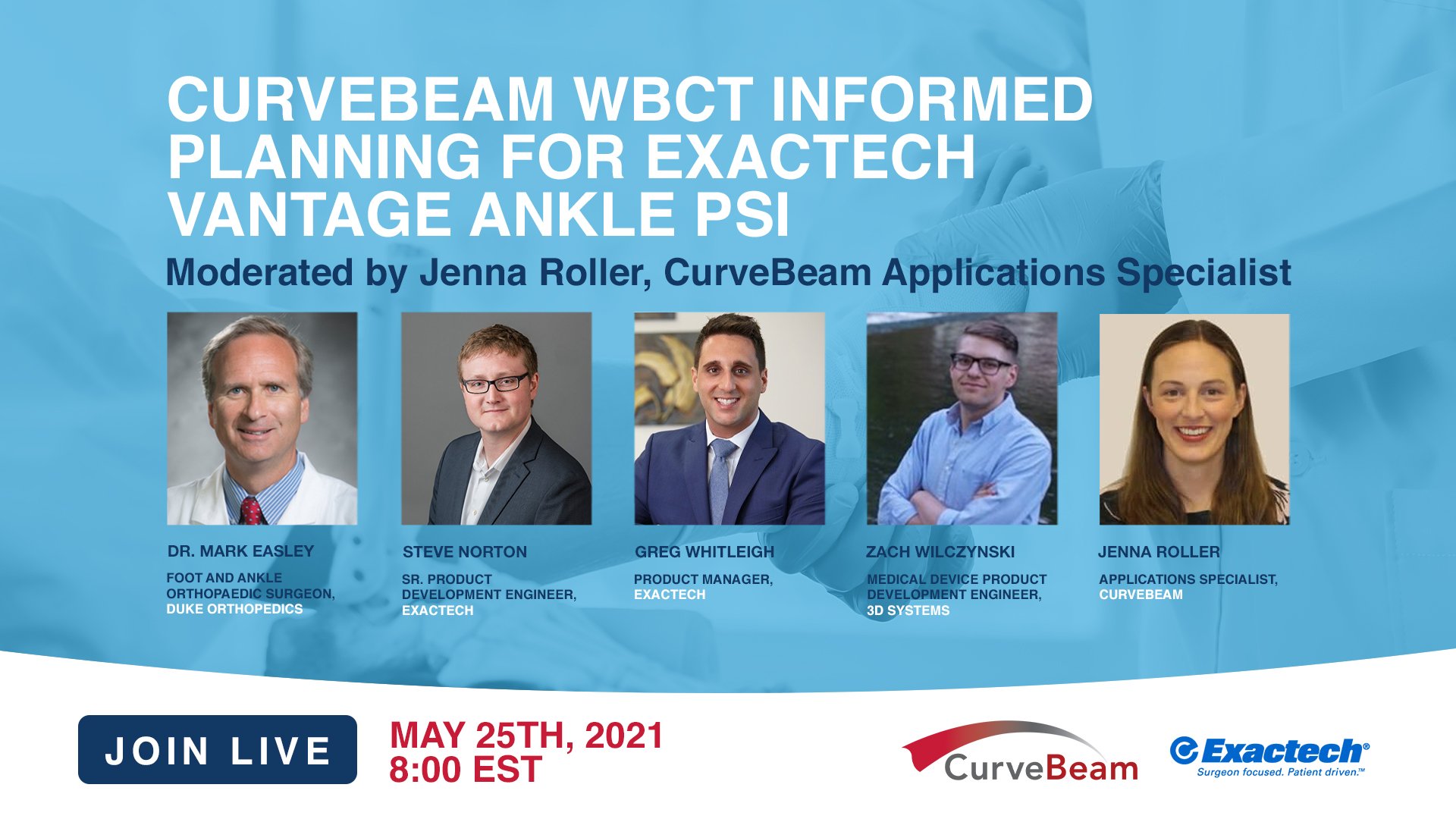 Watch Recording: WBCT Informed Planning for Exactech Vantage Ankle PSI
Watch a recroding of a CurveBeam and Exactech event on WBCT.
Click here to watch the recording.
Orthopedic surgeon Dr. Mark Easley, MD, who sat on the Exactech Vantage® Ankle PSI  design team, discussed how weight bearing CT (WBCT) imaging informs total ankle replacement planning.
The Vantage Ankle PSI are 3D-printed tibia and talar cutting guides manufactured by 3D Systems, Inc., and distributed by Exactech. Vantage accepts WBCT datasets of the foot & ankle region for pre-surgical planning and 3D-printing of patient-specific cutting guides, and does not require the knee region for planning.
Dr. Easley considered integration with WBCT to be pivotal from the onset.
"For nearly 5 years, 3D analysis with CurveBeam's weight-bearing pedCAT WBCT scanner has been invaluable in my preoperative planning for the Vantage Total Ankle System. Now through the collaboration of Exactech, CurveBeam and 3D Systems, I can create patient-specific cut guides with the patient in a full, not simulated, weight-bearing position," said Dr. Easley.

"This imaging allows me to use the Vantage Ankle PSI to cut through a single combination reference with the cutting guide in order to increase accuracy, reliability and reproducibility in my tibia and talar preparations, which benefits my patients with a lower operative time and cost," he added.
An element of Exactech's Active Intelligence® platform of smart technologies, the Vantage Ankle PSI received FDA clearance in November 2020. CurveBeam introduced the pedCAT, its first generation WBCT system in 2012. CurveBeam received FDA clearance for its third generation WBCT system, the HiRise, in 2020.
WBCT imaging reveals functional inversion/eversion of the ankle that is not presented on supine CT. Using WBCT to assess foot and ankle alignment in three dimensions could be instrumental in preventing osteolysis, a condition which often leads to implant failure, according to a 2019 study by Lintz et al published in Foot & Ankle International.
Click here to watch the recording.